Uniform gives confidence, say women temporary police
84,296 men and 30,642 women have taken up jobs as temporary police across the country.

Temporary police recruits during their regular callisthenics at the Area Police Office in Hariwan in Sarlahi on Friday. Prakash Chandra Timilsena/TKP
bookmark
Published at : November 12, 2022
Updated at : November 12, 2022 09:41
Bardibas, Mahottari
On a sunny Friday afternoon, a contingent of temporary police personnel, many of whom were young women, was marching on the side of the road in Chandranigahapur.
Smartly turned out in their police uniform, the women constables appeared to be brimming with confidence as many of them have just started on in life.
Even though their assignments are temporary since the job is only until the federal and provincial election results are out, they are seen as a precursor to future jobs abroad, mainly in security and local jobs in the army and police.
Ashmita Rai, 20, from Bagmati, Rautahat is now posted in Chandranigahapur and lives in her maternal uncle's house there. Rai's mother works in Dubai (UAE). Her father does not care about his family and helps economically. "He does not care about us," she said. She has a younger sister aged 15 and Ashmita is her sole guardian.
Ashmita Rai Prakash Chandra Timilsena/TKP
"I don't want to study further. I completed the SEE during the lockdown. Now I want to help my sister pursue her studies," she said. They have a house that was built by the government after they were displaced by Bagmati floods, but they don't have land to grow crops.
The police uniform gives her confidence, she said. "Now, I am learning to handle difficult situations." On learning about her joining the temporary police, her mother said, "Now you will know what real struggle is."
Around 115,000 temporary police personnel have been selected for the elections to the House of Representatives (HoR) and provincial polls slated for November 20.
Physically and mentally fit Nepalis aged between 18 and 54 years were selected on the basis of different training criteria from respective district police offices.
One of them, Sushila Parajuli, 30, from Jungle Saiya, Rautahat could not study beyond the eighth grade. She is married and has a son. She is habituated to doing daily-wage labor as she and her siblings had helped their family earning Rs100 a day working in a farm until she reached class 8.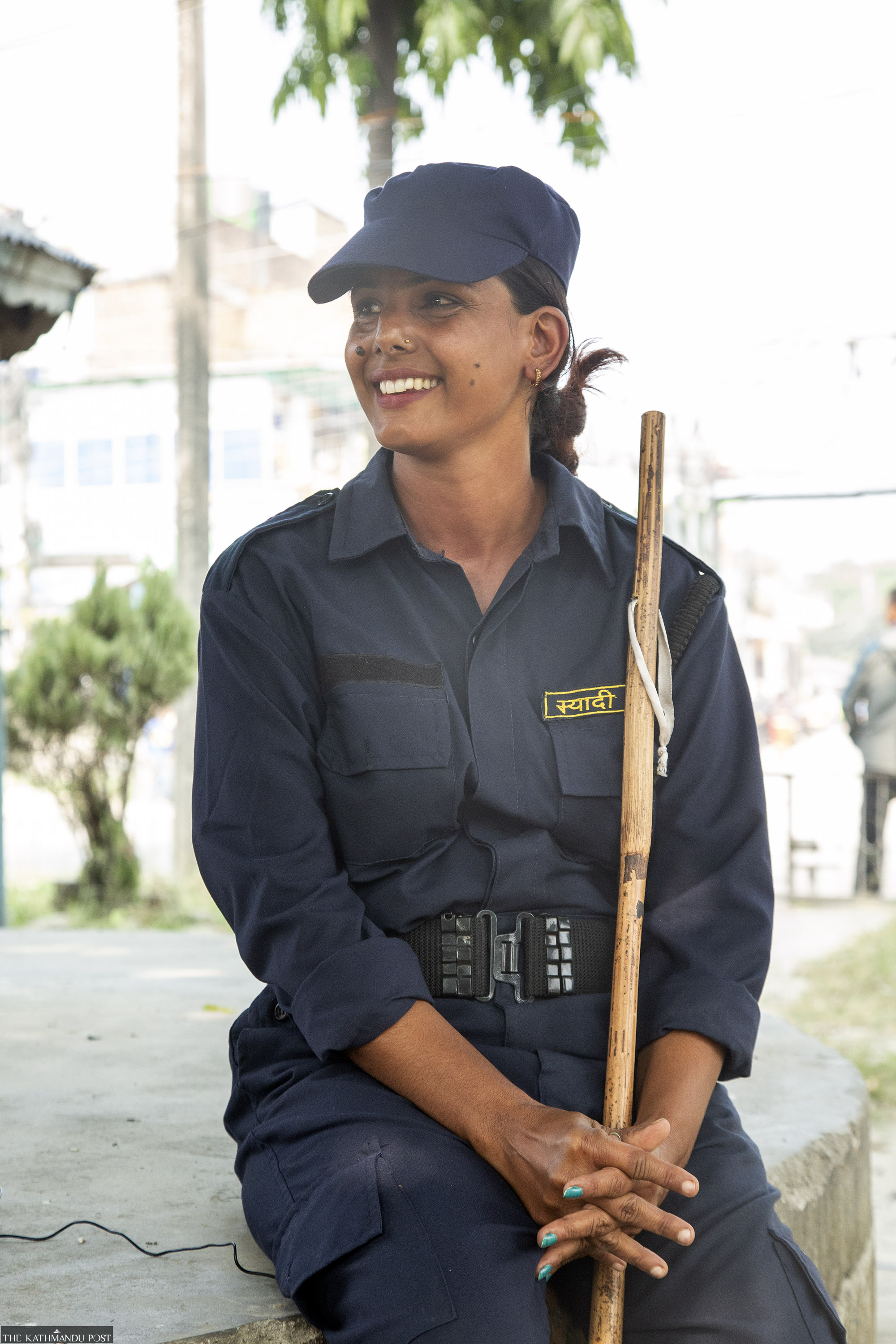 Sushila Parajuli Prakash Chandra Timilsena/TKP
Parajuli also served as temporary police in the local elections in May—the money she received was spent in repaying loans which her husband took to buy Tata magic, a small passenger vehicle. On returning home from Malaysia after developing a backache, he started driving the vehicle. "I always wished to serve my country in a police uniform," she said. "Now, even if it is a short-term job, I feel proud."
She, however, is curious and a little anxious about where she will be deployed during the elections and what if the area witnesses violence, or whether she will have communication problems due to the language spoken by locals.
Although some share concerns like that of Parajuli, others are confident and optimistic that they will overcome all the obstacles.
When the team reached the Area Police Office in Hariwan in Sarlahi, the women temporary police were ready for their daily drill. Their voices were loud and crystal clear while performing the drill.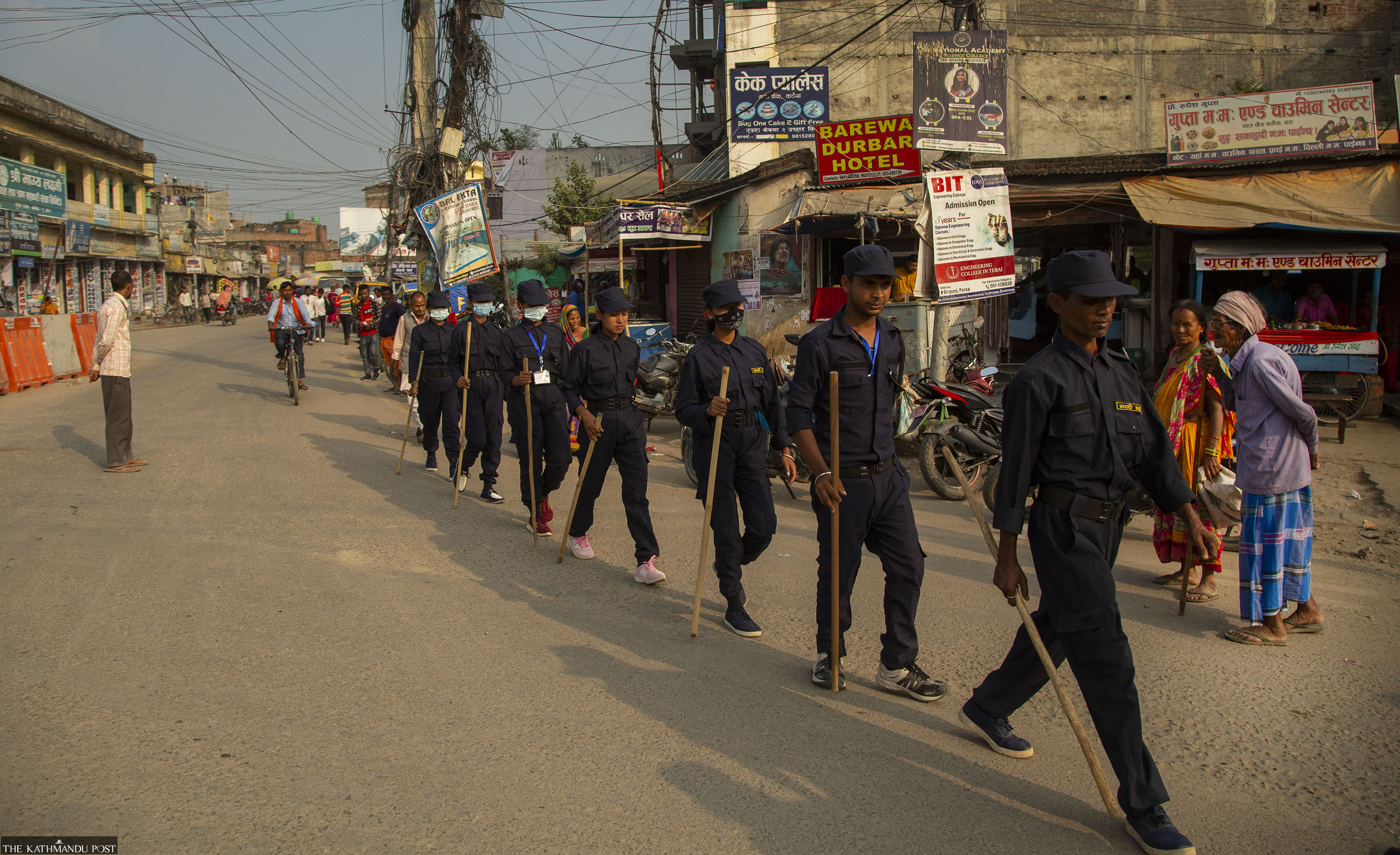 Temporary Police marching at Bharat Chowk of Kalaiya, headquarters of Bara district, in Madhesh Province. Prakash Chandra Timilsena/TKP
Laxmi Kumari Danuwar, 21, from Danuwari-9, Sarlahi has a family of six and is now posted in Hariwan. She has passed grade 12 but has no plans to study further. "We don't have our own land for agriculture. So I need to help my family," she said. Her younger brother goes to school.
Her experience working as a temporary police in May's local polls has boosted her confidence. "I gave my entire salary to my mother to support the family. My father is a farm hand and gets paid only when there is work," she added. "I was a bit afraid during the local elections, because the job was new, but not anymore."
Laxmi wants to join the Nepal Army, but her relatives advised that she should first gain experience as temporary police.
Menuka Kumari Shah from Sugar Factory, Hariwan is 19 and a bachelor's student at Chaturbhuheshwar Janata Multiple Campus. She took the police job so that she could pay her college fee—Rs20,000—and also help the family. "I will continue my studies."
Shah is not worried about where she will be posted on election duty. "We need to perform our duty honestly wherever we are deployed."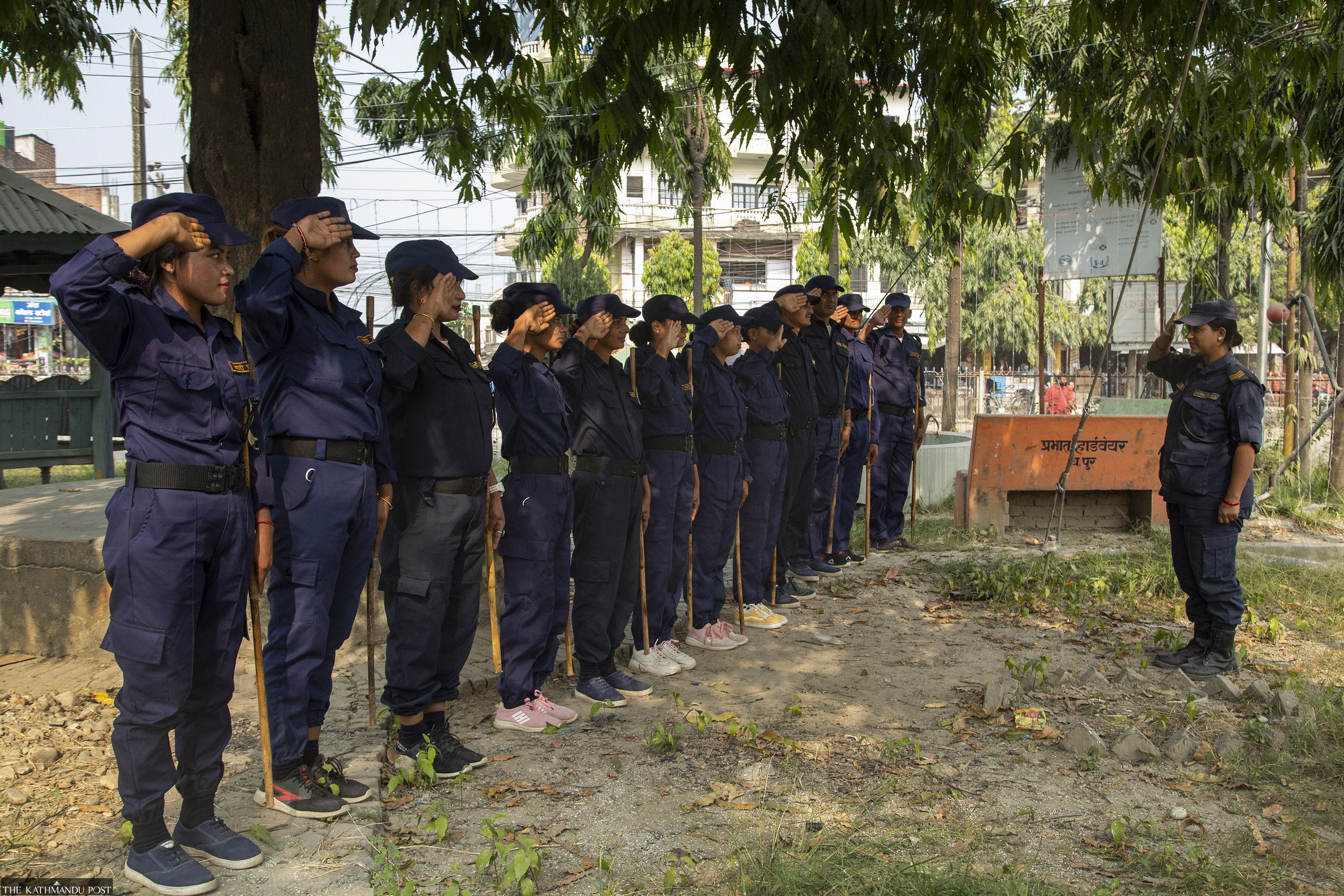 Of the total 66,884 applicants in the Madhesh province, 11,827 were women. Prakash Chandra Timilsena/TKP
There are 84,296 men and 30,642 women deployed as temporary police personnel across the country.
Madhesh province has the highest number of temporary police—23,771—while Karnali province has the lowest.
Of the total 66,884 applicants in the Madhesh province, 11,827 were women.
The temporary police personnel will get Rs 34,760 for a 40-day election duty. They will also receive Rs7,200 as food allowance, Rs6,000 for uniform (those deployed in mountain districts will get additional Rs1,000), Rs1,000 for transport and a snack allowance of Rs300 per day for four days.
---
---