Two witnesses in Alam trial change their statements
Government prosecutors demand protection for witnesses and their close relatives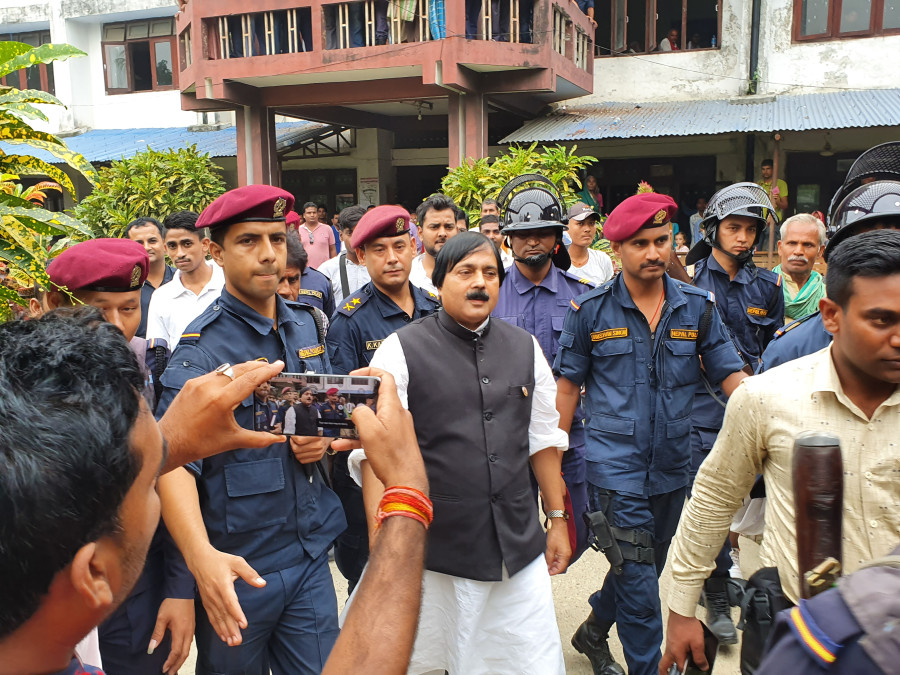 Police bring Alam at the District Court, Rautahat. Post File
bookmark
Published at : November 12, 2019
Updated at : November 12, 2019 08:17
Rautahat
Two witnesses in the trial of Nepali Congress lawmaker Mohammad Aftab Alam have changed their statements.

Alam is standing trial for the 2008 Rautahat explosion and the subsequent murder of at least 23 people, including Osi Akhtar and Trilok Pratap Singh.

But Akhtar's wife Amana Khatun on Monday filed a written testimony at the District Court, Rautahat, claiming that her husband, who was so far believed to have been killed in the explosion, was not in the country when the Rautahat blast occurred on April 9, 2008—the eve of the first Constituent Assembly elections.

According to Khatun's testimony, Akhtar was abroad for employment when the incident took place. She has also claimed that her husband has not returned home till date.
Gunraj Parajuli, the court registrar, confirmed the testimony of Khatun.
"Khatun's testimony will be used in Alam's trial," Parajuli said.

A second witness in the case, an Indian man believed to have been injured in the Rauatahat blast, has also changed his statement before the court.
Gauri Shankar Ram Chamar, a resident of Bairgania of India, also filed a written testimony at the court on Monday, claiming that he was injured in a cooking gas cylinder explosion at his home.

With the witnesses turning hostile, government prosecutors have demanded protection of witnesses and their close relatives.

There have been unconfirmed rumours about Alam's people cajoling and bribing the witnesses.

"I heard that my daughter registered a false testimony at the court due to the pressure from some villagers," said Khatun's father Samasul Miya.
Miya claimed that Akhtar, his son-in-law, died in the blast.

The court began a formal trial on Alam's case on Thursday. He was arrested on October 13 and charged with, among other crimes, holding, transporting explosive materials and burning alive the people injured in the blast Rajpur, Rautahat.
---
---