Parsa National Park to conduct a census of Gaur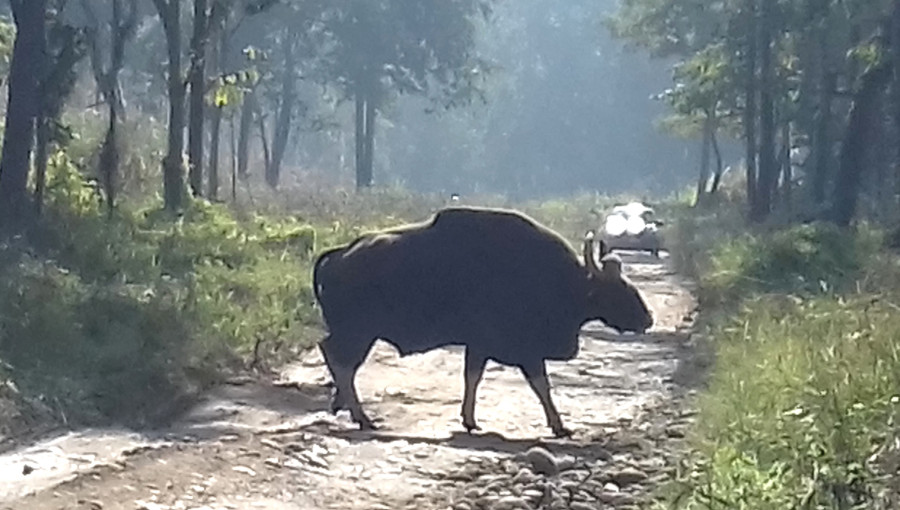 Officials at the park believe that the number of Gaurs currently in the park is 150. Shankar Acharya/TKP
bookmark
Published at : October 18, 2019
Updated at : October 18, 2019 08:31
Parsa
Parsa National Park is going to conduct a census of Gaur (Bos gaurus), commonly called Gaurigai, a protected wildlife species.

According to Amir Maharjan, chief conservation officer of the park, the census will be conducted with the help of National Trust for Nature Conservation. Maharjan said, "We are going to conduct the census in winter this year, as it is a suitable time to conduct the census."
Conservationists said that they are going to use 'Direct Sighting Method' (which, as the name implies, means counting the animals as you see them) to count Gaurs. Maharjan said, "Technician teams will be deployed in different teams to count the animals. They will use tamed elephants to count the animal."
Officials at the park believe that the number of Gaurs has been increasing every year in the protected area. "We have estimated that there are currently 150 Gaurs in the park," said Maharjan.
Gaurs prefer to live in dry elevated areas, like in the Chure region. As per the census carried out by the park last year, there were 105 Gaurs in the park. This animal is the largest wild cattle species in the world, measuring up to two metres up to the shoulders and weighing up to 250 kg. Gaur is also found in Chitwan National Park. Conservationists said that the number of the species has been declining due to hunting, habitat loss and exposure to various diseases.
The species is included as a protected mammal species list under the National Park and Wildlife Conservation Act 2029 (1973). It has also been listed in Appendix I of CITES. According to the World Wildlife Fund, Gaurs are found in eastern India, Nepal, Bhutan, Myanmar, Thailand, Laos, Cambodia, Vietnam, southern China, and the Malay Peninsula.
---
---