How farmers' groups siphoned hundreds of thousands by faking documents of the dead
Three prominent farmers' groups in Jhapa falsified documents to draw funds from the government's spring paddy assistance programme.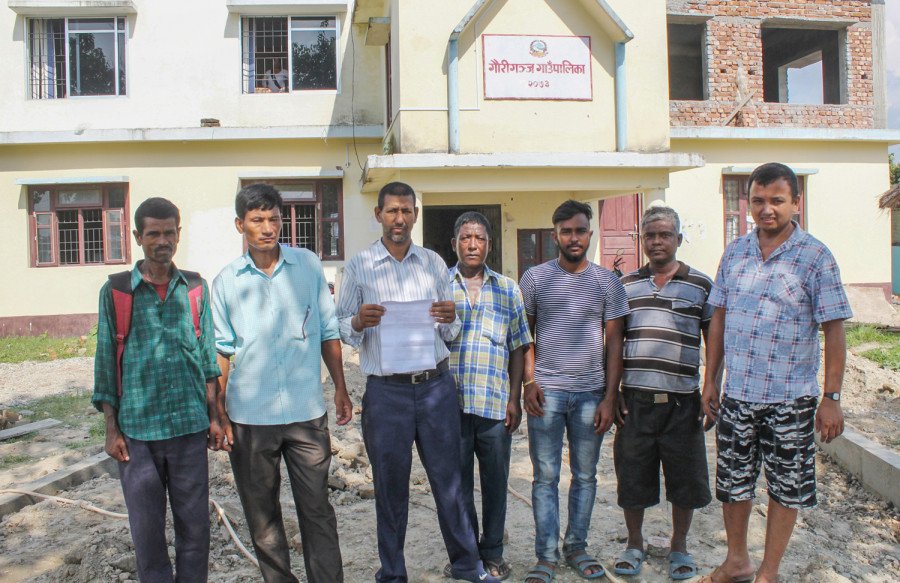 Farmers file complaint at the local municipality against farmers' groups. Arjun Rajbanshi/TKP
bookmark
Published at : August 17, 2019
Updated at : August 17, 2019 06:48
Damak
When Fagu Lal Rajbanshi found out that his father, Kaptaan, had received a government grant last year to harvest paddy during the spring season, he couldn't believe it. Kaptaan Lal Rajbanshi had been dead for more than 20 years.

"My father died in 1992," Rajbanshi said. "We were surprised to learn that a government grant had been withdrawn in his name."
Rajbanshi and Gaurigunj residents soon discovered, through records at the Agriculture Knowledge Centre, that two others—Nukanu Rajbanshi and Maan Maya Neupane—had also received agriculture grants. They too had been dead for years.
The villagers learned that three local farmers' groups in the municipality had falsified documents to take advantage of millions in agricultural grants. According to the local administration, the Tulachan Farmers' Group, Mangsaba Farmers' Group, and the Kankai Disaster Management Farmers' Group had collected Rs 1.86 million under the government's spring paddy special assistance programme.
Out of the three groups, Mangsaba has presented misleading records for 104 farmers, showing spring paddy cultivation in 68.4 hectares, and received over half a million rupees in the last fiscal year alone. The Tulachan group collected Rs811,000 by falsely representing 132 farmers, whom the group said had planted paddy on over 80 hectares. The Kankai Disaster Management Farmers' Group too withdrew around half a million rupees with fake papers from farmers like Man Maya Neupane, who died in 2015.
After Neupane's death, her paddy fields were inherited by her grandsons—Ram and Shyam—as her only son died in 2005.
"We have not planted any spring paddy, so when we heard that the government was releasing grants in her name, we were shocked," said Shyam.
The farmers' groups have also gouged other spring paddy farmers who say they have not been paid a penny, even though records show otherwise.
"We have not received a single rupee as paddy grant," said Chandra Bahadur Tamang, a local farmer. "We've learnt that the Mangsaba and Tulachan groups took the grants showing false records of my family."
According to Shesh Raj Paudel, agriculture officer at the Agriculture Knowledge Centre, the three farmer groups were provided with the grants in the 2018-19 fiscal year which ended on July 16.
"The centre only releases payment after the groups show us evidence that the farmers who were shortlisted to receive grants have been paid," said Paudel. "The groups had proper documentation, but we've now come to realise that they took us for a ride."
An official in the farmers' groups, who is also an elected ward member, told the Post that his group had falsified documents because of the centre's payment system.
"How can farmers' groups distribute grants to farmers without receiving it in the first place?" said Arun Rajbanshi, secretary of the Kankai farmers' group. "We falsified documents because the centre does not release the grants without evidence that the farmers have been paid."
Following the revelation, officials at Gaurigunj Rural Municipality have decided to initiate legal proceedings against the farmers' groups for their misappropriation of funds.
"The documents required to receive grants were made without the consent of farmers, and the money released in their names was kept by the groups," said Babu Raja Shrestha, chairman of the municipality. "That is wrong, and they must face consequences."
Forty-two farmers have filed a complaint at the rural municipality seeking action against the groups and officials involved in misappropriating the grants. The municipality office has written to the Commission for Investigation of Abuse of Authority, citing that farmers' groups falsified signatures and documents to trick government officials and misuse the grants.
---
---