Calls grow in ruling parties for Deuba to speak up on Lipulekh
Prime Minister Sher Bahadur Deuba is under pressure to respond to Modi's statement on India's road expansion through the territory that Nepal has included in its map.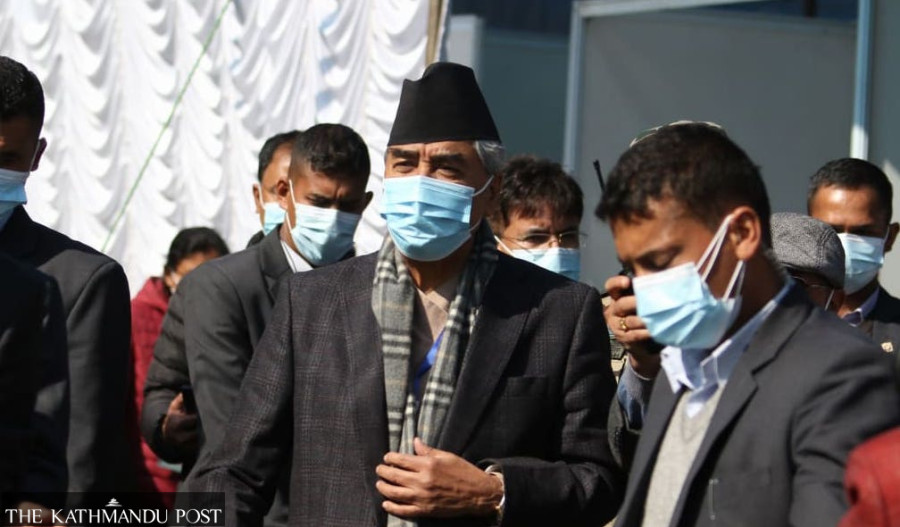 Post File Photo
bookmark
Published at : January 15, 2022
Updated at : January 15, 2022 07:37
Kathmandu
When it comes to India, Prime Minister Sher Bahadur Deuba's unease started soon after he assumed office on July 13 last year. In July-end, a youth fell into the Mahakali when a tuin, a metal cable he was using to cross the river snapped. Reports suggested Indian security officials had unfastened the wire.
Deuba came under pressure to take the issue up with India. His government hemmed and hawed for more than a month before sending a diplomatic note.
Now, as Deuba has completed six months of his tenure, he is under pressure once again to write to New Delhi in response to a recent statement by Indian Prime Minister Narendra Modi.
On December 30, while addressing an election rally, Modi announced that his government has extended a road to Lipulekh and further expansion work is going on. The Indian government is building a road via Lipulekh to Kailash Mansarovar in the Tibetan Autonomous Region of China.
The main opposition CPN-UML has been criticising the Deuba administration for failing to respond to Modi's claim on Lipulekh, which Nepal has already incorporated within its map.
UML's KP Sharma Oli government in May last year had published a new map to include Lipulekh, Kalapani and Limpiyadhura within the Nepali territory.
On Tuesday, the UML condemned the statement made by Modi and asked the government to speak up.
"The UML unwaveringly believes that construction of roads and other structures should be stopped. The issue should be promptly resolved through dialogue and no structure should be built at the state level until resolution is reached through dialogue," read the statement issued by Rajan Bhattarai, the UML's foreign department head.
Calls are now growing from within the ruling alliance, from Deuba's Nepali Congress and his coalition partners, to speak up and lodge a protest with India on Modi's recent statement.
Nepali Congress President Deuba is currently leading a coalition government with Communist Party of Nepal (Maoist Centre), the CPN (Unified Socialist), Janata Samajbadi Party and Rastriya Janamorcha as partners.
On Friday, Gagan Thapa and Bishwa Prakash Sharma, the two general secretaries of the Nepali Congress, jointly met with Prime Minister Deuba and urged him to send a diplomatic note to India protesting against Modi's statement.
Later in the day, both Thapa and Sharma issued a joint statement saying that Kalapani, Lipulekh and Limpiyadhura are integral parts of Nepal and that the Nepali Congress is clear about it.
"India should return its army from Kalapani. The construction of the road is a serious issue and objectionable. This should be stopped immediately," the statement added.
"We have drawn the attention of the prime minister to the recent statement [by the Indian prime minister] and urged him to make a position on the issue," said Sharma. "The prime minister then immediately rang up Foreign Minister Narayan Khadka and asked him to do the necessary homework to make the government's position clear."
Besides Thapa and Sharma, other senior Nepali Congress leaders including party vice president Dhanaraj Gurung have also called on the government to respond to Modi's statement and take steps to resolve the matter.
Leaders like Thapa, Sharma and Gurung were also facing criticism over their silence, as they were at the forefront when India first announced the road via Lipulekh during KP Sharma Oli's tenure as prime minister.
The Ministry of Foreign Affairs, however, is in a fix.
As soon as Modi's statement went public through the media, the Ministry of Foreign Affairs sought a detailed report from the Nepali Embassy in New Delhi. The embassy then forwarded the video footage of the election rally which Modi was addressing.
According to two government officials, the Foreign Minister told Foreign Secretary Bharat Raj Paudyal and Head of South Asia Division Tirtha Raj Wagle "to look into the matter".
Just as the ministry was about to make a move, Prime Minister Deuba went into isolation after a member of his private secretariat tested positive for the coronavirus. Minister Khadka could not meet the prime minister.
Deuba has been in isolation since Sunday after some ruling alliance leaders contracted the virus. A Covid-19 test came negative on Tuesday, but the prime minister again went in isolation after some in his staff tested positive.
Another test conducted on Thursday also cleared the prime minister of Covid-19, according to Deuba's private secretariat.
Now Foreign Secretary Paudyal has become a contact after some of the people he had met recently tested positive, according to Foreign Ministry officials.
"We, however, have prepared a working draft on the issue. But it is still not clear whether the government will write directly to the Government of India or issue a press note," the official added. "Since it is a very sensitive matter, Foreign Minister Khadka will show the draft to Prime Minister Deuba. Hopefully, we will have our position clear by early next week."
Though the boundary dispute with India started long ago, the issue of Lipulekh resurfaced in 2015 after Modi's China visit where both India and China agreed to develop a transit route through the trijunction.
As per the agreement in 2015 between India and China, the two sides recognised that enhancing cooperation in border areas through trade, pilgrimage by people of the two countries and other exchanges can effectively promote mutual trust, and agreed to broaden this cooperation so as to transform the border into a bridge of cooperation and exchanges.
The Nepal government had written separate letters to Prime Minister Modi and Chinese President Xi Jinping objecting to the decision to develop the transit corridor via Lipulekh. The issue, however, was forgotten.
It surfaced again in November 2019 after India released a new map incorporating Kalapani, Lipulekh and Limpiyadhura within its territory.
The Nepal government wrote three back-to-back diplomatic notes to India, urging Delhi for talks to resolve the issue. Delhi cold-shouldered the messages.
In the first week of May, Indian Defence Minister Rajnath Singh inaugurated the 75.54 km long road via Lipulekh. The Oli government objected to it sharply. Accordingly, the new Nepali map was released and incorporated in the coat of arms through a constitutional amendment, unanimously by all the parties.
Nepal-India relations hit a rock bottom. Communication at high levels started only after Samant Goel, head of India's external intelligence agency Research and Analysis Wing, in October, 2020 visited Kathmandu and met with then prime minister Oli. No details of the meeting have been made public officially yet.
Now Oli's party, the UML, which was sent to the opposition by the July 12 Supreme Court order, has upped the ante against Deuba over the Lipulekh issue. And Deuba's coalition partners also have joined the chorus.
"I am surprised why the government is not speaking and objecting to Modi's statement," said Narayan Kaji Shrestha, former foreign minister and head of the international department of the Maoist Centre. "Modi's latest statement on Lipulekh is the continuation of India' s intention to continue encroaching upon the Nepali territory."
"India should stop such an attitude and the Nepal government should raise the issue with India," Shrestha told the Post.
Jhala Nath Khanal, head of the international department of CPN (Unified Socialist), also issued a statement on January 10 objecting to Modi's statement.
"The Indian government knows very well that Lipulekh, Kalapani and Limpiyadhura are sovereign territory of Nepal," said Khanal in the statement. "Any development activity conducted there without consultation with the Nepal government is totally illegal and is in violation of our territorial integrity and national sovereignty."
Former Nepali ambassador to India, Deep Kumar Upadhyay, who is also a Congress leader, said that since both countries have assigned foreign secretaries to look into the issue of boundary dispute, they should immediately start talks.
"The foreign secretary level mechanism should be revived and they should entrust the technical committees with the task of looking into the issue without further delay," Upadhyay told the Post. "There is no alternative to talks at different levels and stages because this issue cannot be resolved overnight."
According to Upadhyay, the government, on its part, should immediately write a diplomatic note to the government of India.
"Nepal must express its concerns over the statement by Modi," said Upadhyay, "and call on the Indian government to stop road construction."
---
---