The revolution has stalled
The Maoist Centre is at a loss for what to do next. As it goes to 'national conference', it seeks to reinvent itself. But can it?

Analysts say Maoist chair Pushpa Kamal Dahal has lost his revolutionary zeal. Angad Dhakal/TKP
bookmark
Published at : December 25, 2021
Updated at : December 25, 2021 20:58
Kathmandu
The revolutionists are on the horns of a dilemma.
Days for them to bask in the glory of bringing change have gone. They are now trying to find space in the changed context.
The Communist Party of Nepal (Maoist Centre) now doesn't know what it should do—whether to revive its old ideology or formulate a new guiding principle.
Analysts say the party chair Pushpa Kamal Dahal has lost his revolutionary zeal; he is left with no option but to tag along with one of the parties he once dubbed "traditional forces", and in doing so, the Maoists have become rudderless.
After the Nepal Communist Party (NCP), which Dahal had formed by merging his party with KP Sharma Oli's CPN-UML in May 2018, was disbanded, the former rebel leader is currently playing second fiddle to Nepali Congress' Sher Bahadur Deuba, his enemy number one during the "people's war" he had led.
Dahal's Maoist Centre is a partner in the current Deuba-led coalition. Deuba may continue the alliance until the elections, but his party is unlikely to contest the upcoming elections jointly with the Maoists, especially after the Congress leader's comeback as party president from the 14th general convention.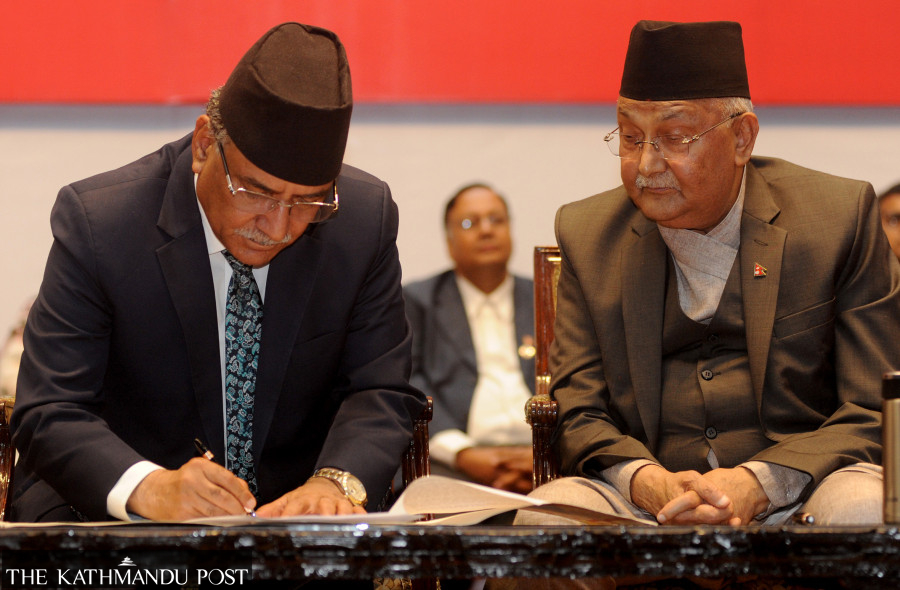 Post File Photo
Insiders admit the party is in a serious crisis.
"Our party needs to transform seriously," said Hemraj Bhandari, a Central Committee member. "We need to work on our ideology and organisational structure. The main task of the national conference is to provide direction to our party."
The Maoist party is holding its first national conference starting Sunday in Kathmandu, on the heels of the general conventions of two major parties—the UML and the Congress.
Both the parties have installed old guards to lead the party through elections. But the Maoist Centre is not a party that conducts elections. Dahal has been the party's undisputed leader for over three decades now. He is set to be elected party chair again, as there are no challengers to him.
Dahal on Thursday said that he "wants to retire", but his friends are not letting him do that.
"I'm continuing only because friends have requested… as I'm committed to fighting till the end for the people, prosperity and liberation," Dahal said in an interview with a news agency. "Personally, it's good for me to retire and write memoirs."
Dahal has been leading the party for the last 35 years.
Now under Dahal, the party is trying to reinvent itself from the upcoming gathering, which the Maoist Centre has dubbed "historic first national conference" to develop "new revolutionary thought" and build "a revolutionary party".
Six years after the constitution and 15 years after the end of the "people's war", Dahal's Maoist party appears to be devoid of any agenda.
Ever since the Maoists shed the "Prachanda Path"— modelled on Peru's "Shining Path", which was adopted in 2001—after the party entered mainstream politics following the 2006 peace deal, they have been trying to figure out a guiding principle for them.
The Maoists have often floated "21st-century people's democracy", but it remains a barely discussed issue even within the party.
"There will be extensive discussions on ideological issues as well as even on changing the party's name," said Bhandari. "Whether we should revise
Prachanda Path will also be on the agenda."
"Prachanda Path", named after Dahal's nom de guerre, sought to contextualise Marxism-Leninism-Maoism in Nepal for a revolution, advocating a combination of armed mass revolt and 'people's war'. The doctrine envisioned control of the hinterlands and encircling of the urban settlements.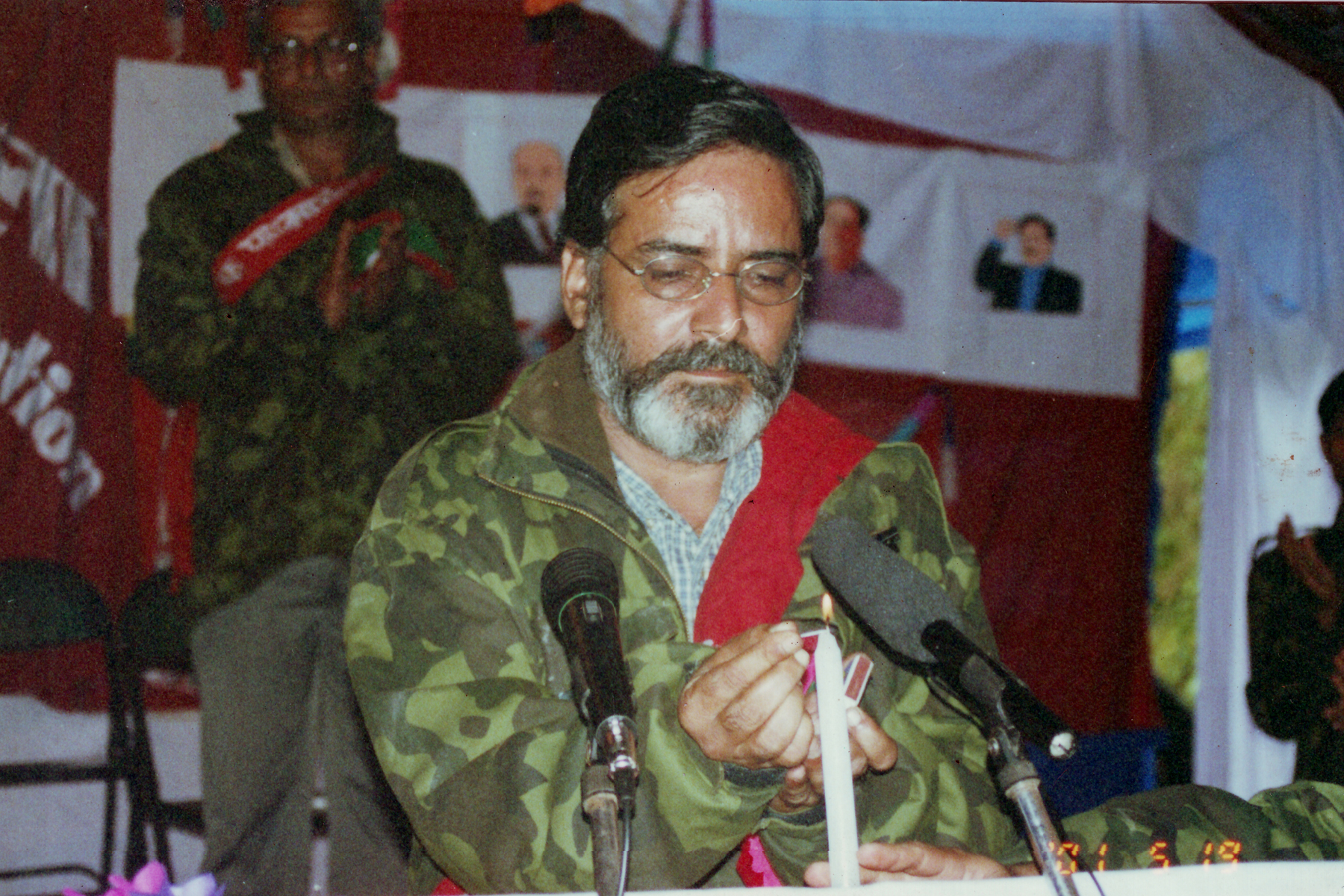 Prachanda Photo Courtesy: Dinesh Shrestha
Today's Dahal, however, is known more as a "revisionist", someone continually trying to seek revisions of fundamental Marxism premises with an alliance with the bourgeoisie, who he once was fighting against, than a revolutionist.
And it is primarily because of the degradation his party has gone through over the years, say former Maoist leaders.
Bishwo Bhakta Dulal, a former Maoist leader who currently leads the Baigyanik Samajbadi Communist Party-Nepal [Scientific Socialist Communist Party-Nepal], said the Dahal-led Maoist Centre has become a capitalist party.
"Though it has been using some revolutionary jargon here and there to pander to its cadres, there is no radical touch in the party," Dulal told the Post in an interview. "The party's merger with the UML was the final nail in the coffin."
After the merger failed, according to Dulal, the Maoist Centre is now even struggling to retain its leaders and cadres, as it is left with no agenda to carry forward.
"Now if the party is still talking about a revolution, this is nothing but rhetoric," said Dulal. "It's just a ploy to save the vote base."
Though the Maoists emerged as the single largest party in the 2008 Constituent Assembly elections, which installed Dahal as prime minister, their popularity gradually declined. By 2013, they were relegated to the third party.
In 2012, Mohan Baidya, one of the most fluent expounders of Prachanda Path, parted ways with Dahal, arguing that the Maoist leader had deviated from the party's core ideology and left the 'people's war' halfway.
Along with Baidya, the other Maoist leaders to sever ties with Dahal included Ram Bahadur Thapa, Pampha Bhusal, Chandra Prakash Gajurel and Netra Bikram Chand.
They formed a new party called CPN-Maoist.
Chand in 2014 split from the CPN-Maoist and formed a new outfit to launch what he called a unified revolution, saying there was the need for a people's revolt based on the 'people's war.' In 2016, Thapa and Bhusal returned to Dahal's fold. But in December last year, Thapa abandoned Dahal and defected to the UML.
Chand signed a peace deal with the government on March 5, dropping his idea of a unified revolution. Because her party is a coalition partner, Bhusal is a minister in the current government.
According to analysts, Dahal's Maoist party has become like any other parliamentary force he once detested. The party is now in a survival game, they say.
"The party is in big, big trouble," said commentator Mumaram Khanal, who left the Maoist party in 2005. "If it tries to go back to an armed struggle, it will further plunge into crisis, as there are no takers for such a classical idea of revolution now," said Khanal, who's had his brief stints with Naya Shakti and Sajha Party.
According to Khanal, if the Maoist Centre wants to survive, it can try to come up with some concrete plans and programmes and a clear-cut ideology to convince the cadres and the people that they indeed aim to achieve socialism.
The Maoists are holding their first-ever national conference eight years after their general convention (seventh) in Hetauda in 2013. It was the first convention since the peace deal that brought them to the city from the jungles. It was at that time the party abandoned "Maoism" and ventured into a search for a new guiding principle like "21st-century people's democracy".
Baidya, once Dahal's mentor, currently leads the CPN (Revolutionary Maoist).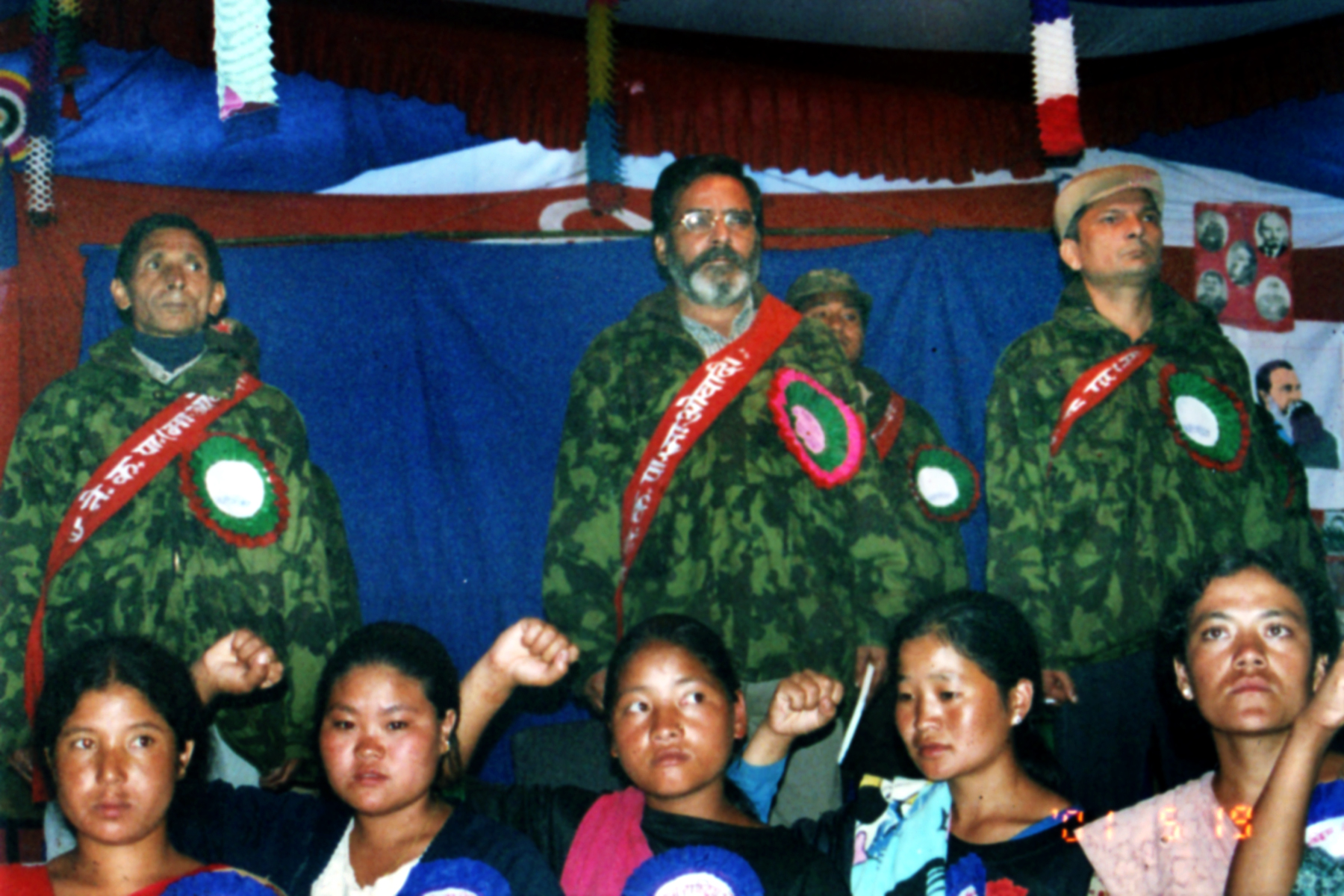 Prachanda (Centre), Mohan Baidya (left) and Baburam Bhattarai at the inauguration of the first PLA meeting in Rolpa in 2002. Photo Courtesy: Dinesh Shrestha
After the 1986 unsuccessful attempt to attack the urban centres by the Communist Party of Nepal (Mashal) led by Baidya, he decided to step down to give the reins to Dahal. The incident is known as "sector kanda".
"Now that the Maoist Centre has made itself an inseparable part of the parliamentary system, there is no revolutionary trait left in the party and its leaders," Baidya told the Post in an interview. "Dahal may ratchet up some revolutionary rhetoric, but that's not going to work anymore. Much water has flown down the Bagmati now."
When it comes to ideologies, according to Baidya, his and Dahal's parties are now poles apart.
"Actually, the Maoist Centre currently does not have any ideological stance," said Baidya. "They are saying they want to move forward and the upcoming conference will give direction to the party. But what's strange is no one knows what they actually are trying to say."
Baidya ruled out unity with the Maoist Centre, as speculated by some leaders. He, however, said a working alliance is always possible in politics.
"But only if the Maoist Centre comes up with a concrete stance on the issues of national independence," said Baidya, without elaborating further, who only recently appeared on a television show rooting for an elected monarch similar to Cambodia's.
Baidya believes the Maoist Centre has lost the vibrancy of a communist party. "There's a stasis more than a crisis in Dahal's party," said Baidya.
On Wednesday, Krishna Bahadur Mahara, spokesperson for the Maoist Centre, said that the leadership will "seriously review ourselves".
"We were the largest party in 2008 but 10 years later we became a small party. We will reassess our experiences during the parliamentary practice," Mahara told a news conference. "We will also evaluate where we erred while fighting the obstacles on our path to revolution."
Mahara added that the upcoming conference will focus on developing a new ideology.
"We are unlike any other party. We want to develop a different party," he said.
But how?
Lokraj Baral, a professor of political science at the Tribhuvan University, said there is no point trying to find ideological lines in Nepal's communist parties now.
"The ideology issues in Nepali communist parties are actually insignificant as they try to achieve something that's not possible in a multiparty democratic set up. And they cannot change the system that Nepal practises," said Baral. "The Maoist Centre needs to learn to be a democratic force and it should also start exercising democracy within the party. It can formulate any ideology of its own."
The Maoists' major concern at present is their diminishing voter base, according to Baral.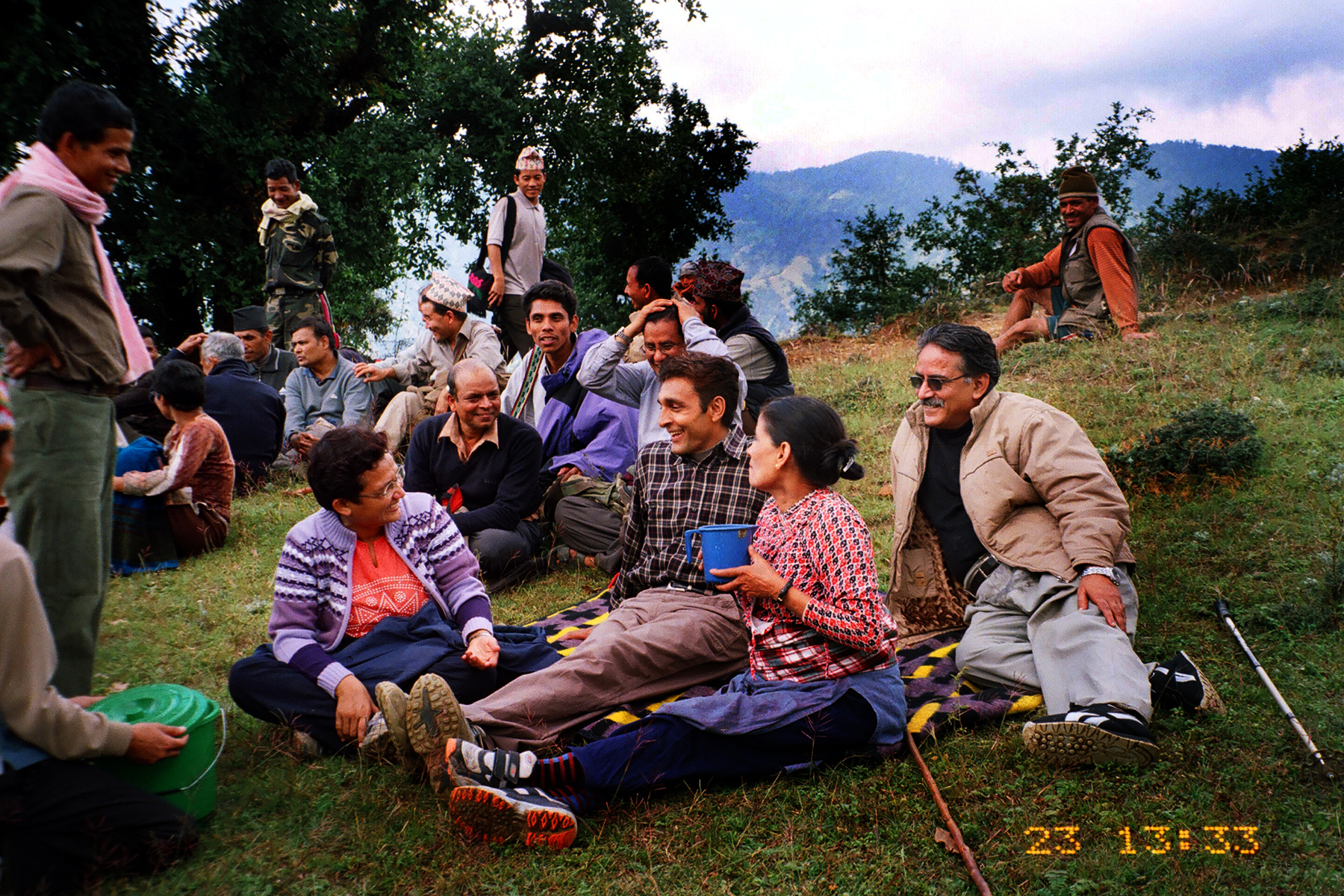 Pampha Bhusal (left), Top Bahadur Rayamajhi, Sita Dahal and Prachanda with other leaders. Photo Courtesy: Dinesh Shrestha
"They will have to share votes with the UML when they go to the polls," Baral told the Post. "If they can form an alliance with Madhav Kumar Nepal's CPN (Unified Socialist), they might win some seats. Or else, they are staring at a serious crisis."
During the upcoming conference, while the Maoist Centre will reinstall Dahal as chair, it will select a 299-member Central Committee, with a 99-member Politburo and a 33-member Standing Committee.
As per the Maoist statute, the party will have five office bearers with a chair, a vice-chair, a general secretary, a deputy general secretary and a secretary but the conference is expected to increase the number as there are many aspirants.
"We will basically focus on the party policy during our conference," said Ram Karki, a Central Committee member. "Our goal is to make our party different from other parliamentary forces."
Karki admitted that the party needs to undergo serious transformation by developing and implementing a new principle to guide it.
"But what is most important is a change in the conduct of leaders," said Karki, who has often questioned leaders' conduct and changed lifestyles. "And such a change must start from the top leadership."
Observers say the Maoist party known for holding vibrant discussions and making introspections has now turned into a club of former rebels who lack the rebellious touch. In the party, there is no challenger to Dahal. The lethargy in its leader has rubbed off on the party ranks, according to observers.
"The Maoist Centre has a host of issues to evaluate, and it could do so starting with why it was shunted to third position in 2013 after an overwhelming victory in 2008," said Hari Roka, a political analyst. "The party has not yet discussed why the Nepal Communist Party (NCP) faced a split and who was responsible for that."

According to Roka, the Maoists should first figure out how their party is different from the UML, the Nepali Congress and the CPN (Unified Socialist).
"It has not even prepared a political document when its convention is just right there. No one knows what they are thinking about their new strategies," said Roka.
Just like other parties, the Maoist Centre is under legal and constitutional obligation to hold its general convention, as it held the last one in 2013. Since it merged with the UML in May 2018 and was revived in March this year, it must hold the convention by the end of this year. However, the party has not called it a convention.
Observers say the Maoist Centre's gathering is a formality and there is nothing to expect.
"The Maoist Centre is organising this national conference because there is an obligation," said Rajendra Maharjan, a political commentator. "There is nothing to expect on the ideological front. At maximum, the party will try to create a ground for unity with some other like-minded forces. There is no one to challenge Dahal's leadership. The status quo will continue, as the party will try to remain relevant."
---
---