Sher Bahadur Deuba defeats Shekhar Koirala to reclaim Congress president post
The leader is faced with a host of challenges—from giving a direction to the party to leading it to the next elections.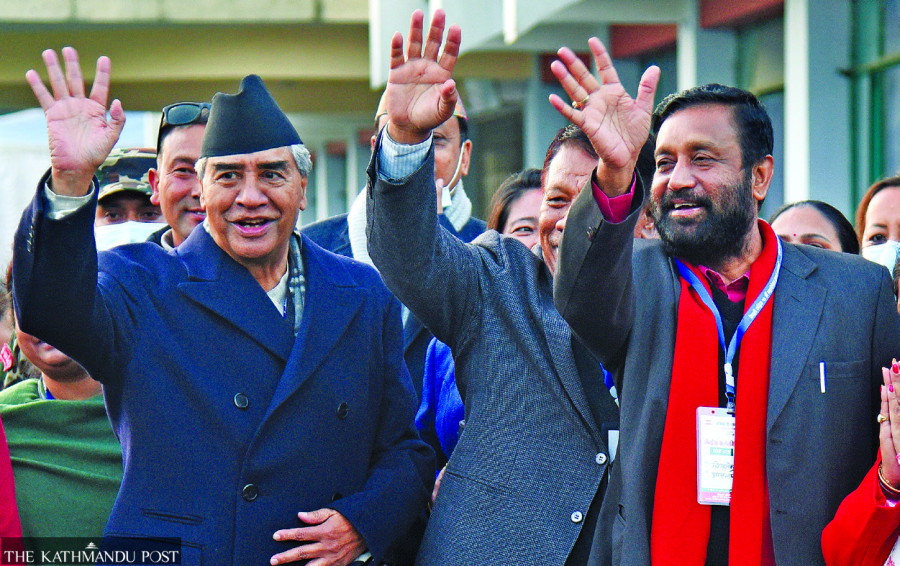 After both of them were ousted from the first round of Nepali Congress leadership election, Prakash Man Singh (centre) and Bimalendra Nidhi (right) decided to support frontrunner Sher Bahadur Deuba (left) over Shekhar Koirala in the run-off, Tuesday. Angad Dhakal/TKP
bookmark
Published at : December 15, 2021
Updated at : December 15, 2021 09:16
Kathmandu
Equations collapsed. New dynamics emerged. And by the time the schedule for a runoff was announced, promises crumbled.

In Nepal's grand old party, those who vowed to change the leadership swiftly sided with the old guard on Tuesday, as soon as election results were declared in the morning.
After none of the five candidates—Sher Bahadur Deuba, Shekhar Koirala, Prakash Man Singh, Bimalendra Nidhi and Kalyan Gurung—could secure over 50 percent of the votes, the election committee announced a runoff between Deuba and Koirala.
Deuba secured 2,258 votes (48 percent) while Koirala garnered 1,706 votes (36 percent) of the total 4,679 votes cast. Others were left far behind.
Both Nidhi and Singh, who had filed their candidacies promising to rid the party of Deuba's leadership, failed to live up to their words.
Both declared their support to Deuba.
Singh said that Deuba has promised to reform the party, amend the party charter and change his working style.
"The elections have entered the second phase. I contested the elections for a change in the leadership, but when results of the first phase were out, Deuba emerged as acceptable by a majority of the delegates," said Singh. "Deuba asked me to lend support and promised that he will change his working style. So after consultations with my team, I decided to support him."
Later in his meeting with his supporters, Singh revealed that he was offered the post of prime minister by Deuba after the next elections.
"We reached some tentative power equations," said Singh. "I am not in a position to reveal all the deal between us."
Earlier in the morning, Koirala had also reached out to Singh and Nidhi, seeking their support. But he ran late. Deuba had already cultivated his rivals by sending his trusted aide, Bal Krishna Khand, to meet the duo.
In a bid to neutralise any further opponent, Deuba also met with Ram Chandra Poudel, who has stayed away from the convention over his own grudges against his team members—Singh and Koirala.
Deuba heaped praises on Poudel saying the senior leader's contributions to the party are immense and that the country would soon need his services, which many understand as a bait of the President post.
The 75-year-old five-time prime minister reclaimed the party president post.
It was an easy win for Deuba, as his rival Koirala was left high and dry by those who had until the day of voting assured support to him should the voting go to runoff.
In the second round of voting, Deuba secured 2,733 votes (59 percent of the total 4,623 votes cast) to defeat Koirala, according to the election committee of the party.
Koirala secured 1,855 votes while 35 votes were invalidated.
In the last convention held in March 2016 also, Deuba had emerged victorious in the second round after Krishna Prasad Sitaula backed him. Deuba defeated Poudel, who this time, disgruntled at members of his own camp, detached himself from the convention. Poudel did not even show up to vote.
Insiders and observers say the Congress has lost one more opportunity, and its transformation continues to remain a pipedream.
According to them, Deuba doesn't inspire hope when it comes to party organisation or leadership to bring the party into the reckoning, especially after the drubbing it faced in the 2017 elections.
Mahesh Acharya, a former finance minister who is contesting for vice president independently, said that Deuba will face a two-pronged challenge as the new party president and prime minister.
"The ongoing election has created bitterness in the party so the first and foremost challenge for Deuba will be to unite the party," Acharya told the Post. "Factionalism has been the bane for the Nepali Congress and it must end."
According to Acharya, the party is also facing a serious ideological crisis and it's up to Deuba to address this.
"On the national political front, effective functioning of the Parliament and government will be an immediate issue for Deuba. He has to take the lead to end the crisis in the judiciary as well," said Acharya. "And national elections are just round the corner. Deuba has to come up with a strong plan to steer the party to victory."
It was under Deuba's leadership the party faced a drubbing in the 2017 elections.
"If Deuba fails on governance and delivery—there is Covid-19, there is climate crisis, there is economic slowdown—it will let the anti-incumbency factor come into play," said Acharya. "That could heavily impact our party during elections."
He is one of the leaders not to have lost any parliamentary elections (including two Constituent Assembly elections in 2008 and 2013) since 1991.
After the first parliamentary elections held following the restoration of democracy in 1990, Deuba became home minister in the Girija Prasad Koirala-led government. He was 46 then.
Four years later, riding on political upheavals first stoked by GP Koirala and then Manmohan Adhikari—both dissolved the House of Representatives, but the latter's attempt was blocked by the Supreme Court—Deuba became prime minister. He served for less than two years until March 1997.
His second stint as prime minister started on July 26, 2001, months after the royal massacre. The Maoist insurgency, launched in 1996, was at its peak. He declared a ceasefire with the warring Maoists, but it broke down after the rebels backtracked.
In 2002, then king Gyanendra fired Deuba as prime minister, calling him incompetent after he sought more time to hold elections.
The same year, Deuba split from the Nepali Congress in a rebellion against GP Koirala and formed Nepali Congress (Democratic).
But Gyanendra appointed him prime minister again in 2004 after two governments.
Thereafter, he was out of power for 12 years. Following the death of Sushil Koirala, Deuba became party president in 2016 from the 13th general convention, defeating Poudel.
A year later, he struck a deal with Maoist chair Pushpa Kamal Dahal and returned to power, for a fourth time, on June 7, 2017.
His government oversaw the elections that year which his party lost to the communists. The Congress came a distant second. He vacated Baluwatar for KP Sharma Oli in October 2018.
But three and a half years later, Oli's misadventures and infighting in his party set the ground for Deuba to return to power for a fifth time. Deuba was appointed prime minister on July 13 as per a Supreme Court order a day before.
Though the elections to the party president are over, election results for various posts, including the office bearers and central working committee, are still not out. It will take another couple of days to come to the final results.
The central elections committee has decided to count votes from Thursday for the rest of other posts–vice president, secretary general, joint general secretaries and central working committee–to be elected from open and other different clusters.
Gagan Thapa, 46, Bishwa Prakash Sharma, 50, and Pradip Paudel, 44, all contemporaries who come from student politics, are vying for general secretary posts.
Minendra Rijal, 64, and Prakash Sharan Mahat, 62, too have thrown their hats in the ring.
The party can elect only two general secretaries.
Thapa and Rijal represent the Koirala camp while Mahat and Paudel are from the Deuba faction. After failing to find a place in Deuba's group, Sharma had decided to run for general secretary post from Singh's camp.
After Singh decided to rally behind Deuba, Sharma said on Tuesday afternoon that he would "follow the leader."
"Managing the camps and groups or eliminating factionalism is the top task for Deuba now," said Ramesh Rijal, a leader close to Deuba.
"If we fail to manage camps and reduce bitterness among groups, it would be difficult for us to win the upcoming elections. So the topmost job for Deuba would be to manage differences inside the party."
---
---