Competition heats up in Congress in lead up to general convention
No dearth of aspirants in the grand old party that has a history of factionalism. As of now, it's a close fight between Deuba and Poudel camps.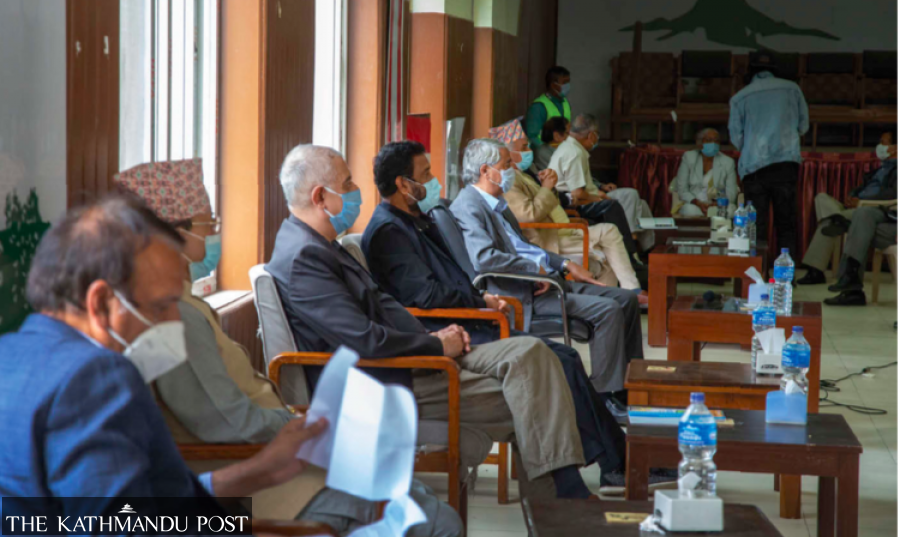 Post File Photo
bookmark
Published at : December 1, 2021
Updated at : December 1, 2021 23:48
Kathmandu
As the ruling Nepali Congress heads for its 14th general convention, scheduled for December 10-12 in Kathmandu, election results of district conventions are trickling in, indicating a neck-to-neck competition between the factions led by Sher Bahadur Deuba and Ram Chandra Poudel.

So far, convention results from 61 districts have been announced.
While Deuba has lost one of his key allies, Bimalendra Nidhi, who has announced his candidacy for the post of party president, the Poudel faction has the backing of some key leaders including General Secretary Shashank Koirala, former vice president Prakash Man Singh and senior party leader Shekhar Koirala.
Nidhi holds a greater sway in Province 2, which will send more than 800 delegates to vote during the convention.
In the Poudel faction, there are too many aspirants for party president. Poudel so far has maintained that he would throw his hat in the ring, while many say the Koiralas—Shashank and Shekhar—too are in the fray. Prakash Man Singh is also vying for the post of party president.
Leaders from the Deuba camp believe the more the candidates from the Poudel camp the better.
A candidate must secure 50 percent of total votes to win the election.
Over 4,000 delegates from different clusters will be voting to elect the new party leadership.
"Over 65 percent of delegates have already been elected. They will be voting during the general convention to elect a new leadership for the next five years," said Jagannath Shrestha, a member of the Central Elections Committee. "We are awaiting results from Province 2 and some other districts."
Voting will take place for the posts of party president, two vice-presidents, two general secretaries, eight joint general secretaries and 134 Central Working Committee members.
In the 168-strong Central Working Committee, 34 members will be nominated.
Party insiders and observers keeping a close eye on the Congress general convention say unless the Poudel faction manages to reach a compromise on the presidential candidate, Deuba could emerge as the winner.
There, however, is yet another faction in the party led by Krishna Prasad Sitaula, a former general secretary.
Sitaula is considered a key player in the party, and Deuba lately has been trying to bring him into his fold. In the provincial level conventions, scheduled for Friday and Saturday, the Deuba and Sitaula camps are planning to make an alliance.
In the last general convention held in March 2016, Sitaula had supported Deuba in the run-off after the latter failed to secure the required number of votes in the first round.
If Deuba has to adjust Sitaula, he has to manage some leaders close to him as general secretary, joint general secretary and Central Working Committee members.
Apart from Deuba and Nidhi, some other leaders too have either announced their candidacies or expressed their intentions to contest for some office bearer positions.
For the post of party vice-president, Arjun Narsingh KC, Mahesh Acharya, Bal Bahadur KC and Chandra Bhandari have already expressed their interest.
Gagan Thapa and Bishwa Prakash Sharma have announced their candidacies for the post of general secretary.
Minendra Rijal, Pradip Poudel and Prakash Sharan Mahat too are in the fray for the post of general secretary.
Balkrishna Khand, Gyanendra Bahadur Karki and Ramesh Lekhak too are general secretary aspirants.
The party will elect two general secretaries.
Both Deuba and Poudel factions are likely to announce their panels after the province level conventions are over.
"The results so far suggest a neck-to-neck competition," said Sharma, who is also the party spokesperson.
Insiders say the convention results may provide some glimpse into a possible composition, but it is hard to predict winners.
"In the last general convention, the Poudel camp had the support of 44 district presidents, but Poudel lost party presidency elections to Deuba," said Sharma. "Therefore, having a majority of district presidents does not necessarily uplift one's chances during the main convention."
All district presidents are delegates in the convention to elect the new leadership.
As per the Nepali Congress charter, each election constituency elects 25 delegates, who will vote during the general convention. This way, 4,125 delegates come from 165 constituencies.
So far, 3,000 plus delegates have been declared. Deuba appears to be strong in Sudurpaschim, Karnali and Lumbini provinces. The Poudel-Koirala-Singh group is stronger in Gandaki, Bagmati and Province 1.
"Preliminary results are encouraging and if this trend continues, Deuba will win the party presidency in the first round," said Min Bishwakarma, a leader close to Deuba. "But nothing can be said at this point of time. Several factors come into play, and the voting date is about two weeks from now."
From the Deuba camp, it is likely that Khand and Mahat will contest for general secretary, said sources.
Over 25 Nepali Congress leaders have expressed their intent to contest for the post of joint general secretary.
The party will elect eight general secretaries.
Analysts say the rival camp in the Nepali Congress has managed to build pressure on the establishment side led by Deuba, but the opponents need to figure out a common candidate if they are to win.
"Results so far suggest pretty tough competition between the two camps," said Uddhab Pyakurel, an associate professor at Kathmandu University. "Pressure is on the Poudel camp to forge consensus."
According to Pyakurel, factionalism in the Poudel camp would benefit Deuba.
"The Poudel faction needs to make prudent moves and reach a deal on a common candidate for the post of party president," Pyakurel told the Post. "If the opponents want to put up a strong challenge to Deuba, they need to resolve the differences."
---
---