After Deuba's trust vote, UML seems to be unravelling
As differences between Oli and Nepal have reached the point of no return, the only question is how many will side with the latter as he appears set to quit the party, insiders say.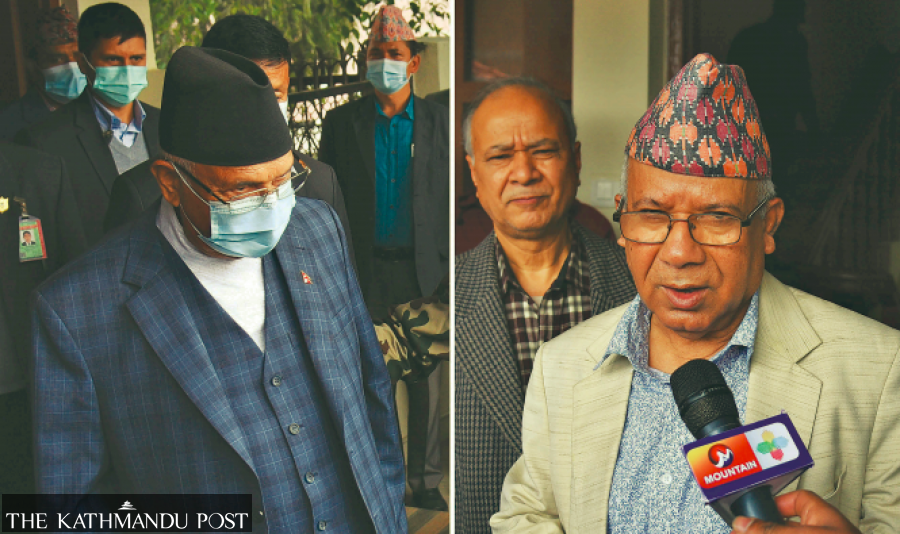 Post File Photo
bookmark
Published at : July 20, 2021
Updated at : July 20, 2021 07:17
Kathmandu
The conflict in the CPN-UML, which was relegated to the opposition benches last week, has escalated further after as many as 22 of its lawmakers on Sunday voted for Prime Minister Sher Bahadur Deuba during his vote of confidence.
On Monday, the party's Central Committee decided to seek clarifications from the 22 lawmakers–14 from the Madhav Nepal faction and eight from chair KP Sharma Oli's group–for defying the party whip, in what looks like a precursor of a party split.
Bishnu Rijal, a Central Committee member of the UML, confirmed that Monday's meeting decided to seek clarification from 22 Members of Parliament.
Those who defied the party whip have been given 24 hours to furnish their clarification.
Birodh Khatiwada, Jeevan Ram Shrestha, Kalyani Khadka, Metmani Chaudhary, Bhawani Khapung, Mukunda Neupane, Parvati Bishanke, Hira KC, Krishna Kumar Shrestha and Gopal Bam had voted for Deuba. Similarly, Prem Bahadur Ale, Dhan Bahadur Budha, Bina Budhathoki, Sarala Yadav, Pushpa Kumari Karna, Laxmi Chaudhary, Nirudevi Jairu, Ram Kumari Jhakri, Kalila Khatun, Sabina Hussein and Krishna Lal Maharjan also voted for Deuba.
The UML that has been in turmoil for quite some months appeared to become more vulnerable to unravelling following Sunday's voting on Deuba's confidence motion.
The Oli camp has concluded that the "mutiny" by the Nepal faction is an"unforgivable crime", while it is also trying to figure out how some lawmakers who were loyal to the establishment decided to vote for Deuba.
"Some leaders have committed an 'unforgivable crime' by voting for Deuba and it is not acceptable to us," General Secretary Ishwar Pokhrel said on Monday while speaking at the party's Central Committee meeting that decided to seek clarification from 22 lawmakers, according to UML leaders the Post talked to.
According to insiders, during the Central Committee meeting, Oli came down heavily on the dissidents, particularly Madhav Nepal, saying there is no space for Nepal in the party from now onwards.
Immediately after the Central Committee meeting, Oli called a meeting of the party's Standing Committee.
As many as 23 lawmakers from the Nepal faction had supported the Deuba-led alliance's petition at the Supreme Court demanding that the House, dissolved by Oli on May 21, be reinstated and Deuba be appointed prime minister.
Deuba on May 21 had presented his claim before President Bidya Bhandari with the signatures of 149 lawmakers, including 26 from the Nepal faction, that he be appointed prime minister under Article 76 (5).
But Oli, who on May 20 said that there was no scope for him to garner a majority, also laid claim to the post of prime minister, saying he had the support of 153 lawmakers.
After Bhandari rejected both claims, Oli recommended House dissolution, which President Bhandari endorsed.
But on July 12, the Supreme Court ordered the Office of the President to appoint Deuba as prime minister by 5pm of July 13. Though Deuba had until August 11 to secure a vote of confidence, he went for a floor test on Sunday, the first day of the session of the restored House and he passed it with flying colours.
Sunday's vote ensures that Deuba will govern for the one year and a half, until periodic elections, and Oli, who once led a nearly two-thirds majority government, will remain the leader of the main opposition party.
Sunday's voting pattern, according to insiders, shows the intra-party conflict has not reached the point of no return.
"Frankly speaking, our calculation was Nepal and some of the party lawmakers would not return to the party since differences between Oli and Nepal had reached a point from where they could not be fixed," said a Standing Committee member close to Oli. "After the 22 lawmakers from our party voted for Deuba on Sunday, the situation has become even more complicated. Eight lawmakers from our faction voting for Deuba certainly comes as a setback for us."
The Nepal faction is currently discussing multiple options. If it becomes untenable for its leaders to remain within the UML under Oli, they could either form a new party or attempt to forge a deal to form a left alliance.
One of the immediate options for the Nepal faction is joining the Deuba government.
A leader from the Nepal faction, who spoke on condition of anonymity, said that no decision has been taken yet, but discussions are ongoing on multiple options.
"Discussions are also being held on six ministerial portfolios with one deputy prime minister, but it will take a while before we reach a decision," the leader told the Post. "If that happens, it could be a major turning point… it will make sure that we are not going to return to the UML under Oli."
There, however, are some leaders within the Nepal faction who are still making attempts to save the UML from splitting.
At least five leaders from the Nepal faction in the 10-member task force formed to find ways to save the party unity are not likely to let Nepal split the party.
These five members are Bhim Rawal, Ghanshyam Bhusal, Surendra Pandey, Gokarna Bista and Raghuji Pant.
Of them, Bhim Rawal on Sunday announced his resignation as a lawmaker, hours before the vote on Deuba's confidence motion.
"Those 11 members, including Rawal, who abstained from voting on Sunday are likely to return to the establishment faction," Bishal Bhattarai, chief whip of the UML, told the Post.
Ghanshyam Bhusal, Surendra Pandey, Yogesh Bhattarai, Gokarna Bista, Narayan Khatiwada, Dipak Bhatta, Raj Bahadur Budha and Jhapat Rawal belonging to the Nepal faction abstained from voting on Sunday. Similarly, Yagya Bahadur Sunuwar and Som Prasad Pandey too were not present in the House during the voting.
Jhala Nath Khanal, a key leader in the Nepal faction who had on Sunday morning called for voting in favour of Deuba, also was not present in the House during the voting as he is currently in India for treatment.
Chief Whip Bhattarai said that since the Supreme Court's verdict also made it clear that the party whip does not apply to lawmakers, the party cannot take stern action against those lawmakers who voted for Deuba.
"We have heard that the ruling coalition has given word that those who voted in favour of the prime minister would be given ministerial portfolios," Bhattarai told the Post.
Nepal's fight against what he calls Oli's bid to run the party with an iron fist so far has earned him praise, but many say he needs to take a concrete decision now if he wants to uphold his promise of politics of values.
Nepal does not have the control Oli enjoys in the party yet. But some say with Oli's fall, there are chances the party chair could make some concessions.
Political analysts, however, say the bitterness between Oli and Nepal has reached such a level that a patch-up is very unlikely.
"The UML is technically–and legally–one party, but a split has already actually occurred," said Narayan Dhakal, a commentator and writer who was earlier a UML member. "Chances of Oli and Nepal mending fences are minimal. Nepal either has to form a new party or for a broader left alliance."
Som Prasad Pandey, a leader close to Nepal, said that attempts for reconciliation have been ongoing.
"But things appear to have gone a bit too far," Pandey told the Post. "Oli also does not seem to be in a compromising mood."
According to Pandey, those second-rung leaders who were trying to bring Oli and Nepal together also could not play any constructive role, as they too had their own vested interests.
"I don't think there could be any breakthrough in party unity, but we are still trying," said Pandey.
Leaders from Oli's orbit say they have by now realised that Nepal has almost made up his mind to leave the UML.
"Nepal most probably will try to forge an alliance with Maoist Centre chair Pushpa Kamal Dahal," said the Standing Committee member close to Oli. "I don't think Nepal will return to the UML under Oli."
If Nepal, who led the UML for 15 years until 2008, leaves the UML, it will mark a major turning point for the country's communist movement as well. Insiders say both Oli and Nepal should try to find a win-win deal to keep the party intact.
"But I don't see any prospect of Oli and Nepal coming together now," said Rijal, the Central Committee member. "Chances of party unity are slim. The only question now is how many will remain within the UML and how many will leave."
Tika R Pradhan contributed reporting.
---
---