Oli's preference for politics to virus crisis is an affront to people, analysts say
The UML chair and prime minister is paying no attention to soaring coronavirus cases, as he busies himself with political schemings ahead of his May 10 trust vote.

Outgoing Prime Minister KP Sharma Oli Post File Photo
bookmark
Published at : May 6, 2021
Updated at : May 7, 2021 09:29
Kathmandu
Prime Minister KP Sharma Oli is a busy man. He starts his day as early as eight or nine at times. He holds a series of meetings—party meetings as well as government meetings. Sometimes, his Cabinet meetings are extended till late in the evening.

Consider Thursday.
At around 8 am, Oli decided to call an emergency meeting of the Standing Committee of his party, CPN-UML, for 10 am. After presiding over the meeting for about an hour and a half, he made a dash for Sheetal Niwas at around 11:30. At around noon, it came to public knowledge that he called a Cabinet meeting for 5pm, from Sheetal Niwas.
Oli spent the entire Thursday talking politics. He discussed his party politics at the Standing Committee meeting, including his vote of confidence plan on May 10. He briefed President Bidya Devi Bhandari on "contemporary political issues".
He is too busy to pay attention to the raging coronavirus pandemic that on Thursday claimed 54 lives. A record high of 8,970 new cases were reported from across the country in the last 24 hours.
The country's death toll now stands at 3,529. The countrywide infection tally has now reached 368,580, with the number of active cases at 72,561.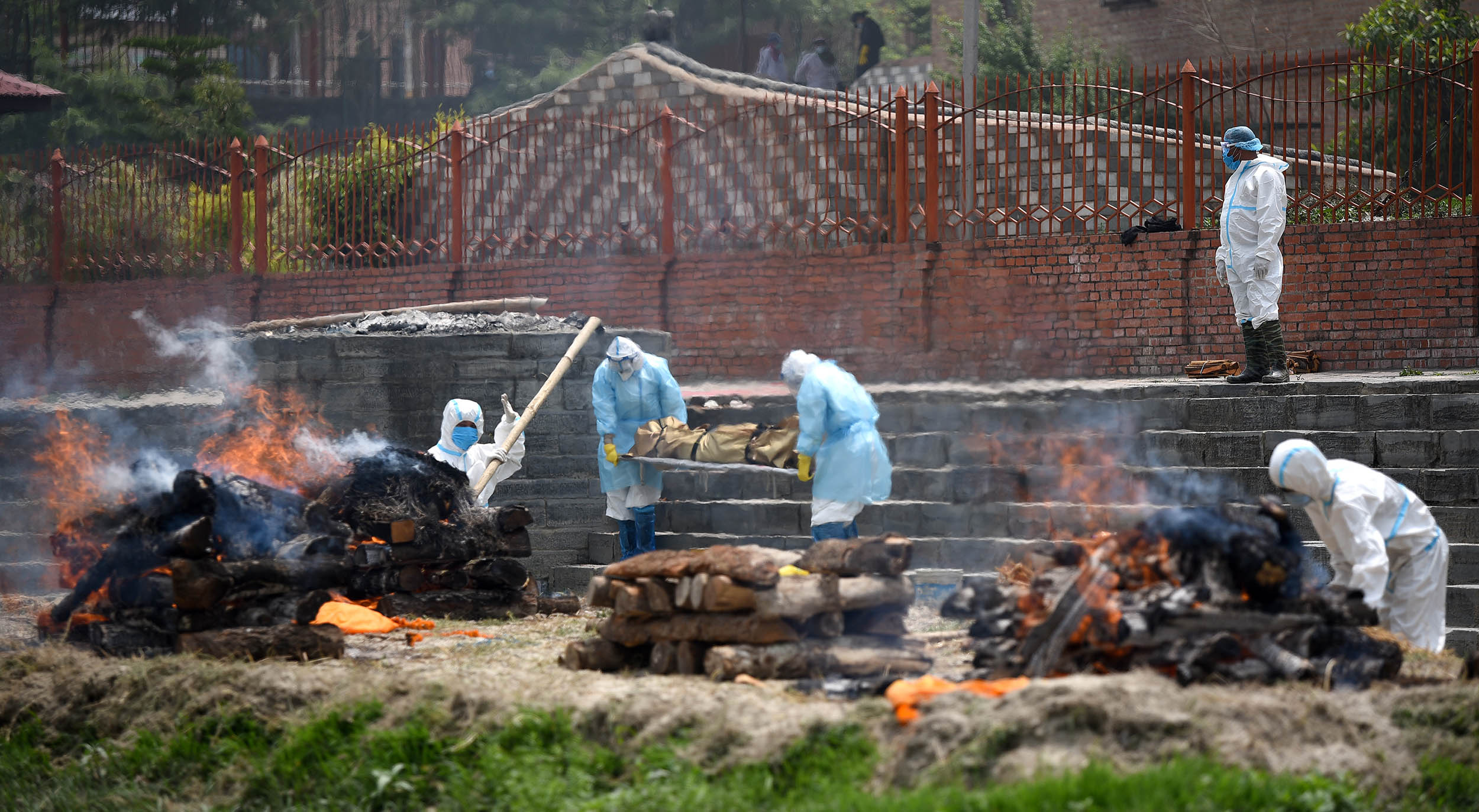 Multiple funeral pyres of Covid-19 victims burn on the bank of the Bagmati river at Pashupati, Kathmandu on May 3, 2021. The country has reported 283 Covid-19-related deaths in the last seven days with death toll standing at 3,529. Angad Dhakal/TKP
Oli is clearly under pressure. Not because of the pandemic that is ravaging the country, but because of a political crisis that is looming over his head.
While the opposition forces, the Nepali Congress and the Communist Party of Nepal (Maoist Centre), appear resolute to remove him, a section within his own UML party, led by Madhav Kumar Nepal and Jhala Nath Khanal, has upped the ante.
The Nepal-Khanal faction now holds the key when voting takes place on Oli's trust motion.
Political analysts say the Oli-Nepal feud has escalated to such a level that they are unlikely to remain under the same roof anymore. And this could lead to further escalation of the political crisis, thereby putting the pandemic crisis out of focus.
"I don't think Oli will easily allow Nepal into his party. Nepal has become stronger and he won't support Oli so easily," said Hari Roka, a political economist. "There is an Oli versus Nepal conflict going on."
Finding himself cornered, Oli who since March 7, when the Supreme Court revived his UML and the Maoist Centre, had been on a clarification seeking spree against his opponents, is now sending feelers to the Nepal-Khanal faction.
At Thursday's Standing Committee meeting, Oli said that he would telephone Nepal to discuss how his faction's grievances could be addressed, according to Subas Nembang, deputy leader of the UML Parliamentary Party and a close aide to Oli.
"What has stopped Nepal from raising his issues in the party committees?" Nembang told the Post. "We are always ready to discuss if they have any issues but they are expressing their viewpoints through the media. They should come through proper party channels."
What has left Oli worried is the Nepal-Khanal faction's recent discussions whether to resign en masse as lawmakers. Oli so far has sought clarification from as many as 27 lawmakers from the Nepal-Khanal faction, which claims to control around 30 seats in Parliament.
If all the lawmakers from the Nepal-Khanal faction resign, Oli's position will become untenable, as the Janata Samajbadi Party which has 34 seats (two suspended) is a divided House.
On Wednesday, Oli met with Nepali Congress President Sher Bahadur Deuba to seek his party's support. The Congress refused. His meeting with Deuba came after the Maoist Centre withdrew the support it lent Oli back in February 2018, thereby turning his government into a minority.
"Chances of Oli and Nepal joining hands have diminished now," said Krishna Pokhrel, a professor of political science at the Tribhuvan University. "There seems to be a better prospect of the Nepal faction, the Maoist Centre and the left leaning group of the Janata Samajbadi Party coming together."
The Upendra Yadav-Baburam Bhattarai faction of the Janata Samajbadi Party is making an all out effort to form an alliance to unseat Oli. The faction controls around 16 seats in Parliament of the 34 lawmakers (two suspended) it has. This leaves the Mahantha Thakur-Rajendra Mahato group with 14 seats, as two are sitting on the fence.
The Thakur-Mahato faction is ready to extend support to Oli but he won't be able to garner a majority if the lawmakers from Nepal-Khanal faction resign.
Analysts say Oli is largely to blame for inviting a political crisis in the country. But ignoring the pandemic that has created a serious public health crisis is an affront to basic standards of morality and decency and the people and the country, according to them.
"Prime Minister Oli can be compared with Nero, the fifth Roman emperor who earned notoriety for fiddling when Rome burned… for his indifference towards people's plight," said Rajendra Maharjan, a political commentator. "He is not a bit worried even though people are dying for a lack of beds and oxygen."
According to Maharjan, if Oli is facing a political crisis, it was brought upon to him by himself.
"If Oli as the prime minister really cared about the citizens, he would have employed the whole state machinery to control the pandemic instead of playing such dirty politics just to cling on to power," said Maharjan.
The fresh political games Oli has currently launched come at a time when a vaccine import scam surfaces, with some media suggesting businesspersons close to Oli scuttled the plan to procure the jabs against Covid-19.
Oli's ministers last year also came into spotlight when they were accused of corruption in import of medical supplies needed to fight the pandemic. The situation at present is more dire compared to last year's. And the government's own projection shows as many as 11,000 people will be infected on a daily basis, come July.
Oli's peddling of pseudoscience and disregard for experts' advice have already met with massive criticism. The coronavirus and Oli's self-centric politics now make a lethal combination, analysts say.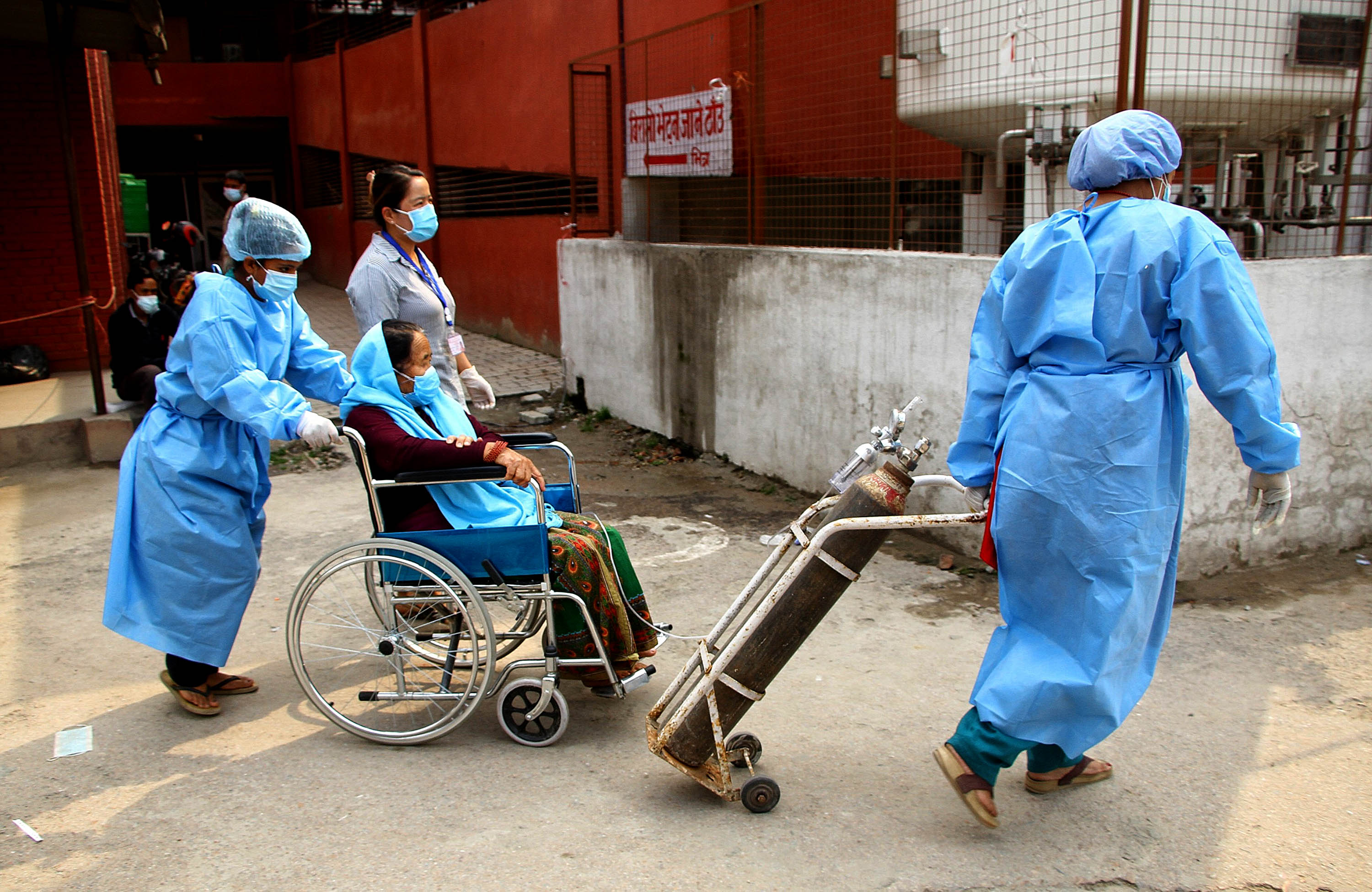 A Covid-19 patient on oxygen support is being wheeled away by nurses on the premises of Sukraraj Tropical and Infectious Disease Hospital in Kathmandu on April 30, 2021. Beeju Maharjan/TKP
"Pandemic never became Oli's priority. And it was evident from his statement asking people to drink turmeric water or gargle with guava leaves to get rid of the coronavirus," said Shree Krishna Aniruddh Gautam, a political analyst. "Something called accountability he has thrown out of the window. He has abdicated his responsibility as prime minister and he is solely focusing on elections."
Had Oli's December 20 House dissolution move not been overturned by the court, the country right now would have been in the middle of the two-phase snap polls he had declared.
Though the House was revived, Oli has been making every effort to justify that Parliament has become irrelevant. His sudden plan to seek a vote of confidence on May 10 also stems from his intentions to get the House dissolved, this time constitutionally, and take the country towards polls.
Many say with the coronavirus sweeping across the country, with no substantial efforts by the government to control the spread, an election will be a recipe for disaster. India's Covid-19 explosion is blamed on the state elections.
"Oli still thinks he could win the elections and in a bid for early polls, he has left the people to fend for themselves," said Gautam. "His priority should be saving the lives of the people, not elections. No political leader with the most basic standards of morality sets priorities the way Oli has been doing."
Even though the government claims hospitals have enough beds, people have been dying for want of them. There are no vaccines to administer to around 1.3 million people who took their first shots between March 7 and March 15.
Experts say the way the virus is spreading shows the only way to save lives is vaccinating as many people as possible. Nepal needs to inoculate 72 percent of its 30 million total population (around 22 million people), and it needs 44 million doses.
The government's over-reliance on India has backfired as the country of 1.3 billion people itself is at the mercy of the world community, as it is reporting more than 350,000 new cases every day with daily death count averaging over 3,000. There are already concerns Nepal could run out of basic medical supplies as international flights have been suspended.
While failure to regulate and manage the Nepal-India border in time is partly to blame for the surge in virus cases, experts mostly blame Oli's bad governance for the explosion.
Cases have been soaring at such an exponential rate that international media has now turned its focus to Nepal.
"Nepal's cases skyrocket, prompting concern the country's outbreak could mimic India's," CNN wrote on Thursday.
"Nepal facing 'human catastrophe' similar to India's amid Covid surge," said the Guardian.
The New York Times led its web front page with an AFP image of burning funeral pyres of the Covid-19 dead, at Pashupati Aryaghat.
Amid criticism of his government's poor response to the pandemic and inaction to save people's lives, Oli on May 3 made a clarion call to the international community, urging it to supply vaccines and lend other support.
Analysts, however, say despite the country plunging deep into a virus crisis, Oli has shown no urgency to make genuine efforts to control the pandemic. The callousness Oli has demonstrated towards the plight of the people who are suffering and dying from the coronavirus is stark, they say.
"For Oli, people don't matter; they are mere voters for him," said Surendra Labh, a political commentator. "People's sufferings do not worry him. He is just worried about protecting his chair and his politics."
Binod Ghimire contributed reporting.
---
---