There's silence in ruling party as protests continue on streets. But it could be the calm before the storm, insiders say
Leaders are biding time before upping the ante against Oli, who according to them, is trying to run the government and party with an iron fist.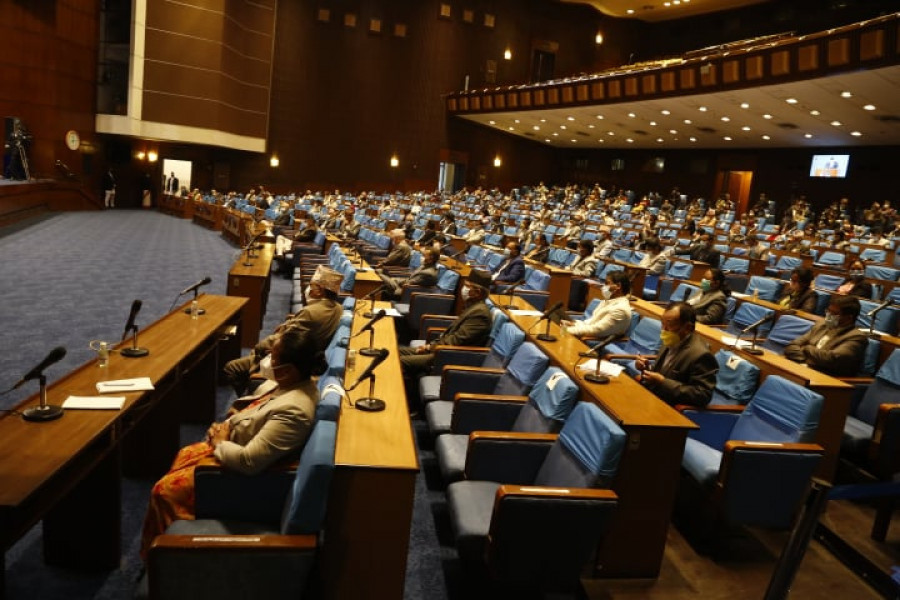 (File photo) Parliament is set to endorse a bill, which will update Nepal's map on the national emblem, showing Kalapani, Lipulekh and Limpiyadhura as parts of the Nepali territory. Prakash Chandra Timilsena/TKP
bookmark
Published at : June 13, 2020
Updated at : June 13, 2020 09:00
Kathmandu
Even as protests are flaring up, with youths across the country taking to the streets demanding accountability from the KP Sharma Oli government for its poor handling of the Covid-19 pandemic, there is an eerie silence within the ruling Nepal Communist Party.
Opposition factions in the party that had upped the ante until two months ago also have gone silent.
Instead of responding to calls to expand polymerase chain reaction tests and make public the details of the Rs10 billion it says it has spent on Covid-19 response, the government has instead warned of jailing and fining the protesters.
Insiders say that dissatisfaction is growing within the party as well but there are multiple reasons leaders are refraining from speaking up.
"Oli has created such a situation that leaders can neither speak up against the government nor support it," said Yubaraj Chaulagain, a central committee member. "People close to the Oli faction will quickly pounce on the critics, accusing them of trying to unseat the government."
For Oli, a boundary row with India, which started in the first week of May, has become a godsend, as it has helped him keep his detractors at bay, analysts say.
India's move of announcing a new road link via Lipulekh on May 8 initially earned Oli criticism, as many called it his diplomatic failure. As pressure mounted on the prime minister, he decided to release a new map depicting Kalapani, Lipulekh and Limpiyadhura as parts of the Nepali territory. Accordingly, the government registered a constitutional amendment bill in Parliament to update the country's map in the national emblem.
"I think ruling party leaders are maintaining silence fearing backlash, as they could be perceived, or branded, as anti-nationalists if they criticise Oli," said Shyam Shrestha, a political commentator.
The Oli government's move of releasing the new map has earned support from parties across the spectrum. On June 9, the House of Representatives unanimously approved a proposal to consider the amendment bill. Parliament is set to endorse the bill, which will pave the way for updating Nepal's map on the national emblem, showing Kalapani, Lipulekh and Limpiyadhura, which India claims as its own, as parts of Nepal.
According to observers, amid rising criticism for his government's failure to handle the pandemic and its indulgence in corruption, Oli managed to turn the table on his opponents by releasing the map.
A section of ruling party leaders, however, believes that Oli's nationalistic rhetoric will soon lose its charm and the ongoing protests could make it difficult for him.
"It's high time the Oli government took the protests as a serious wake-up call," said Bishnu Rijal, a central committee member. "I think party leaders are waiting for the House to pass the constitutional amendment."
Many within the party believe Oli has been showing authoritarian tendencies, controlling the government as well as the party.
"There is no party now; there is just KP Oli," senior leader Jhala Nath Khanal, also a former prime minister, told the Post.
Khanal is among the leaders who have been calling for party committee meetings to discuss a host of issues, including the government's performance. Secretariat meetings have been postponed at least twice in recent days at Oli's call. A meeting of the Standing Committee, which the members have been demanding, has not been held for months.
"The prime minister has been functioning unilaterally," Khanal told the Post. "He says whatever he likes and takes decisions unilaterally."
Khanal, however, said Oli will start feeling pressure from party leaders sooner rather than later. "Oli has to respond to a litany of issues as prime minister and party chair."
According to Rijal, the central committee member, it will be a mistake if Oli continues to take leaders' current silence as their weakness. "An angry outburst from them is just a few days away," said Rijal.
---
---