Oli sees a conspiracy to topple his government but it is unclear what he is referring to
Although those close to Oli insist that a conspiracy is brewing, political analysts are unsure how anyone could assail the strongest government in recent history.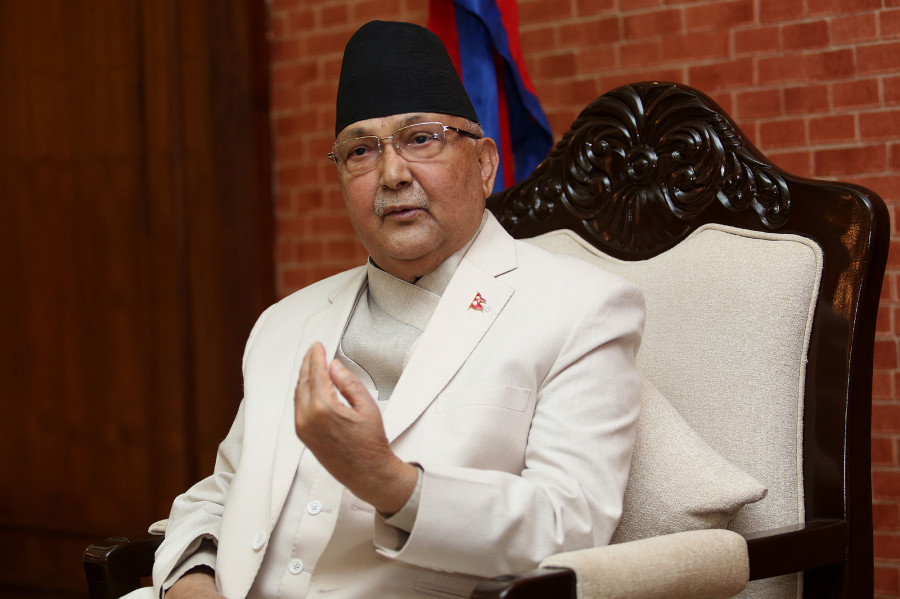 Post File Photo
bookmark
Published at : February 18, 2020
Updated at : February 18, 2020 07:38
Kathmandu
Prime Minister KP Sharma Oli leads the strongest government Nepal has seen in the last three decades since the restoration of democracy. He has more than a comfortable majority, just 10 seats short of a two-thirds majority in Parliament. But Oli still seems to see conspiracies against his government.

On Sunday, while speaking in his home district of Jhapa, Oli said that attempts were being made to topple his government.
"Several conspiracies are being hatched to make this government fall," said Oli without going into specifics. "You may think that this government is strong and has a majority, but some elements are trying to make it fail or topple it or defame it."
With the strongest government, Nepal also has the weakest opposition. With just 63 seats in Parliament, the primary opposition Nepali Congress lacks the numbers even to block a bill.
Rajan Bhattarai, foreign relations advisor to Oli, said that the prime minister made the statement after "receiving some information" about ongoing conspiracies against the current government. He refused to divulge details.
But a section of leaders in the ruling party itself says there's no threat as such to the current dispensation in Kathmandu. They dismissed Oli's remarks as an outcome of "paranoia" or "anxiety".
Oli, who is also the chairman, along with Pushpa Kamal Dahal, of the Nepal Communist Party, however, is clearly not happy. He is constantly upset with the media for pointing out his administration's flawed policies. Even those within his close circles admit that Oli is not good at taking criticism.
Oli completed his two years in office just two days ago, on Saturday. While addressing the House of Representatives, he listed his government's achievements. Oli often repeats how great a job his government is doing and does not stop short of taking a gibe at the media for failing to report his government's "good performance".
But Dahal, the party's other chairman, has himself said at various platforms that the government has not been able to make achievements at the pace it was expected to.
Even a section of ruling party leaders often refrains from defending the government's actions. And of late, Oli has been facing massive opposition from a group led by Bhim Rawal over the Millenium Challenge Corporation's Nepal Compact. A study team headed by senior leader Jhala Nath Khanal with Rawal and Foreign Minister Pradeep Gyawali has been tasked with studying the US programme and making recommendations. But Khanal himself is not very supportive of the MCC.
Dahal too has expressed reservations about passing the MCC in its current form.
"Oli has a habit of making assumptions. He must be talking about some possibility," said Mani Thapa, a standing committee member. "I do not see any foreign forces interested in removing Oli, as he enjoys a strong electoral mandate."
Oli may be feeling insecure because of some of the actions and statements of leaders from within the party, said Thapa.
"He may have been trying to call out his opponents while glossing over his government's weaknesses," Thapa told the Post.
When Dahal, through August and September last year, brought up a 'gentleman's deal' reached between him and Oli about leading the government in turns, it had created a rift between the two chairs. But a November Secretariat meeting decided that Oli will lead the government for the full term while Dahal will be executive chairman, putting an end to speculation that Dahal wanted to replace Oli.
The primary opposition Nepali Congress, by their leaders' own admission, has neither the wherewithal nor any plan to launch an offensive against Oli.
"We have our general convention coming up and we are busy with that," Bimalendra Nidhi, Congress vice-president, told the Post. "Anyway, we are in no position to topple the government, as we don't have the numbers in Parliament. If there are conspiracies, they must be being hatched from within the prime minister's own party."
The day Oli completed his two years in office, the Congress in a statement said that it would support or oppose the Oli administration based on "the positives and negatives".
Analysts say that Oli's fear stems from a number of factors. He seems to be hounded by the failure to deliver, opposition from within the party, and criticism from the media and social media.
"The government has failed on various domestic and international fronts," said Hari Roka, a political commentator. "And he is confronted with many other issues, including those raised by his own party members. So he must be indicating those when he is talking about attempts to unseat him."
According to Roka, Oli's health is yet another concern.
"The prime minister is well aware of that. He himself has said that he will go for another kidney transplant as he has to undergo dialysis on a regular basis," said Roka. "The prime minister must also be thinking about when he will have to take bed rest for five or six months after the kidney transplant. Is he going to hand over the responsibility to one of the senior ministers until he fully recovers or is he going to step down?"
Those who have close relations with Oli would not say who he was indicating at—external forces, internal forces, forces within the ruling party or others.
But Bhattarai, Oli's foreign relations adviser, insisted that there are some elements working against the government.
"I cannot give you details, but we have sensed some conspiracy against the government," Bhattarai told the Post. "Some elements are trying to restore political instability in Nepal. Those who do not want to see a stable government in Nepal are making some noise."
Bhattarai stopped short of saying anything explicitly but said there are some who are habituated to an unstable political environment in Nepal.
"And such forces are not happy that the incumbent government is committed to development and prosperity," he said.
---
---