Mahara to remain in police custody for three more days
Police will soon conduct DNA tests on Mahara and things collected from the complainant's apartment.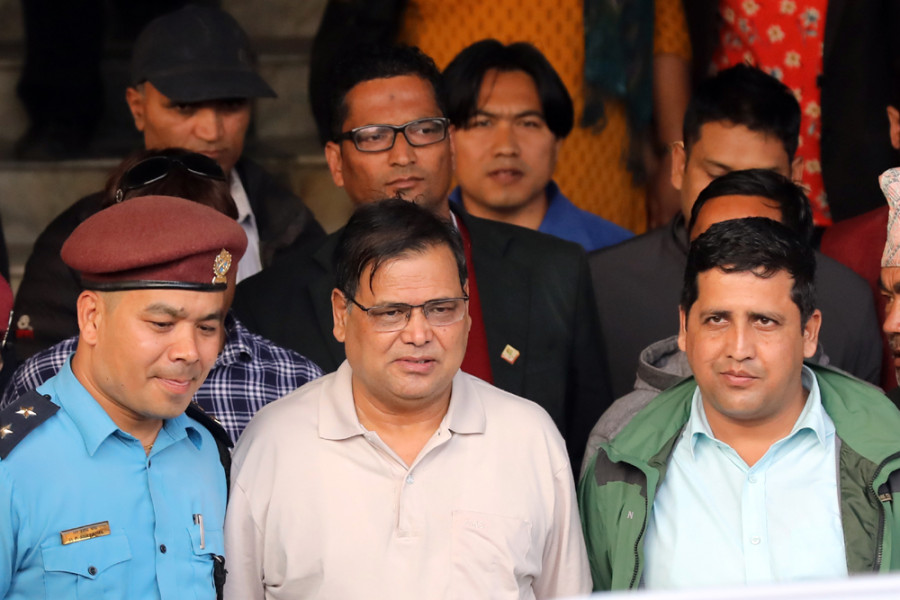 Krishna Bahadur Mahara walks out of Kathmandu District Court on Tuesday. Elite Joshi /TKP
bookmark
Published at : October 15, 2019
Updated at : October 16, 2019 10:25
Kathmandu
Kathmandu District Court on Tuesday remanded Krishna Bahadur Mahara to 13-day judicial custody, which means the former House Speaker has another three days in police custody, as he was arrested 10 days ago.
Mahara, however, is currently at Norvic International Hospital after doctors advised admission last week.
Police had arrested Mahara from the Speaker's official residence in Baluwatar on October 6 after a woman who works at the Parliament Secretariat formally lodged rape charges against him on October 4.
"The court has remanded Mahara to 13-day custody," said Raman Shrestha, who argued on behalf of Mahara in the court. "Since he has already spent 10 days in police custody, he will be there for three more days, until Friday."
Despite his arrest, legal proceedings have not moved forward because the courts were closed until Tuesday for Dashain holidays.
In the next three days, police will record his statements, a police official told the Post.
Police have already conducted forensic tests on Mahara and the complainant at Tribhuvan University Teaching Hospital.
Though rape allegations against Mahara surfaced for the first time on September 30, the police had been slow to act. In an interview with an online portal, the woman had said that Mahara had come to her Tinkune apartment on the night of September 29 and raped her.
Mahara's office was quick to issue a rebuttal.
The case took a new turn after the woman withdrew all charges against Mahara in an interview with yet another online portal. Many believed that her recantation was made under duress. Police had failed to make any progress on the case, citing the lack of a formal complaint and the woman's disavowal of her initial allegations.
Mahara stepped down as House Speaker on October 1, but stopped short of resigning as Member of Parliament.
Again, on the evening of October 4, the woman filed a formal police complaint against Mahara, paving the way for his arrest. Since October 5 was a Saturday, police arrested him on Sunday, just ahead of the Dashain holidays.
Mahara is the first high-profile politician to face rape allegations and arrest.
Though the complaint was filed at Baneshwor police station, Mahara was held at the Singha Durbar police station. He was shifted to Norvic Hospital on October 10 after he complained of chest pains.
The Metropolitan Police Range is investigating the rape allegations against Mahara.
"We will start recording statements of the accused from tomorrow," said Deputy Superintendent Hobindra Bogati, spokesperson for the Kathmandu Metropolitan Police Range. "Meanwhile, the undergoing investigation includes forensic tests."
According to Bogati, after forensic tests of the evidence collected from the complainant's apartment, which include a glass Mahara is believed to have drunk out of, his glasses and the inner sole of his shoe, police will conduct DNA tests.
***
What do you think?
Dear reader, we'd like to hear from you. We regularly publish letters to the editor on contemporary issues or direct responses to something the Post has recently published. Please send your letters to [email protected] with "Letter to the Editor" in the subject line. Please include your name, location, and a contact address so one of our editors can reach out to you.
---
---