Congress leaders clear decks for party's 14th General Convention
Party will publish a timetable for the convention after the drafting panel submits a new directive on forming interim party structures, party Vice President Bimalendra Nidhi says.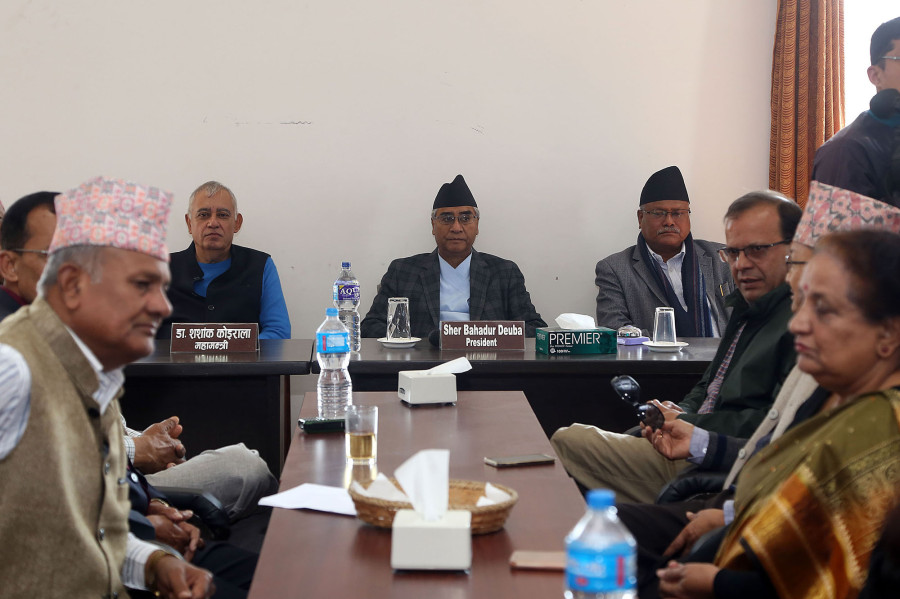 Elite Joshi/TKP
bookmark
Published at : August 6, 2019
Kathmandu
Significant developments over the weekend have cleared the path for the Nepali Congress to finally hold its 14th General Convention.

A gentleman's agreement between party President Sher Bahadur Deuba and senior leaders Ram Chandra Poudel and Krishna Prasad Sitaula was hammered out during the weekend where the top leadership agreed to extend the terms of all elected party bodies by a year and formed a panel to draft a new directive to form interim party structures.
The mandate and terms of all elected bodies have now been extended to March 2021, meaning the top leadership has over a year and a half to hold its 14th General Convention. But before that can happen, the party needs interim structures in place, as the country is now a federal state. A directive to form these interim structures is currently being drafted by a panel under party Vice President Bimalendra Nidhi and General Secretaries Shashank Koirala and Purna Bahadur Khadka.
"We are preparing to submit the directive at the Central Working Committee meeting on Wednesday, which will pave the way for the formation of thousands of interim party structures," Nidhi told the Post. "Then, we will work towards distributing active membership to all the party structures and publish a timetable for the next general convention."
In order to adapt to the new federal structure, the party needs to create organisations and committees in the seven provinces, including 165 federal constituencies, 330 provincial electoral constituencies, 753 local units, and over 6,000 ward committees.
Party President Deuba and Poudel had been bitterly divided over the extension of the term. While Deuba wanted an extension, Poudel had opposed the proposal.
Three other leaders—Sitaula, Arjun Narsingh KC and Minendra Rijal—have been tasked with finding consensus among the party's rival factions.
But party leaders and cadres are still doubtful as to whether the general convention will actually be held, given the existing animosity among the top party leadership.
"If top leaders do not see a chance of being elected or a favourable environment to win elections, I see another six months extension," said Pradip Poudel, a central working committee member.
Despite this apprehension, four senior leaders—Deuba, Poudel, and Shashank and Shekhar Koirala—have already announced that they will be contesting the post of party president. Two other senior leaders, Sitaula and Prakash Man Singh, might also contest the top position.
As a significant portion of young leaders and the party's intellectuals support Shekhar, it has become increasingly difficult for General Secretary Shashank to sideline his cousin Shekhar.
But several party leaders are not happy with the way the senior leadership is contesting top leadership positions based solely on personality, rather than policy, programme or a plan to recover from the Congress' humiliating loss in the last elections.
"I see a lot of crisis in the party," said youth leader Ram Hari Khatiwada. "We don't manage divisions, factionalism will destroy the party."
***
What do you think?
Dear reader, we'd like to hear from you. We regularly publish letters to the editor on contemporary issues or direct responses to something the Post has recently published. Please send your letters to [email protected] with "Letter to the Editor" in the subject line. Please include your name, location, and a contact address so one of our editors can reach out to you.
---
---