Love and longing in Lhasa
Two works of fiction tell us more about the personal lives of Lhasa Newars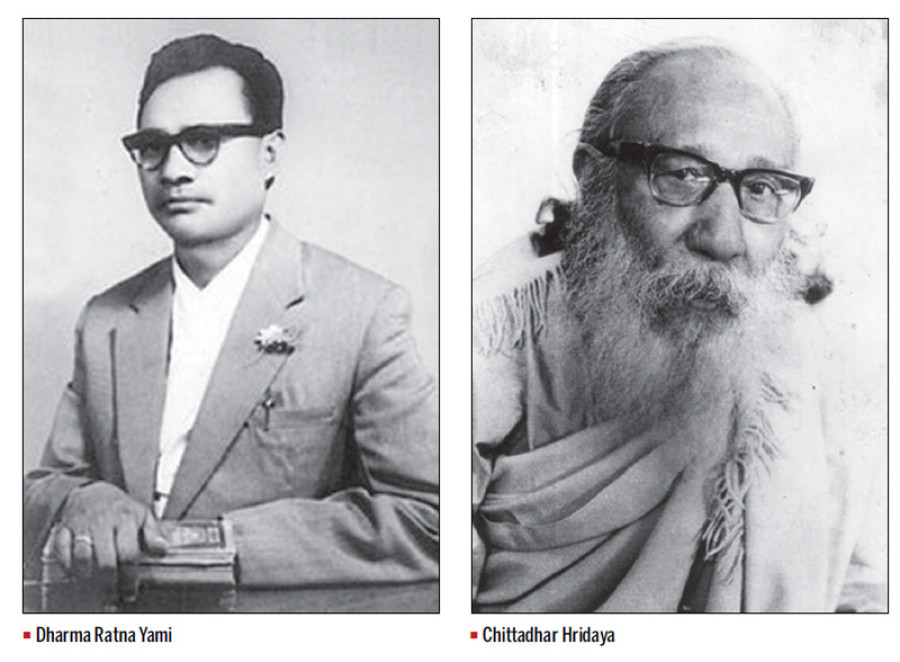 bookmark
Published at : September 7, 2018
Updated at : September 7, 2018 09:16
In 1933, an 18-year-old Newar man called Dharma Ratna made his way to Lhasa to work as a bamja, an assistant, at one of the many trading houses owned by Newars in Tibet. There, he fell in love with a Tibetan woman named Hisila. "He knew that a son born to a Tibetan woman would not only be (sic) rejected all his life as a khachara, he would also not get, so to speak, a single pie from his father as patrimony…if there was a daughter, she would be a neglected subject of the Tibetan government. Under such circumstances, how could any Tibetan girl possibly choose a Newar for her husband?" reads the foreword to Reply from Tibet, an English translation of Sandeya Lisah, the epic Nepal bhasa poem first published in 1952.
Upon his return to Nepal in 1938, Dharma Ratna joined the anti-Rana democratic movement, and was sentenced to 18 years of imprisonment. He changed his surname from 'Tuladhar' to 'Yami', meaning 'one belonging to Kathmandu', in opposition to the caste system. Torture was common inside jail; one of Dharma Ratna's friends died during a beating, and he went into depression. His daughter Timila recounts in the foreword, 'His close friends started reminding him of his first love and sweetheart, Hisila of Tibet.' Dharma Ratna began to narrate the poems he had written to Hisila during his time in Lhasa—the poems were eventually published after the fall of the Rana dynasty and his release from prison.
Unfair categorisations
I have previously written about the relationships Newar traders in Lhasa had with Tibetan women. Further reading introduced me to two spectacular translated works from Nepal Bhasa that give a more revealing account of such relationships. The first is Yami's slim volume, which is replete with anecdotes of traders' daily lives in Tibet. But it is in the resolution of the poem, when Hisila breaks Yami's heart, that a picture of the social complexities of such relationships is revealed:
'Whoever you are, you come here to make fortunes,
You will return home to Nepal eventually...
If [our child] is a son, he tends to become a subject of Gorkha,
No better than a khoma, khoti [a derogatory title given to such children],
Alas, if she turns out to be a daughter,
She remains a subject of Tibet,
A destitute with nothing to claim of her own.
Even if she is taken to Nepal, she will earn
A derogatory title, 'Bhoteni',
Or a status of an untouchable lower than
That even of a dog.'
To assume that all Newar merchants took Tibetan women as wives, and that they received no wealth or property from their husbands, would be an extrapolation. But that the poem raises these issues as a common motif is extraordinary. At the same time, one cannot simply paint the Newar men with a broad brush of misogyny and patriarchy; some of them were adolescents when they first left for Lhasa, and they were bound by Newar society's rules, even if some of them realised such a society needed a radical overhaul.
What then emerges is a picture: a group of young men, who probably married early, left their wives behind in Kathmandu in the pursuit of trade. In Tibet, where they spent many years, they entered into relationships with local women. Upon their return, they faced a choice: to either face the social ostracism that marrying a non-caste woman brought upon them, or to leave the second wife, and any children they may have had, behind. There may have been instances where families were accepting of a Tibetan wife; but if this were the norm, the stories of such relationships would have been more common.
There's another work of fiction, however, that presents these contradictions in our social dogma in clear tones.
The contradictions
Chittadhar Hridaya's father owned a business in Tibet, but Hridaya did not go to Tibet himself. Giving up his Tuladhar surname, Hridaya is known to have been at the vanguard of the 'Nepal Bhasa renaissance' during the Rana rule, after the Ranas banned the printing of literary works in the language in 1905. Hridaya's most famous work is Sugata Saurabha, a retelling of the life of Buddha, which he wrote during his five-year imprisonment in 1940 for writing a poem in Nepal bhasa. But for us, his other work, Mimanau Pau ('The Unburnt Letter'), holds great value to discuss the social and personal sphere of Lhasa Newars.
The 1968 novel, translated into English by Kesar Lall as Letter from a Lhasa Merchant to his Wife, is an epistolary work inspired by a German novella. Hridaya married when he was 13; his wife was the daughter of Bhajuratna Kansakar, the Syamukapu ('White Cap') merchant of Lhasa. It is not clear why he did not go to Lhasa himself; perhaps because his father had returned from Lhasa by the time he had come of age, or perhaps he was more inclined to literature. In any case, although Mimanau Pau is a work of fiction, there is much in it that shines a light on the conduct and thoughts of Newar men in Lhasa.
The novel, which Hridaya regarded as his 'daughter', begins with a funeral of a woman—everything burns but this letter, written in 1957 after the Chinese occupation of Tibet. It is a letter from an unnamed Lhasa Sahu (merchant) to his 'Maim', his beloved. The merchant outlines the viraha, the pain of separation, he felt when he left for Lhasa, leaving his newlywed Maim behind. But when he returns a few years later, he realises his wife does not love him anymore; the distance, and the separation, has driven her into the arms of religion—she wants to become a nun.
The short, intimate novel turns the existing narrative around. While most Newar folk songs like Ji Waya Lachi Maduni have the woman grieving over the separation, in this novel, we hear the man's perspective on extramarital relationships. In between details of how trade was conducted in Lhasa and the many rites and festivals the traders celebrated in Tibet are poignant admissions such as, "When I went so far away from you either for business or being greedy for riches, you [...] indeed lost your support."
When the merchant returns, he finds his wife 'busy with household chores', looking after an old mother-in-law and spending the rest of her time in 'religious practices'. "A husband's presence proved a great obstacle," the merchant admits.
When the merchant learns his wife has become a nun, he begins an affair with Yeshe Lhamo, the daughter of a Tibetan noble woman. But Yeshe Lhamo contracts a fever that doesn't go away, and passes away. The 1934 earthquake claims the merchant's mother as a victim, but he doesn't return for the last rites. Through these tragedies, he returns to the memory of his first love, the wife he left behind in Kathmandu. When she finally chooses the life of a Buddhist nun over him, he laments, "To tell you the truth, it was as you that I loved Yeshe Lhamo as long as she lived."
We learn of these through the perspective of the narrator, whose voice dominates the narrative. It is through him that we know Yeshe approaches their relationship with knowledge of the circumstances that have brought them together. "How could those who left their homes with their wives in tears have consideration for people's feelings here?" she tells the merchant at one point. But we know little about how Maim felt of her husband's extramarital relationship.
Our view is thus clouded by the narrator's recollections, and therefore restricted to it. The short novel is also a work of fiction, as is the poem by Yami, albeit both are replete with descriptions of life in Lhasa and social interactions. Hridaya and Yami would have been aware of the details; both belonged to a caste known for its trade with Lhasa, and one has little doubt the descriptions of the festivities are anything but authentic. Both Hridaya and Yami may have dramatised their intimate tales of separation, love, and heartbreak—in Yami's case, his own story—but the social realities around which these two stories appeared to make them relevant to our modern day understanding of the Lhasa Newars.
---
---