Ganja narratives of Nepal
Ganja has been intertwined with culture in Nepal, making the authorities' attempts to control it all the more difficult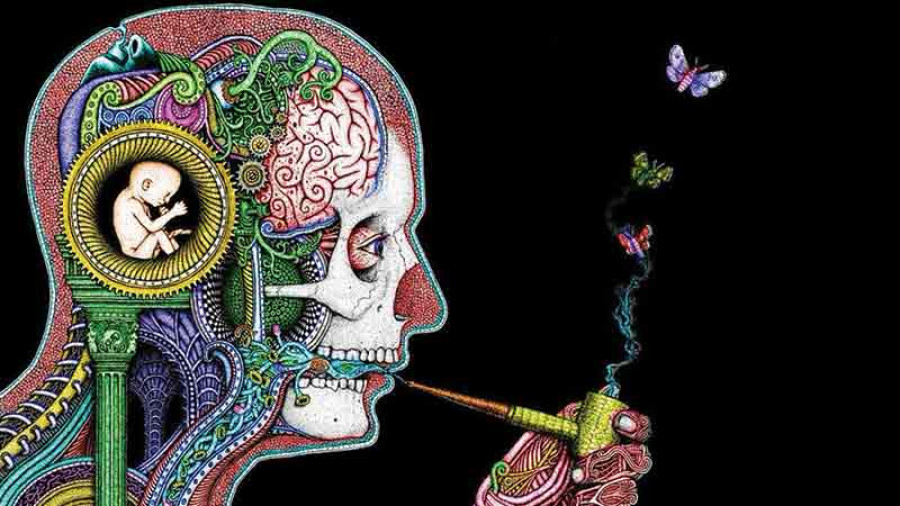 bookmark
Published at : February 18, 2018
Updated at : February 18, 2018 08:26
Nepal's ambivalent attitude towards the cannabis, known popularly as ganja in Nepal and India, became apparent once again at this year's Shivaratri festival on February 13. The freewheeling Sadhus with ash-smeared bodies appeared in thousands out of nowhere, and took their theatrical positions around fireplaces sending curls of ganja smoke to the minuscule skies. They will stay in these positions assigned to them for several days this time around too. Their sparsely dressed bodies shining in the glow of the wood fire arranged for them, the Sadhus appeared smoking ganja despite the embargo put on its free use by the management this year. The news may have surprised some in the army of Shiva, not least the youths and adults who wait for this opportunity of free ganja smoking revelry on this occasion, usually sitting around the Sadhus in what they call anarchic moods. That was the reason why the authorities banned the free use of ganja. The purpose was to prevent other drug-related activities that happen under cover of this freedom during this period. The Sadhus, surely, came this year too with the belief that besides facilitating the karma of ganja smoking, the managers would give them packages of ganja to consume for a week of their stay in the area. All that has changed this year.
But the narrative does not end there. The Sadhus visiting cultural places in large numbers on occasions marked as holy dates on the Vikram calendar were seen here this year, also undaunted by the perilous cold. It would be naïve to think that the Sadhus only come to Pashupati, and then sit quietly in their respective zones after returning from here. In fact, they are the only geo-cultural map trotters whose visits neither make politics nor create diplomatic doldrums. The French philosopher Michel Certeau, who has written great thoughts about the power of moving on spaces with thin legs challenging established architectural monstrosities, would have been flabbergasted to see these restive mendicants. The worst thing happens when Sadhus are used for non-secular politics. Their modus vivendi and modus operandi are weaponised to interpret the past and take advantage in the present.
The story of Nepal's ambivalent attitude towards ganja is very long. The narratives of the Shivaratri ganja galore are copious. I heard about this from my childhood in a remote village of Sabala in Terathum of Limbuwan. In my village, smoking ganja was the luxury and privilege of strong male characters of the families. Ganja triggered discussions, and raised brows of the elders whose responsibility was to see that no youths in the family get into the habit of heavy ganja smoking, thus becoming addicts and burdens to the family. I resolved never to take it when I saw my mother's woes when my elder brother and my senior cousins smoked it. But my karma was that I was always exposed to the zones where ganja smokes would rise in the private skies of the traditional homes where my brothers smoked it quite regularly. I grew by watching and inhaling ganja smoke wafting in the narrow skies. I became its passive recipient, as I said, in the most important phases of my life. My brothers and gurus discussed metaphysics when they smoked ganja. So, from my childhood I grew by linking ideas, some kind of esoteric philosophy to ganja. When I came to Kathmandu to study at the university, I saw for the first time so many Sadhus especially in Pashupatinath, and others making free use of ganja everywhere. I was not very surprised by that, but began to feel the cultural ambivalences that it triggered.
But the greatest surprise came when hordes of hippie youths came to Kathmandu in waves towards the very end of the sixth decade of the last century. One of the reasons for choosing Nepal for a visit was that they could get ganja here and smoke without restrictions. That ganja smelt then in the air of Swoyambhu, Jhoche, some part of Thamel and Asan bazaar sounds unimaginable and bizarre in today's choking metropolis. Among the hippies there were several talented writers and philosophers, which was the principal source of my attraction. Again, the same karma repeated for me. I met them in small crowded rooms where they sat smoking ganja, reading poems and discussing various topics of philosophies. I was drowned in ganja smoke, in the same karma, the same confluence of ganja and metaphysics, once again. I worked with some of the renowned poets and artists editing a magazine entitled "Flow" and translating. We worked at a house in Swoyambhu for that. The ganja trail followed me everywhere. I became close to several poets. Glinka, Angus MacLise, and Ira Cohen were the prominent ones. Ira Cohen considered himself a great ganja savvy poet. I wrote the following about his cosmic judgement in The Kathmandu Post:
"The next person was Ira Cohen who lived in another section of the Gurju complex. This New Yorker was a poet of unique order and a photographer who used mirrors while taking pictures. I was awed by these mirror photographs and had no clue about the process. He was perhaps the last loiterer who left Nepal in 1974 heart-broken by Nepal government's prohibition of the free sale of ganja. In a 'mirror poem' oddly dedicated to Allen Ginsberg, he considers the "Singh Durbar in flames" on 9 July 1973 as "Shiva's justice rendered one week/ before the revoking of all hashish/ licenses in Nepal." Cohen's odyssey ended at the age of 76 in his native New York in 2011" (15-05-2016).
Ganja is also researched and discussed by scholars, medical doctors and culturalists, as cannabis has always wrought strange narratives in Nepal. But this country has always taken ambivalent attitude towards ganja. That the youths who take ganja make inroads into the territory of hard drug taking has been a matter of concern. But for me, in retrospect, it was a strange karma to be linked to the ganja narrative. As a symbol of continuity and cultural resonance, however, ganja will continue to pose challenges to the administrations that have always taken an ambivalent attitude towards it.
---