Disastrous disaster preparedness
Nepal is one of the very few countries in the world that has failed to learn any lessons from her history of disaster and her unpreparedness for them, thanks primarily due to the absence of institutional memory in this nation. Natural disasters in Nepal—earthquakes, floods, landslides and fires in particular—occur largely in predictable cycles.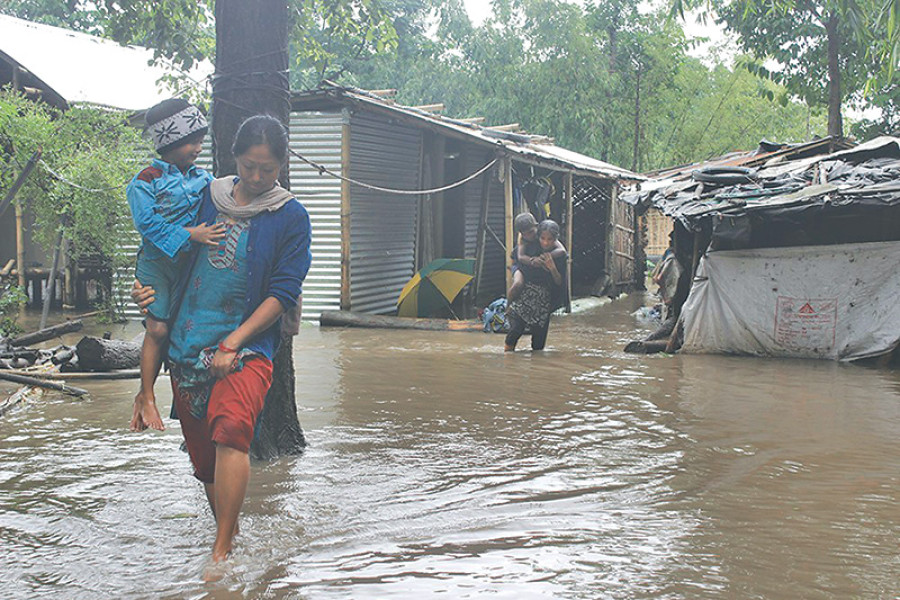 bookmark
Published at : August 14, 2017
Updated at : August 14, 2017 08:33
Nepal is one of the very few countries in the world that has failed to learn any lessons from her history of disaster and her unpreparedness for them, thanks primarily due to the absence of institutional memory in this nation.
Natural disasters in Nepal—earthquakes, floods, landslides and fires in particular—occur largely in predictable cycles.
Nepal sits on the 11th most seismically active tectonic plate on earth, right at the frictional junction of the Indian and Eurasian plates.
Its high southern Himalayan ranges stop rain-inducing clouds which, inter alia, cause floods. Young mountains are also prone to landslides and avalanches during monsoon.
Fire, particularly in Tarai plains that endure high temperature during high summer, often destroys life and property.
Nepal is ranked the sixth most risky nation in terms of climate change hazards, too.
Data ranging over a period of 40 years (Global Assessment Report on Disaster Risk Reduction, 2015) shows that Nepal faces an average of one disaster and three deaths every year. Annual loss of assets is more than $220 millon in current prices.
This data does not include the loss of life and property caused by the great Gorkha earthquake of 2015.
In the recent past, the country faced large catastrophes like the 2008 Koshi flood, 2013 Mahakali flood, 2015 earthquake, and dozens of huge fires from Taplejung to Siraha.
The floods this monsoon will perhaps surpass all past records of devastation as they seem poised to be equally terrifying in all river systems of the country.
Institutional set-up
The Central Natural Disaster Relief Committee, a loose framework headed by the prime minister, is the only functional government mechanism for disaster relief.
Nepal seems to lack dedicated and functional institutional set-ups for emergency response. Endeavours like the creation of the Nepal Risk Reduction Consortium, which includes some international development partners, and initiation of the so-called community based disaster risk reduction pilots failed to gather pace.
When disaster strikes, in the absence of set institutional mechanisms and processes, chaos and confusion mar the coordination of rescue and relief; the Home Ministry scrambles to mobilise security agencies and coordinate with local administrations.
This practice has not only become ritualistic, it also appears as though having an institutionalised emergency and disaster response mechanism is a dispensable idea.
No doubt, during large catastrophes, the role of the security apparatus, or whatever the country has at its disposal, is crucial.
But this cannot be a substitute for a permanent body that continuously works for what are popularly known as the four Ps—policy, planning, preparedness and pre-warning, as well as the five Rs— research, risk-reduction, rescue, relief and resettlement.
Further, the systems that are in place have failed to deliver, largely due to a lack of coordination across related government institutions themselves.
The information and response system is fragmented. The flood warning system is managed by the Ministry of Population and Environment, and the warning messages it generates are barely communicated and acted upon by the Home Ministry; the putative kingpin in all rescue operations.
Last week, for example, the home minister expressed his inability to send rescue helicopters, supposedly at standby position, to flood hit areas of the Tarai.
However, had he listened to the alerts on weather conditions and possible flood scenarios from the Department of Meteorology well in advance, those choppers could have been sent in closer to red-spots before visibility deteriorated.
The Ministry of Communication could have used mass media to transmit those messages to people in the potential danger zones in a timely manner.
It only underlines the need of a coordination and response agency in the country that is dedicated to disaster risk mitigation and management.
Planning problem
In Nepal's context, reduction of risk and loss due to natural disasters warrants a much wider perspective than mere disaster preparedness and response mechanisms.
Our population distribution and settlement patterns need to be seriously rethought. Equally, or even more, important is land-use, infrastructure and town planning.
Historically, Nepal's settlements are either perched on hill-tops where chances of landslides occurring are extremely high, or, in the lowlands of the Tarai where inundation is invariably an annual phenomenon.
Nepal has not even contemplated—at least not at the highest policy level—the possibility of integrated resettlement schemes.
As epiphenomena of the 2015 earthquake, some debate had started on planned resettlement. But the absolute lack of political commitment has set the issue on the back-burner and the entire rehabilitation vision has faltered.
A convincing functional map on national land-use policy and planning does not exist. The plans to establish new safer towns and make existing towns safer remain ad-hoc, if they are initiated at all.
There is very limited investment in disaster preventing infrastructure on the one hand, and on the other, physical infrastructure development practices are not made compatible to risk reduction paradigms.
Some instances such as the widespread practice of moving the earth to carve out hill roads without proper sustainable engineering, have contributed to massive landslides in many areas.
Diplomatic dimension
Nepal and India share the same destiny in regard to natural disasters, as they are particularly susceptible to floods, earthquakes and climate change.
During the last few days, there were a lot of derogatory comments in social media on Nepal's compulsion to convince India to open flood gates in Koshi, Gandaki, as well as Laxmanpur barrages during a time of utter crisis.
Anger was aimed at the 1355km long road-cum-embankment constructed by India, parallel to the Nepal-India border, in the Tarai.
Now, both countries must acknowledge the fact that there is no alternative to meaningful cooperation in issues like flood control and other disaster preparedness.
Unilateral actions must be supported by confidence building measures. There is no escape from it for both countries, as we share mountain ranges, rivers, rain ecosystems, and the tectonic plate.
Of more importance, without concerted and innovative joint initiatives, the risks emanating from rapid climate change in the sub-Himalayan region could easily spiral out of containable limits.
There are a lot of misconceptions and misgivings on both sides that are dampening the scope of fruit-bearing cooperation.
Diplomacy must now be geared to end this climate of distrust. Disaster mitigation and management policies, and the infrastructures we build to support it would benefit the entire sub-continent.
Wagle, a founding editor of the economic daily Arthik Abhiyan, is an eco-political analyst
---
---