Fortunate karma
Buddhist tourism can be a path to our prosperity because of the presence of the holy site of Lumbini in Nepal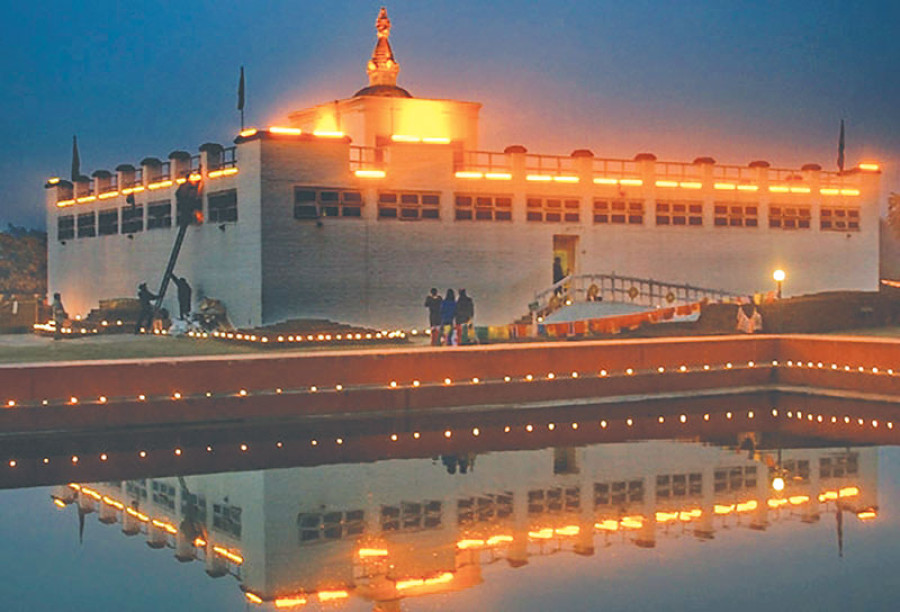 bookmark
Published at : July 7, 2017
Updated at : July 7, 2017 08:16
Development is the first and foremost need of people everywhere, even though it does not have a universally accepted definition. Development varies in nature, nonetheless, economic development comes at the top of the list. Development doesn't happen by including it in the laws of the land. During this age of globalisation, we can't compete with all countries in all aspects. Industrialisation on the scale of European countries is not possible due to our limited capital and semi-skilled human resource.
Only depending on investments from foreigners will not enrich us. We lack sufficient territory for massive expansion of factories. Lack of military and political strength prevents us from extending our hegemony. We lack oil fields. But instead of sinking into pessimism, we can look for innovative projects that might transform our country economically. In Nepal, a new kind of tourism, Buddhism tourism, can be an ideal path to prosperity.
Ideal way
Many countries have prospered from tourism. As per the World Travel and Tourism Council 2014 report, around 20 countries and territories like Macau, Maldives, Bahamas, Aruba and Anguilla are tourism based economies. In some countries, tourism accounts for a large percentage of their economy. In Macau, tourism makes up approximately 45 percent of the GDP. Around 2 million tourists visited Fiji in 2014, which is equivalent to roughly 25 percent of its total population. There are good reasons to believe that Nepal, too, can earn massive amounts of revenue from tourism.
Some countries have made radical economic progress in the last few years. Hong Kong, Thailand, South Korea, China, Malaysia, Taiwan and Vietnam are known as tiger economies because of their fast growth. A majority of such countries are Buddhist. Once people achieve financial security, they turn to enjoying life and travelling.
People in these countries are beginning to spend much time and money on travelling. The number of Buddhist tourists is increasing sharply around the world. As per a recent report entitled Investing in the Buddhist Circuit, around 300 million travellers go on foreign tours annually, and among them, 25 percent are Buddhist.
Good alternative to aid
Among four major places related to Lord Buddha's life, his holy birthplace Lumbini is the most important one. The Tripitak, the holy book of Buddhism, says that all Buddhist followers should visit Lumbini at least once in their life time. It is our great fortune that this holy site lies in Nepal, and it can pave the way for our economic success. We are renowned for hospitality. Additionally, cultural affluence and natural beauty are our plus points. Therefore, we can encourage people from these wealthy Buddhist nations to come here and spend a lot of money.
According to a research work entitled Nepal and Emperor Ashoka by TR Vaidya, the number of visitors to Lumbini is on the rise. In 2003, there were 28,053 arrivals to Lumbini, and by 2013, the figure had ballooned to 156,001 visitors. This data does not include Nepali and Indian tourists. Among the visitors, a majority came from Thailand, China, Myanmar, South Korea and Japan. Since most Buddhist tourists come from Asia itself, they spend more here and less on airfare. This is good for us.
During the last two decades, which we spent fighting a war and then arguing about transitional politics, the above-mentioned countries emerged as tiger economies. About 500 million Buddhists live in these countries. Now they have money and are interested in travelling abroad. Fortunately, Lumbini is at the top of their list of places to visit. We need to coordinate with them and promote Buddhist pilgrimage tourism in these fast rising economies. In 20 years, if we can convince even one-fourth of the world's Buddhist population to visit Lumbini once in their life time, or if we can bring even one-fourth of the total Buddhist tourists to Nepal annually, our economy will boom. Rather than asking for donations from foreigners, Buddhist tourism may be an ideal way to prosperity.
Dahal is an associate professor at the Kathmandu School of Law
---
---