Brewing fiscal anarchy
Budget sounds more like a compendium of aspirations rather than a credible plan backed by adequate budgetary allocation or sound justification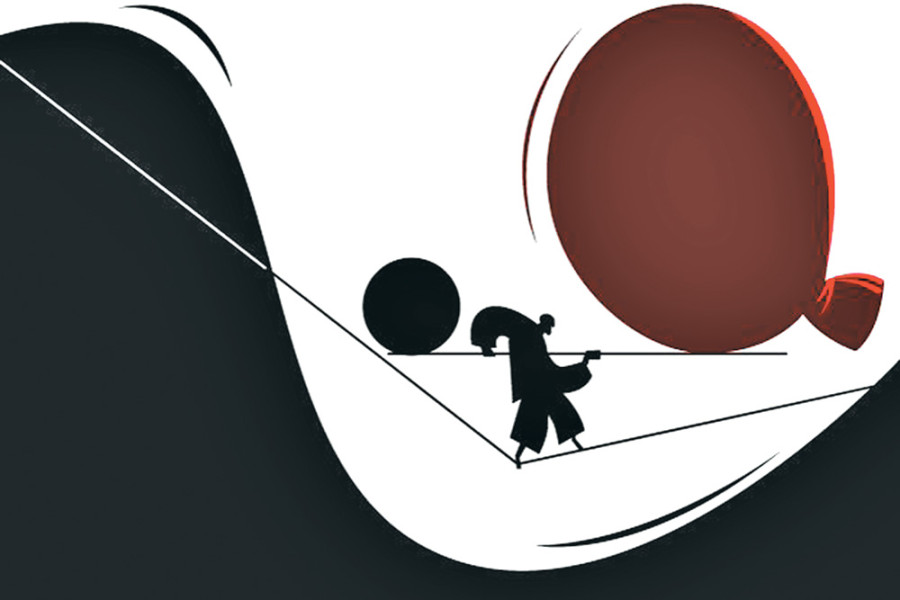 bookmark
Published at : June 14, 2016
Updated at : June 14, 2016 08:06
The parliamentary debate on the government's income and expenditure plan for the current fiscal year, the budget of 2016-2017, sented by the Finance Minister Bishnu Paudel is over. What will follow now are discussions on ministry-wise appropriation and related bills. A section affiliated with the prime minister's party has hailed the budget as "popular", while others including the opposition have dubbed it recklessly populist, devoid of policy breakthroughs, and an expansionary wish list that plants the seeds for fiscal anarchy.
Before commenting on the content, let us be clear on the intent, timing and political context of this budget. The Oli government was fighting for survival in the face of the Maoist threat to quit the ruling coalition. The prime minister was ready to compromise on anything to remain in office for budget presentation. Eventually, the patch-up was possible following a pledge to hand over the leadership position to Pushpa Kamal Dahal after the budget. It was then widely believed that a budget prepared by a government in its death throes would dole out populist handouts and issue grand promises that it would not have to keep. The budget was, therefore, expected to be a purely political instrument, far removed from macro-economic reality and rationale.
The budget was prepared against the backdrop of economic stagnation with less than one percent growth and 10 percent inflation in the current year. The initial expenditure ceiling of Rs909 billion, proposed by the National Planning Commission, marked a nominal increase of 11 percent over the current year's budget, and would have been defensible. The actual budget size was instead inflated by 28 percent to Rs1049 billion, almost half of Nepal's gross annual output (GDP). This is excessively ambitious against a track record of annual expenditures in the range of 25 to 30 percent of GDP. Of the Rs231 billion increased over the current year's budget, Rs129 billion will be spent on recurrent items like salaries, allowances, pensions and other administrative expenses which cumulatively add to future liabilities. These kinds of expenditures cannot be curtailed. On the other hand, an increase in capital expenditures amounts to only Rs103 billion. Past experiences show that capital expenditures tend to be grossly under-spent while rising recurrent expenses immediately get pumped into the economy, building up inflationary pressures when unaccompanied by production, distribution or monitoring. A glance at the composition of capital expenditure indicates that except for the ongoing programmes, most of the announced new projects are of a long-term nature without adequate homework. Many schemes said to be of priority do not yet have proper techno-economic feasibility studies conducted on them and other preparations. The budget sounds more like a compendium of wants and aspirations, rather than a credible annual plan backed by an adequate budgetary allocation or sound justification.
Crushing debt
A favourite slogan of the present government is to create a "self-reliant" economy that keeps on recurring in policy documents. But the massive public borrowing proposed in the budget belies this objective. Successive governments in the past have been prudent about limiting public borrowing to low, sustainable levels. The outstanding total public debt of Nepal currently stands at Rs659 billion, just below 25 percent of GDP. The current budget, however, proposes to raise the existing stock of public debt by 48 percent in a single year. The goal is to borrow Rs111 billion from internal sources and Rs196 billion from external sources. Even after deducting the annual payment of principal and interest on past loans, the net borrowing is about Rs263 billion, which is set to add a net per capita debt burden for each Nepali man, woman and child of around 10,000 rupees. Even more disturbing has been the internal borrowing of Rs88 billion in the last few weeks, while the government treasury is flush with surplus cash of more than Rs100 billion. The hidden intention is to funnel this debt towards next year's spending. This amounts to about 15 percent of GDP equivalent of borrowed money to be spent in one budget year, a frowned-upon practice of fiscal irresponsibility.
Nepal has earned high marks in the past for macro-economic management, weathering shocks, servicing debts on time, and even declining to join the club of highly-indebted poor countries (HIPC) despite an international nudge. If it exhausts its safety cushion, and no longer plans for contingencies when the international fountain of grants and soft loans appears to be drying, and our revenue base remains vulnerable to external threats, we are sowing seeds of future crisis and instability.
Whither reconstruction
This government inherited from its predecessor a highly favourable groundwork for post-quake reconstruction with an historic pledge of over Rs400 billion and unprecedented international goodwill. However, through partisan politicking, the government has squandered a rare opportunity, and progress in the field is practically nil. I had allocated Rs91 billion for reconstruction in my last budget; even though the present government has been in office for eight months now, more than half a million families still remain without shelter. No attempt was made to mobilise the security forces that had performed outstandingly during the search, rescue and relief phases. Families eager to reconstruct their homes are postponing their decisions as they wait in vain to sign grant contracts. Under a friendlier modality of time-bound payment conditions attached to pre-approved prototypes, hundreds of thousands of houses would already have been built by now, before the monsoons.
Last year, to finance the restoration of our monuments and religious sites while ensuring citizen ownership, I introduced a one percent surcharge on all telephone calls for the Heritage Fund by launching a campaign "Our Heritage Our Responsibility". Up to Rs700 million is estimated to have been raised by now under this scheme. This year's budget is silent on this, while announcing a similar campaign of "I Will Build My Own Dharahara." This is nothing but theatrics.
Programmes related to building infrastructure in the Tarai and hills, health-related welfare schemes, challenge fund for youth entrepreneurs and augmented social security are largely a continuation of past programmes; yet, they are presented as novel. Allocation for social security and local bodies has increased but lacks administrative measures to control leakages and abuse. The nation's export front is precarious, with worsening trade balance and export-import ratio down to a dismal 10 percent. The budget offers nothing concrete to raise competitiveness, ease supply side constrains and create a durable production base to promote exports.
Perilous path
Economic policymaking in countries like ours needs bold and serious reforms, not populist rhetoric and empty promises for ephemeral consumption. Nepal's economic history shows how reforms such as the introduction of the value-added-tax (VAT), income/capital gains-related tax and others reforms introduced by the Nepali Congress leadership, despite ill-informed opposition and street protests, are indeed what has enabled the state to spend generously on health, education and infrastructure.VAT is the largest taxation source now accounting for more than one third of revenue. Income tax including capital gain contributes one fourth.
If previous governments had also indulged in populism and handouts for tactical political gains, revenue collection would not have grown 40-fold (in nominal terms) in 25 years—from about Rs12 billion in 1990 to around Rs465 billion this year. Nepal's tax collection in comparison to its GDP is the highest in South Asia. Spending on pork barrel schemes to endear oneself is easy, raising long-term administrative capacities is not. Forget about bold reforms that add to a sound fiscal foundation laid by previous governments, this budget also gives short shrift to much needed tact and care on the eve of fiscal federalism the nation is embarking upon. Deviations from established norms could easily lead the economy to spiral towards full-blown fiscal anarchy. Citizens with concern for Nepal's long-term economic fortunes should view this risk with alarm and gravity.
Mahat is former finance minister
---
---