Investment wanted
Nepal's goal to graduate from an LDC to a developing country requires huge capital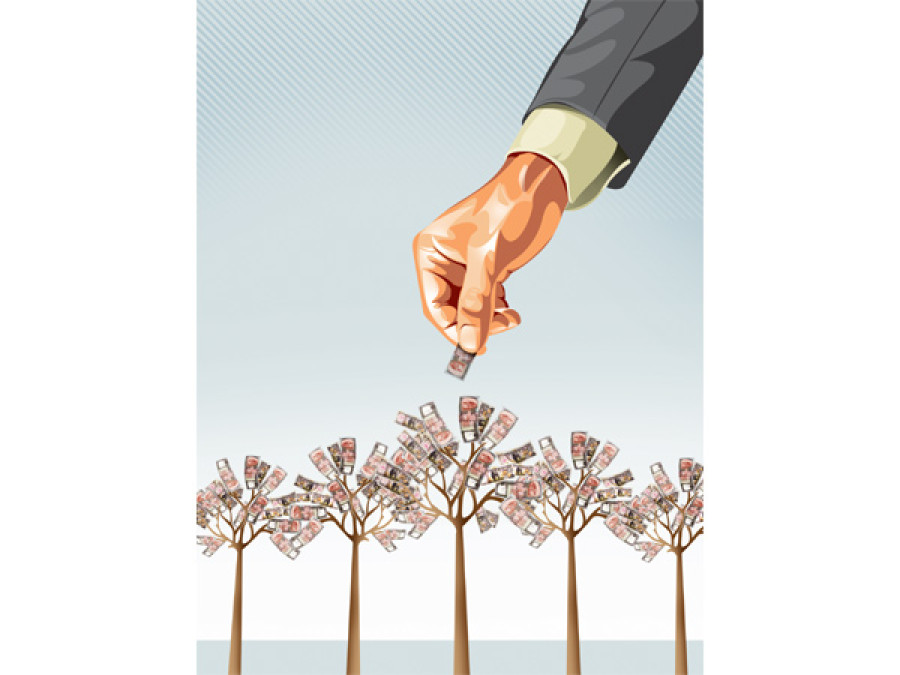 bookmark
Published at : October 9, 2015
Updated at : October 9, 2015 08:29
The current 13th development plan expires this year and it will be replaced by a new one. The National Planning Commission (NPC) has started preparations for the 14th periodic plan. So far, nine five-year and three three-year plans have been implemented. However, they have fallen short of meeting the needs and expectations of the Nepali people. The economic growth rates set in the development plans were never achieved. The policies, programmes and strategies that have been implemented so far have failed to address the structural causes of economic development. These are, in particular, the denial of people's equitable access over means of production, justifiable distribution of income and shortfall in governance, among others.
As a result, Nepal lagged far behind in economic development, though poverty has been reduced substantially. The issues of hunger, unemployment and backwardness remain far from being addressed. However, a remarkable achievement has been made particularly in the social sector. A few of the significant issues which warrant more attention than before are federalism, social inclusion, social justice, climate change and sustainable development.
Challenges and opportunity
While making a plan, both the opportunities and challenges should be taken into account. We not only have challenges but opportunities as well. Peace has been restored by resolving a decade-long conflict which considerably reversed the progress of economic development. The long-awaited process of writing the constitution is now over with the promulgation of the new statute. The decade-long political transition has come to an end. People are apparently enthusiastic about taking up the task of nation building. The political parties have created an environment conducive to economic development by coming together
in the course of writing the constitution. This is a golden opportunity
to institutionalise the historic achievements of the people's struggles made so far. The main challenge before the country is a low economic growth rate. This has been a serious problem for a long time. A few periodic plans have met their economic growth targets of 7 percent. But Nepal has achieved growth rates of only 2 to 5 percent so far, too low to accelerate the pace of economic development. An alarming trade deficit almost equivalent to the annual budget poses another challenge to our economic growth, and this does not portend well for a developing economy. Labour migration in search of jobs abroad has been a serious concern. The conflict in the country pushed them and demand in the labour destinations pulled them, leading to massive labour migration.
The remittance they send home has become a big resource for the national budget, though this has not been spent in productive areas. Serious efforts have to be made to keep youths from leaving the country. Similarly, a low level of investment, whether it is foreign or national, internal or external, private or public, direct or indirect, has become another important issue warranting serious attention. Investment is needed in each and every aspect of the development process, be it in infrastructure, employment generation, poverty alleviation, social sector, commercialisation of agriculture, electricity generation, export promotion or import substitution. Therefore, investment needs to be enhanced.
Things to consider
Nepal's goal to graduate from a least developed country (LDC) to a developing country needs huge additional investments to achieve the minimum sustained growth of 8 percent growth. Capital formation continues to remain a challenge as we consume most of what we produce. Energy is another most pertinent issue to be considered seriously during the framing of the forthcoming plan. Our economy is characterised by low productivity. The people engaged in agriculture make up two-thirds of the population, but the contribution they make to the national GDP stands at only one-third. On the other hand, the labour force engaged in service and industry makes up one-third of the population, but their contribution to the GDP amounts to two-thirds. Therefore, the productive capacity of capital and labour should be enhanced in order to alter this
situation.
The issue of governance is just as important. Policy inconsistency, poor service delivery, delays in decision making, corruption, lack of transparency, accountability, and coordination between government agencies, incompetency in implementing development capital, and lack of access to and participation in policy formulation are some of the issues that have dogged our polity. Additionally, agriculture should top the list of priorities. In a developing country like Nepal, agriculture has a very crucial role in accelerating growth. It should be regarded as an engine for economic growth. Agriculture sector should be able to create employment opportunities, generate livelihoods, contribute to trade surplus and ensure food security. Commercialisation, industrialisation and diversification of this sector is a must. We need to transform agriculture into a sector marked by high value, access to inputs, technology, finance and innovation.
Need for investment
The forthcoming plan must emphasise reconstruction in view of the damage caused by the recent earthquake. Similarly, energy, roads, irrigation, tourism, industry and rural communication, which are the basic infrastructure for development, are equally important for which massive investment is needed. Mega infrastructure projects likely to generate employment and contribute to economic development should be launched, together with small- and medium-scale industries with the active participation of local people. The hydropower projects under construction should be completed within the stipulated timeframe and initiatives should be taken to construct mega power projects. An inclusive policy should be pursued by making it as broad-based as possible so that women, Dalits, Adivasi Janajatis, youths and Madhesis find their space in the development process and get a sense of ownership. Similarly, the fruits of economic prosperity should be shared equitably.
Likewise, the development of the social sector is another area requiring emphasis. The right of all the Nepali people to education, health, drinking water and sanitation, food sovereignty, employment and social security must be ensured. The role of the private sector and cooperatives should be made effective to attract more investment. With the constitution in place now, the dream of the common people is to make the country prosperous by making poverty a thing of the past. We need to firmly put the country on an irreversible path of economic progress with a focus on productive investment for inclusive prosperity. With this in mind, all the political parties and their leaders who showed unprecedented solidarity during the constitution making process should remain together and shoulder the historic responsibility of steering the country that has been bestowed upon them.
Dangal is a member of the National Planning Commission
---
---