TRC has been formed to restore justice system, reconcile society
Interview Surya Kiran Gurung.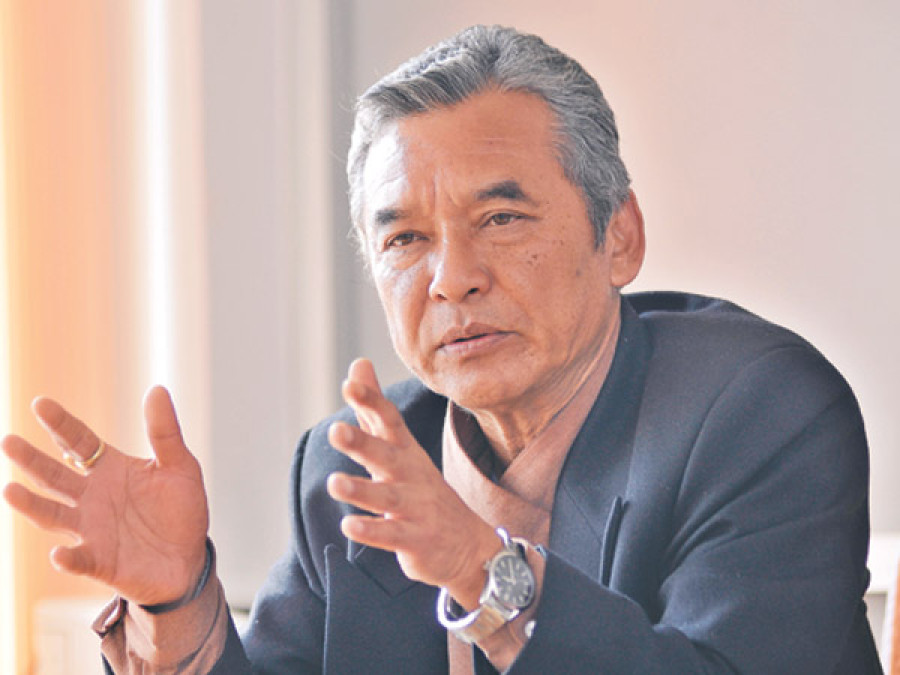 bookmark
Published at : February 16, 2015
Updated at : February 16, 2015 09:49
E

ight years after the Maoists and the government signed the Comprehensive Peace Agreement (CPA), a Truth and Reconciliation Commission (TRC) and a Commission to Investigate Enforced Disappearances have finally been formed. This marks an important milestone in Nepal's peace process. Surya Kiran Gurung, 56, has been chosen as Chairman of the TRC. A former General Secretary of the Parliament (2003-2007) and Ambassador to Russia (2007-2012), Gurung holds LLMs from Canada's University of Alberta (1989) and India's Patna University (1985). Dewan Rai and Darshan Karki spoke to Gurung about his new job, his plan for working with various stakeholders of the peace process, the challenges he faces, and expectations from the political parties.

How will the TRC process now move forward?

The formation of TRCs across the world is a recent phenomena. After the Second World War, the Nuremberg Trials were assigned the task of prosecuting those who committed serious violations of human rights during the war. It handed out punishment ranging from death sentences to long-term imprisonment. We call this retributive or punitive justice, as it was formed with the intention of taking revenge. In the current context, we talk of restorative justice. This implies restoring the justice system which has been dismantled, creating a situation where people can reconcile and live together in harmony once again. The TRC in Nepal has been formed along those lines. Reconciliation is an important part, but this does not mean that people will be forced to reconcile, as is being portrayed in the media. Reconciliation can only be done with the consent of the victim and a common understanding between the victim and the perpetrator. We are currently studying how such commissions elsewhere in the world have fulfilled their objectives. Until now, Sierra Leone, Chile, Peru, and South Africa are countries where TRCs have been formed, though it was only called a TRC in South Africa. We are studying and discussing the best practices of those commissions and what would be best suited for Nepal. Our next step will be to hold consultations with civil society members, human rights activists, and other experts.

Some argue that there is a need to change the TRC Act's provisions on reconciliation.

As a student of law, I cannot comment on a case that is sub judice at the Supreme Court. Whatever the court will decide will be acceptable to us. We believe that the Court will give its verdict based on national laws, international conventions that Nepal is party to, and international practices in human rights and humanitarian law.

The formation of the TRC was partly delayed due to debates on whether it should take an entirely political or a purely human rights approach. What is your take on this?

International human rights law is applicable at all times, whether it be times of conflict or other times. But humanitarian laws are evoked particularly during times of conflict. In Nepal's case, all international human rights conventions and humanitarian laws that the county is party to will be applicable. Going by international practices, there are certain serious types of crimes for which there can be no amnesty. In any case, the TRC is not responsible for prosecution, the government is. The TRC is only responsible for finding out the truth about cases and providing recommendations based on laws that can be evoked in those cases. We cannot recommend reconciliation in grave violations of human rights; this would raise questions about the relevance of the Commission itself. For gross violations, we will recommend punishment based on the witnesses' account and case details.

A section of civil society and the victims' community has threatened to boycott the TRC process. A breakaway Maoist faction has openly said that it disregards the transitional justice process. How do you plan to win their confidence?

The TRC will reach out to all parties that have grievances and to the maximum extent possible, based on the rights and jurisdiction of the TRC, it will try to address, include, and resolve them. Even if they boycott the process, we will welcome them with a red carpet to join the process. We will not break the door if they close it on us but we will keep knocking.

How can the political parties help? There are some cases where the court has already given its verdict, but the Maoist parties have said that such cases should be decided by the TRC.

I cannot answer that now as we have yet to face the problem. I would not like to discuss a hypothetical scenario. Nonetheless, the TRC Act has been formed by political parties and we expect cooperation from them. But at the same time, we would like to appeal to them to not interfere in our work.

How do you plan to tackle cases that have filed at the UN Human Rights Committee or in other international bodies?

Many people rightly argue that had the TRC been formed earlier, Col Kumar Lama, for instance, would not be under house arrest in the UK. In the past, human rights were an issue of national jurisdiction, now it has universal jurisdiction. If one country does not prosecute human rights violations, another country can do so, if the countries are party to various conventions on human rights. Now that the TRC has finally been formed, we will invite all stakeholders to come to us with their grievances and then investigate if the accusations are true or not. Some people might have been falsely accused too. The job of the TRC is to protect the rights of each individual. The TRC has not been established to make news in the media by publicising the names of people against whom cases have been filed, nor has the Commission been established to pay homage to a certain person. Its aim is to help the peace process reach a logical conclusion.

Do you see any hurdles at the moment for you to start work?

The TRC has been mentioned in the CPA and the Interim Constitution. The TRC Act is based on those documents and we will work in its spirit. But there are certain things that we are also not clear about and are discussing ways to move ahead. For instance, the TRC has been given the power to demand papers from the court with regards to cases that have been filed there and investigate them. But there is no clarity as to whether the court's investigation will be stopped once we begin to look into it or not. Parallel jurisdiction could create problems later on. There are also certain procedural matters we would like to be clearer about. So we would like to discuss matters with those who formulated the TRC Act. Based on the recommendations of the TRC, the government is supposed to formulate a TRC regulation and until that is done, we cannot begin work.

What other challenges do you see before the TRC?

As it has been eight years since the end of the conflict in Nepal, it could be difficult to gather evidence on various incidents. Then, there could be problems pertaining to cases you mentioned above, about court verdicts and political parties' rejection. There are also contentions about whether events occurred during the conflict period or whether they were purely human rights violations or not or if they took place during combat or not. But we in the TRC have decided that no matter our personal opinions on such issues, the Commission is a body of high moral integrity. We will do our best not to go into voting on such matters but decide through consensus. We are in the process of forming the regulations and have already formed a task force to do so. I would further like to add that we are a team of fair and neutral people. We will not stand intimidation or threats from anyone. We are in the process of forming our code of conduct. We will first manage ourselves and then begin tackling various problems.

The National Human Rights Commission (NHRC) has been investigating many cases of human rights violations. How do you plan to coordinate with it and in what ways will the TRC's work be different?

The law has clearly stated that conflict-era cases will be handed over to the TRC once it is formed. They will all come under our jurisdiction. We will base our investigations on the work done by the NHRC and move ahead based on the stage of investigation they are in and their recommendations. There could be many conflict-era cases filed in other government agencies too, which will automatically come under our jurisdiction. But we will not encroach upon the jurisdiction of other constitutional bodies.

To what extent do you see the TRC as a political body and to what extent is it a human rights body, particularly given the existence of another constitutional body to look into human rights violations?

Rather than being an issue of what I think, the TRC was envisioned after its need was felt by international bodies and national political parties. We did not lobby for the TRC to be formed to become its members. It is an organisation formed due to a national need.

But where are the people who have been directly affected by the conflict—the victims—in this entire TRC process?

How do I know? I will now search for them. I will call upon all those victimised by conflict to bring their problems and file cases at the TRC. We will be very open and transparent about everything.
---