Cabinet under fire for dropping case against teacher's attackers
Chalaune on hunger strike protesting decision to withdraw attempted murder case against pro-Congress students.

Police detain Prem Chalaune (centre right) from Kathmandu District Court on Monday. Post Photo
bookmark
Published at : June 20, 2023
Updated at : June 20, 2023 07:28
Kathmandu
Police on Monday briefly detained Tribhuvan University assistant professor Prem Chalaune after he launched a hunger strike inside the premises of the Kathmandu District Court. He was protesting last week's government decision to withdraw a case against a group of students who physically assaulted him three years ago.
Police said Chalaune was arrested shortly after he and his supporters 'created disturbance' inside the District Court premises. They had shouted slogans against the government decision and announced a hunger strike at the court. Chalaune and his supporters were released two hours later, according to police.
"We released him after keeping him at the Metropolitan Police Circle at Singha Durbar for a short period," said Superintendent of Police Sitaram Rijal, who is also a spokesman of Kathmandu District Police Range in Teku.
Chalaune, an assistant professor of sociology at the university campus in Kirtipur, was brutally beaten on campus on October 6, 2020 by a gang including Hari Achayra, TU chapter president of Nepali Congress-affiliated Nepal Students' Union (NSU); Yogendra Rawal, secretary of the same organisation; along with other members of the union.
Chalaune had sustained serious injuries on his head, chest and thighs, and spent a month in hospital.
Even as a case of attempted murder against the assailants is sub judice at the District Court, the Cabinet on June 13 decided to withdraw the case.
"My physical and mental conditions are not good. I have been living under constant fear," Chalaune told reporters at the District Court on Monday.
According to him, he has been regularly attending court dates for the past three years. The final hearing of the case has been scheduled for Tuesday. Of the seven defendants in the case, which was filed by the district attorney as it is a criminal case, two are on the run and the remaining seven were released on bail.
"You don't get justice here, this country is governed by goons," he said.
He accused the government of killing truth, justice and humanity by deciding to withdraw the case. "I came to the court to protest as all my options were blocked. The government itself has killed justice. If the government can settle such a case, what's the use of the judiciary?" he questioned.
Talking to the media in the court premises on Monday, Chalaune said he had only asked the representatives of the student union at the university to remove the padlock, which they had placed at the sociology department's gate for 60 days, and they brutally beat him up.
"What would a teacher say when his department is closed for two months?," he questioned.
He also said goons had stalked him for weeks before attacking him. "How can you imagine that ordinary people in far-flung villages will get justice when a university teacher in the Capital is subjected to such injustice? If politicians cover-up such a heinous crime committed in broad daylight, how do you expect the people in remote areas to get justice?" questioned Chalaune.
"I can't tolerate this injustice any more," he said after the police released him in the afternoon.
In the evening, Chalaune started a 'fast-unto-death' strike at the TU chancellor's office in Kirtipur.
This is not just the first case of a university teacher or scholar being attacked or assaulted by groups with political affiliations.
Earlier this month, a group of NSU students misbehaved with Purbanchal University Service Commission Chairman Mahesh Raj Dahal.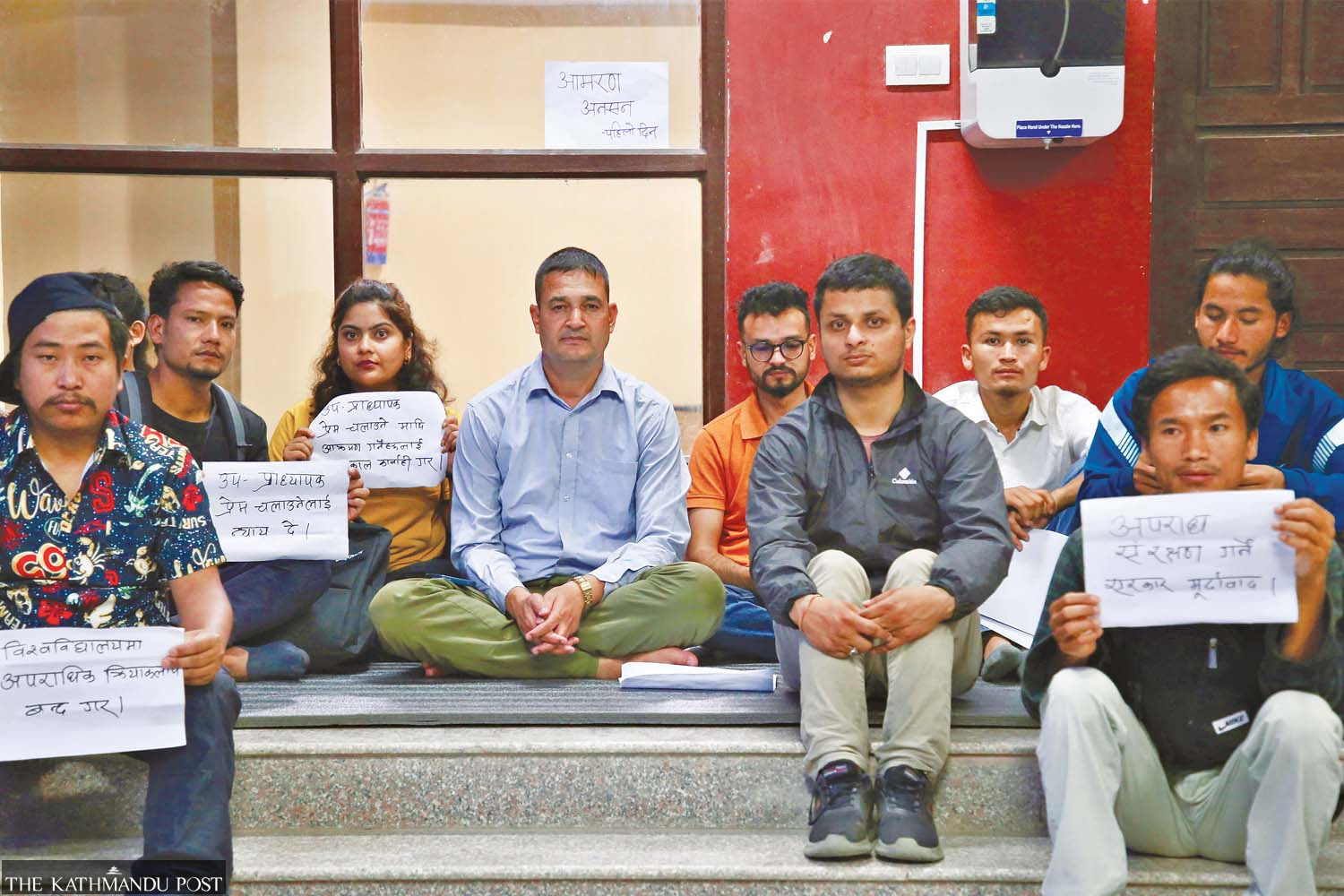 Tribhuvan University teacher Prem Chalaune (centre) started a fast-unto-death outside the university vice-chancellor's office after the government decided to withdraw an attempted murder case against Congress-affiliated students, who had brutally attacked him three years ago. Post Photo
The NSU students had barged into Dahal's residence at Aapgachhi in Itahari Sub-Metropolitan and splashed black paint on him. Later police arrested the NSU Morang chapter president Saroj Pokharel.
A video footage of the offending NSU students has gone viral on social media. Following strong public criticism of the misbehaviour, police arrested Pokharel.
Many people termed the NSU act as barbaric, and an example of growing lawlessness in the country.
"The Cabinet decision has set a wrong precedent and shows student unions are above the law," Dinesh Prasain, who teaches sociology to MPhil students at the Tribhuvan University, told the Post while reacting to the government decision in Chalaune's case.
"He [Chalaune] survived by sheer luck. The attack was an act of complete hooliganism, and how just is it for the Cabinet to make a decision, which is a court's job? " said Prasain.
Soon after it became known that the Cabinet had decided to withdraw the case, social media users unleashed a barrage of criticism of the move.
"Cabinet? Protecting citizens or criminals," wrote Twitter user Rita Thapa.
Raju Prasad Chapagain, a constitutional and human rights lawyer tweeted saying "withdrawing the case means killing the right to justice."
"Therefore, the decision should be withdrawn immediately," Chapagain wrote.
Sanjeev Uprety, an author and civil society activist, demanded justice for Prem Chalaune.
"This decision not only attacks the core of the rule of law and independent judiciary but also makes university a place of extreme politicisation and criminal attacks. The government should withdraw the decision immediately," Uprety tweeted in Nepali. "There should be an independent judicial enquiry and the culprits should be punished. Prem should get justice."
---
---