Sadhus at Shivaratri seek Wi-Fi solace
Most ascetics who've renounced material world see internet as integral to their lives.

Malkan Giri, from Haridwar, says almost all the sadhus visiting Pashupatinath Temple carry smart phones. Anup Ojha/TKP
bookmark
Published at : February 18, 2023
Updated at : February 18, 2023 11:29
On Friday, on the eve of the Mahashivaratri festival, just as India's Govardhan Math Shankaracharya Nishalananda Saraswati completed his address to a gathering on the western part of the Pashupatinath Temple and was escorted to his van outside the gate, a large number of sadhus were seen busy taking photos and videos from their smartphones.

In other parts of the temple and at Ram Mandir across the Bagmati river, one could see many sadhus holding smartphones, some taking selfies, others talking on phones giving directions to their friends who were coming into the premises. The final decoration of the main temple and its premises was about to be given the final touches.
As interesting as it looked, most of these ash-smeared, yellow and black clothes-clad sadhus who have renounced the materialistic world see smartphones and the internet as an essential part of their lives these days.
According to the Pashupati Area Development Trust, over 5,000 sadhus from around the country and from various parts of India have already arrived at Pashupati to mark the festival.
"Almost all the sadhus who are here for Mahashivaratri have smartphones," said Malkan Giri, 36, who was seen taking selfies outside the well-decorated main Pashupati Temple.
For the grand festival, the Pashupati Area Development Trust has invested Rs8 million in beautification, according to Ghanashyam Khatiwada, executive director of the Trust.
Giri arrived in Kathmandu on Thursday from the ancient Indian city of Haridwar. He said he has already sent videos and pictures to other sadhus in Haridwar from his phone (Tecno Phantom X2, which costs around Rs 50,000 in the Nepali market) who could not make it to Nepal for the festival, showing them the decoration at Pashupatinath.
Giri, a first-timer at Pashupati, said in Haridwar and Kedarnath, the Indian state provides free wi-fi to pilgrims.
"With smartphones, we can listen and download new Bhajans, and if there was free internet here, we could show this place to the world on the day of Mahashivarati—the grandness of the festival here in Nepal," said Giri, a baba, who wore a maroon dress with rudraksha garland around his neck, several rings on his fingers and a pair of red-rimmed shades.
On Friday, the Post caught up with many sadhus on the Ram Mandir premises who were taking selfies and playing Shiva Bhajan on their smartphones, while many others were busy preparing to burn logs to stay warm during their night jagram (all-night vigil).
Raju Nath Yogi, 43, who was busy looking at TikTok and Facebook feeds on his smartphone said he was not happy with the Trust for not ensuring free internet for sadhus. "I have been uploading pictures and videos with mobile data and it costs a lot," complained Yogi.
Yogi said he is a Nepali, but he left his family behind for over two decades and has been living in India and Nepal alternately in order to complete his spiritual pursuits.
"If only the authorities had given free wi-fi, it would have been easier. Please tell them to provide free wi-fi for babas here, the next time," said Yogi, who visits Pashupati every Shivaratri.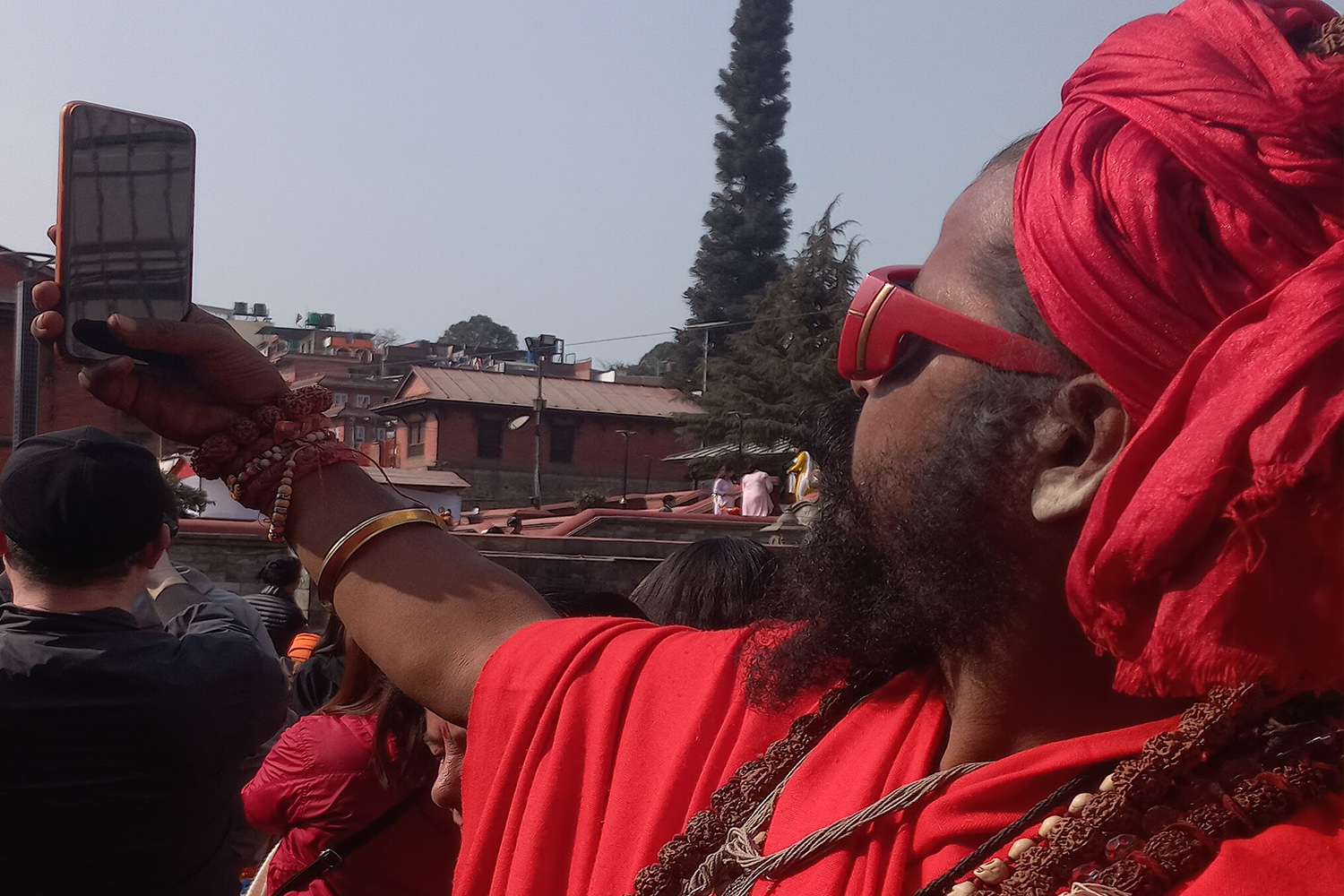 Malkan Giri, 36, dons a pair of red-rimmed shades as he poses for a selfie. Anup Ojha/TKP
Meanwhile, a few former associates of the Trust said they have also realised the need of providing free wi-fi to the sadhus.
"Compared to the past, things are different. Smartphones have become an integral part of sadhus as well because it has become a good medium to connect with their gurus or chelas when they are on a pilgrimage," said Govinda Tandon, former member secretary of the Trust.
"From next time, the Trust should assess if wi-fi is a need for the Sadhus who come here during Mahashivratri," said Tandon.
However, the Trust officials said this is not going to be implemented.
"Sadhus are here for meditation, and for their spiritual pursuits, and if they are provided with wi-fi, this will distract them," said Rewati Raman Adhikari, spokesperson at the Trust.
He fears providing free wi-fi will distract all volunteers, as well as security personnel. "What if the volunteers and security personnel, instead of performing their duty, all start using social media," said Adhikari. "So, the idea is not practical."
According to him, this time, 10,000 security personnel and over 5,000 volunteers will be deployed in the Pashupati area during Mahashivaratri.
Although the Kathmandu Metropolitan City in 2018 had announced plans to provide free wi-fi at all World Heritage sites, that decision is yet to be implemented.
According to officials, this time over a million people are expected to visit Pashupati for the festival, and on Saturday, the four doors of the main temple will be opened at 3:30am.
Adhikari said last year nearly a million people had visited Pashupati during the festival as they were just getting over the Covid pandemic.
This time around, the Trust estimates that more than a million pilgrims will visit the temple given the ever-improving Covid situation.
---
---