Lack of equipment a big constraint in emergency response
The chaotic scenes at the Yeti Air accident site, say experts, were a sign of Nepal's poor response mechanism.

Deepak Pariyar/TKP
bookmark
Published at : January 17, 2023
Updated at : January 17, 2023 07:57
Kathmandu
Sunday's Yeti Airlines plane crash, the worst domestic air disaster in Nepal, has once again highlighted the country's sub-par emergency response, with severe shortage of resources for an effective rescue in case of accidents.

The plane en route to Pokhara from Kathmandu crashed near the Pokhara airport, at the Seti river gorge on Sunday morning. Seventy-two people were on board, including four crew members.
"As many as 69 have been confirmed dead as their bodies have been recovered as of Monday evening," said Tek Bahadur KC, chief district officer (CDO) of Kaski.
In ten minutes of the crash, rescue teams from the Nepal Police, the Armed Police
Force (APF) and the Nepal Army had reached the site, but they lacked fire brigades, a water source, and other necessary equipment that are essential for an emergency rescue operation. When the security forces got there, a huge crowd of locals had already gathered.
"In an emergency, the sooner the rescue team reaches the accident site, the greater the chances of saving lives," said Ganesh Kumar Jimme, deputy executive director at National Society for Earthquake Technology.
The crash site was thronged with hundreds of people, with many livestreaming unfolding events on their mobile phones. Others who took selfies were widely criticised on social media for their imprudence and insensitivity. Meanwhile, a few samaritans who participated in the rescue were lauded.
As soon as the plane crashed, Bikash Basyal, a local, rushed to the site, and retrieved seven bodies. He was widely praised for his brave act when many of his fellow Pokhrelis had become no more than bystanders.
Indicating the large number of onlookers at the crash site and the inconvenience it caused, Jimme said they could have been of great help if only they had basic rescue training. "It shows how helpful community-level training would be in emergency rescues," he added.
The security personnel were also struggling to reach the incident site, which had been engulfed in fire, and thick smoke affected visibility.
"As the crash site is in rugged terrain, the rescue operation became challenging," said Brigadier General Krishna Prasad Bhandari, who is also a spokesperson of Nepal Army. "Rescuers had to abseil into a deep gorge, which was both time-consuming and physically challenging," said Bhandari.
The scene at the accident site, say experts, was strong proof of a poor response mechanism.
"Although the terrain was rugged, if the rescuers had reached on time, rescue work could have been more effective," said Jimme, deputy executive director at National Society for Earthquake Technology. He asserted that there is a shortage of rescue equipment in Nepal even though the Nepal Army, the Armed Police Force, the Nepal Police and other volunteers are well trained in rescue operations.
According to Nepal's civil aviation body, 914 people have died in air crashes in the country since the first disaster was recorded in August 1955. The Yeti Airlines tragedy in Pokhara on Sunday is the 104th crash in Nepali skies and third biggest in terms of casualties.
In late May last year, wreckage of Tara aircraft that crashed at Sano Sware Bhir of Thasang, Mustang district, was found 20 hours after the plane slammed into a mountain.
Seven Summit Treks team was involved in retrieving bodies from the crash site in Mustang last year. Its managing director Mingma Sherpa, who has been handling many rescue operations, mainly in mountainous areas, said a major challenge they faced in Mustang was a lack of proper equipment for emergency rescue.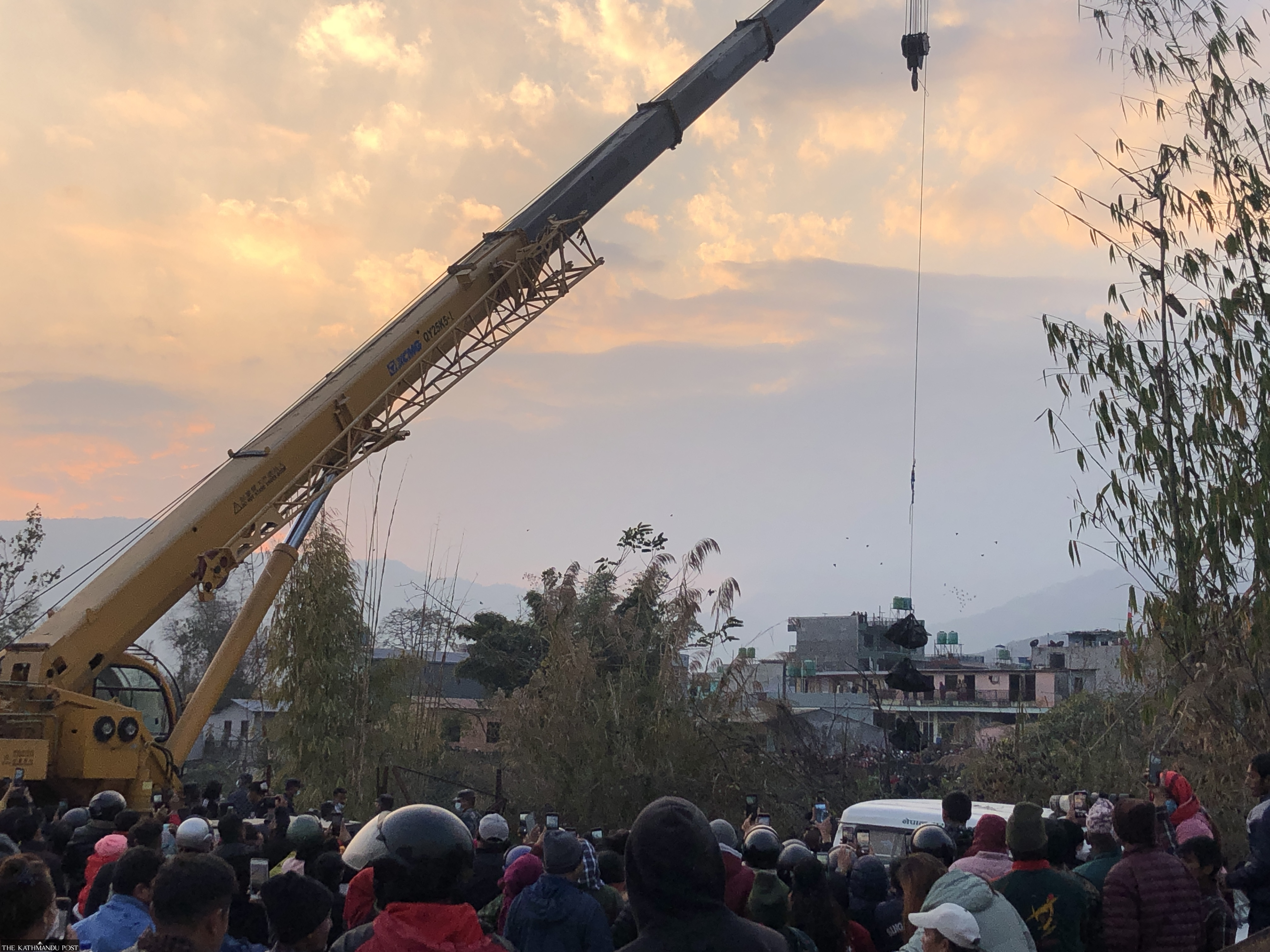 Deepak Pariyar/TKP
However, Sunday's case was different as the crash site was near Pokhara, a major city, unlike the remote part of Mustang earlier.
"When it comes to plane crashes, survival is rare. But the Pokhara crash occurred between old and new airports. The rescue teams should have been on standby," said disaster management expert Thule Rai, who is also former inspector general of the Nepal Police.
Sherpa said even though Sunday's crash happened near the city, a rescue operation was still difficult as the aircraft had fallen into a deep gorge. But, he said, the rescue operation could have been better coordinated as "security forces were quickly there".
According to Sherpa, when a plane crashes in far-flung mountainous areas, it can take hours or even days to trace the crash site. "In the Himalayan range, even security forces can't conduct rescue operations due to high altitude and climbing challenges," Sherpa told the Post. "Therefore, we [Sherpa people] do the rescue operations in high mountains."
Experts stress Nepal, despite having trained manpower in security forces, cannot do timely mobilisation and operation. The security forces are also short on equipment.
"Had the same thing happened in a developed country, they would have used special-purpose helicopters to douse the fire and for rescue. It would have been a prompt response with proper equipment," Jimme told the Post.
Proper rescue gear gives rescuers confidence to tackle hazardous conditions.
Apart from navigation aids, life-support equipment, life-jackets, lighting equipment, boat hooks, megaphones, wire cutters and harness knives, there are also new technologies that can make rescue efforts easier and more efficient.
For instance, there is the emergency locator transmitter, a satellite based emergency device widely used in remote areas or aircraft so that the authorities get alert signals related to identification and location of people. Likewise, underwater locator beacons can be helpful in underwater rescue.
Protective breathing equipment are as important to keep rescuers safe from hazardous gases and smoke. The most important are portable oxygen devices which are used as first-aid treatment.
Nepal's security personnel are mostly deficient in these kinds of equipment and gears.
Government's indifference is a major reason behind the poor and ineffective emergency rescue in Nepal. The issue of disaster rescue operation doesn't get proper attention in the legislatures even though Nepal is one of the most vulnerable countries to various types of disasters.
Global aviation watchdogs have questioned the civil aviation body's dual role and urged Nepal to split it into two entities—service provider and regulator—to enhance air passenger safety. But the government has been reluctant to do the same.
KC, the Kaski CDO, also expressed concern about the paucity of resources for emergency rescue. "We lack the tools to deal with emergency situations like the one that unfolded on Sunday. For instance, we are short on personal protection equipment for rescuers like safety kits, suits, and fire extinguishers."
He urged state authorities to strictly monitor if aviation companies are properly examining the aircraft before they are allowed to fly. "Not only Yeti Airlines, but all aviation companies should strictly check technical aspects before they operate their aircraft," said KC. "The state and the government should keep a close eye on them."
Nepal's Civil Aviation Requirements for Search and Rescue's Chapter 2.6.1 states, "Search and rescue units shall be provided with equipment for locating promptly, and for providing adequate assistance at the scene of an accident." Similarly, Chapter 2.6.2 states that each search and rescue unit needs to have means of rapid and reliable two-way communication with other search and rescue facilities engaged in the same operation.
But implementation remains patchy.
Rai said rescue teams should be on standby round the clock and they should have all the necessary equipment so that they can quickly reach incident sites and get to work.
"The government and the authorities concerned should also be as concerned over rescuers' personal safety. But in Nepal, that has not been the case," said Rai.
---
---