Nirmala Kurmi disappearance: A probe going nowhere
The woman was in her 40s when she went missing, but an Indian death certificate obtained by police as hers shows the deceased was in her mid-30s.

Women, mostly from Nepalgunj, sit in at Maitighar, Kathmandu demanding justice for Nirmala Kurmi, whose whereabouts remain unknown. Prakash Chandra Timilsena/TKP
bookmark
Published at : January 7, 2023
Updated at : January 27, 2023 16:44
Kathmandu
Every day at around 9 am, 45-year-old Gurgi Kori leaves her friend's house in Kalanki and heads to Maitighar to join a sit-in protest.

A group of people, mostly women, from Nepalgunj in Banke are currently staging a protest at Maitighar in the country's capital seeking justice for a woman who has gone missing for the past 11 years. Braving the Valley's cold, the group has been gathering at the protest site every morning since December 29.
Gurgi knew the missing woman—Nirmala Kurmi—quite well. She worked at Kurmi's household helping her around the house for two years before Nirmala's sons died.
"Nirmala was a good person. She suffered a lot after she lost her husband and then her sons," said Gurgi. "She was alone and scared."
A widow herself, Gurgi says she is here in the Capital to know the truth behind Nirmala's disappearance because she fears she might meet the same fate as Nirmala. "It's not only about me. If women like us are silenced by powerful men when we speak up against injustice and half-truths, then our future and that of our daughters is at stake."
It hasn't been an easy decision for Gurgi to rally behind a cause mired in controversies, covered in lies, and marred by systematic failures wherein those in power are trying hard to prevent the truth from surfacing.
"My sons and my brother-in-law beat me up for joining a cause that threatens a powerful man," said Gurgi. "The whole village was witness to the incident following Nirmala's second son's death, but no one said anything fearing retribution."
"This is why I am here in Kathmandu alongside other women who are done being silenced," Gurgi told the Post.
This, however, is not the first time Gurgi and her fellow protesters have come to Kathmandu for their voices to be heard and their demands to be met. In October 2021, 14 of them had walked all the way from Nepalgunj in Lumbini Province to Kathmandu in Bagmati Province, covering a distance of over 500 km in 20 days.
After running from pillar to post visiting various local and district authorities to find the truth behind the death of 38-year-old Nakunni Dhobi and the disappearance of Nirmala Kurmi, who was in her 40s at the time of disappearance, the group saw no recourse but to head to the capital for swift delivery of justice in both cases.
After 12 days of protest, the group signed an agreement with the government that ensured the formation of a six-member committee to investigate Nakunni's death and Nirmala's disappearance.
The protesters returned to Nepalgunj soon after.
Nakunni Dhobi, a local of Ward 2 of Janaki Rural Municipality in Banke, was found dead under suspicious circumstances at her home in July 2021.
Within a month of signing the agreement, seven people were arrested in November 2021 in the course of investigation of Nirmala's case. They were in the custody of the Banke District Police Office for 22 days before being released.
Fearing a lull in investigations in both cases, the group, led by Ruby Khan, a women's rights activist and one of the lead protestors from Nepalgunj, returned to the capital in December 2021. This time they staged sit-ins at the protest site for 42 days.
By now, the protest had garnered enough attention to send ripples across the country with the government facing backlash for its ineptitude in ensuring justice for the victims.
In January 2022, Nakunni's case was taken to the Banke District Court, which sent Nakunni's husband to prison for five years for domestic abuse.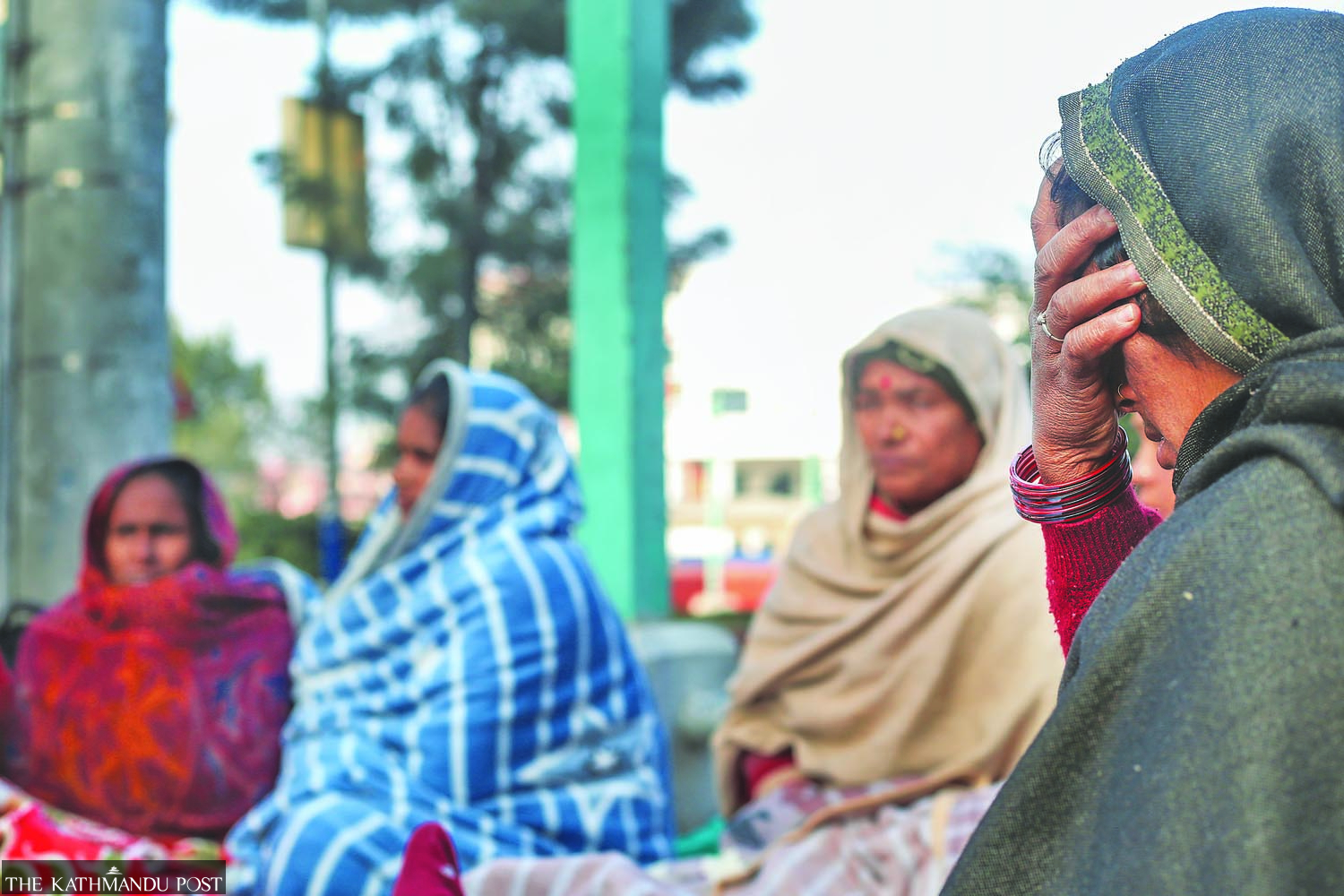 A group of women from Banke district pictured earlier this week staging a sit-in at Maitighar Mandala in Kathmandu demanding an investigation into the alleged kidnapping and disappearance of Nirmala Kurmi of Nepalgunj twelve years ago. Their protest was already on its ninth day on Friday. Prakash Chandra Timilsena/TKP
The same month the protestors signed their second agreement with the government wherein the government agreed to form a new investigation team of the Central Investigative Bureau (CIB) of Nepal Police including members of women activist groups advocating for Nirmala to take the case further.
Fast forward to today, a year later, and Nirmala's case has seen no headway although the investigation team claims to have "concluded" its probe.
Nirmala's case is more than a decade old and still shrouded in mystery.
It all started in 2009 with the death of Nirmala's two teenage sons—Ram Sagar Kurmi and Suresh Kumar Kurmi—who died within 11 days of each other.
The death of the second son raised Nirmala's suspicion of foul play and involvement of land mafia groups, says Gurgi, Nirmala's house help.
Nirmala, from the accounts of her neighbours, was a widow. Her husband, a farmer, died in 2005 at the age of 54, leaving around three hectares of land to his wife and two sons in their village of Paraspur in Nepalgunj Sub Metropolitan City-17.


The land is currently valued at over Rs40 million, according to the District Police Office, Banke.
"When 18-year-old Sagar, her elder son, died, Nirmala saw it as a natural occurrence," says Khan. "But then her other son, Suresh, died 11 days after his brother. That was when Nirmala started asking questions. She attributed her second son's untimely death to unnatural causes and demanded a post-mortem."
However, before the post-mortem could be conducted, Badshah Kurmi, a Nepali Congress leader and a member of Lumbini provincial assembly, allegedly abducted her and cremated Suresh's body in the fields. "Nirmala then went to the police, not once but several times. She was turned away every time," said Khan. "The District Police Office did not even register an FIR. There were times when I myself witnessed Badshah Kurmi dragging Nirmala away from the police station."
For four years the bereaved mother tried to file a case against Badshah over the deaths of her sons but the deaths were never investigated and neither was an FIR lodged.
In 2012, Nirmala went missing.
Meanwhile, the plot of land, of which now she was now the sole owner, shifted hands. It was first passed down to one Parbati Bista, a local of Dhadawar, Bardiya. Today, the land is registered in the name of one Ratna Devi Thapa, wife of Ramesh Thapa, both residents of Dhamboji, Banke. Neither woman is related to Nirmala or her husband's family.
"Our every protest ends with agreements with the government but they have failed to deliver," said Khan. "One of our big demands is that Nirmala's case of disappearance be heard in a court of law. But the case is yet to be taken to the Banke District Court."
The CIB team formed last year in January concluded its investigation and is in the process of filing its findings, but the report is yet to reach the Banke District Court.
"The case filed in 2021 is that of the abduction and attempted murder of Nirmala. We focused on her whereabouts," said SP Kamal Thapa, spokesperson of the CIB of the Nepal Police who led the investigation team. "The team did not investigate incidents leading up to the time of her disappearance."
According to Thapa, the team's findings show that Nirmala married an Indian national Arjun Kurmi and went to India in 2012 when she was said to have disappeared. She later died in India of breast cancer, in 2020, said police. "We have obtained Nirmala and Arjun's marriage certificate and the former's death certificate," said Thapa. "But the information is yet to be verified. We have reached out to the International Criminal Police Organisation [INTERPOL] in India through the Mutual Legal Assistance in Criminal Matters pact signed with the southern neighbour, to verify those certificates. It could take years for the process to conclude."
The convenience with which Nirmala's supposed marriage and subsequent death were revealed by the police raises suspicions, activists at the protest say.
"Nirmala was in her late forties when she disappeared. The death certificate presented as hers raises questions. If Nirmala was alive around 2020, she would have been in her mid-50s. The death certificate, issued by Indian authorities, mentions a woman in her 30s," Khan told the Post. "The veracity of the death certificate itself is questionable. And it is convenient for the authorities to have "found" her death certificate and her marriage certificate at an opportune time. The narrative they are trying to present is too neat and highly suspicious."
The death certificate presented as Nirmala's is in the name of one Nirmala Devi born in 1985 whereas Nirmala's citizenship was issued in 1989, according to a police constable at the District Police Office, Banke, who spoke on condition of anonymity. "Even if she got her citizenship when she was 18, her birth date mentioned in the death certificate doesn't add up. The documentation doesn't match."
The CIB, however, citing a lack of substantial evidence, has shrugged off the responsibility of taking the investigation further. "The victim's side has filed a case of attempted murder against Badshah but without a body or post-mortem record, the police cannot take this investigation further," said Thapa. "There are no post-mortem reports of either of Nirmala's sons to refer to. To prove there has been a crime, we need evidence. More than a decade has gone by and there still is no evidence."
The transactions related to Nirmala's landholdings, which activists believe was the main reason behind the death of Nirmala's sons and her disappearance, is currently being investigated by the Department of Money Laundering Investigation. "It is the District Police Office of Banke that should take the disappearance case further," Thapa told the Post.
When the Post contacted SP Santosh Singh Rathore at the District Police Office in Banke, he said he is a recent transfer to the police station and therefore, hasn't yet studied Nirmala's case.
DSP Ram Prasad Gharti Magar, who was stationed at the District Police Office until recently claims to have little recollection of the case details.
The nature of the investigations conducted so far hasn't satisfied human rights activists who have been following Nirmala's case closely.
"The questions raised by the activists and locals of Banke should have been the focus of the investigation but the investigation has not taken those concerns into consideration," said Mohna Ansari, a women's rights activist. "There are incidents where pieces of evidence have gone missing from the police station in Banke. The video evidence of how Nirmala was dismissed by the local authority when she went to lodge a complaint against Badshah and how she was dragged out of the police station by the latter have suddenly vanished."
The women who are currently protesting at Maitighar are also at risk from Badshah and his co-conspirators, Ansari says. "Badshah has openly threatened these women from Banke for organising protests. The life of every woman in that group is now at stake but the government and the police have not taken these matters seriously," she said.
Badshah, the main accused in Nirmala's case, won in the general elections held in November last year and took his oath as a member of Lumbini provincial assembly on January 1. Starting his career as a political worker, Badshah's rise to prominence in politics may provide him impunity against his crimes, say Nirmala's well-wishers.
"This is why we had to return to Kathmandu. Badshah's rise to power is dangerous for those of us raising our voices against his crimes," said Khan. "The authorities' reluctance to lodge a complaint against him a decade ago is proof of his influence in Banke."
The protestors plan to stay on in Kathmandu and continue their protest until the government intervenes and delivers justice, says Khan. "Nirmala's case must reach a court of law for justice delivery to even begin," said Khan.
Gurgi, who usually sits aloof from the rest of the protestors at Maitighar, carries a look of fear, uncertainty and fading hope in her eyes. "I have seen the injustice meted out to Nirmala. I fear my own family who abused me because I spoke for her. To stop the violence I face at home as well as the constant threat from Badshah's men, I feel the need to be heard and justice to be served to women like us who have no one else to speak for them."
---
---