Migration turning hill villages into ghost towns
Villages in Ramechhap, Dhankuta lie abandoned and fields fallow with residents leaving in search of greener pastures.

Motimaya Tamang outside her house in Nagdaha of Likhu Tamakoshi, Ramechhap. Tika Prasad Bhatta/TKP
bookmark
Published at : December 2, 2022
Updated at : December 2, 2022 07:38
Ramechhap/dhankuta
Motimaya Tamang, a 73-year-old woman of Nagdaha, Likhu Tamakoshi Rural Municipality-5, in Ramechhap, lives alone. These days she works in her field from sunrise till sundown ploughing, harvesting millet and cutting hay.

A mother of two sons, Tamang says the responsibility of running a household and taking care of the fields is becoming too much for her but as she has no one to help her, she perseveres.
"My sons live in Kathmandu with their wives. They don't want to come back to the village but I can't leave the fields fallow and the house decrepit, so I keep working," said Tamang. "My children ask me to move to the city with them but Nagdaha is my home, I can't leave."
Tamang wakes up in the morning, gets busy with household chores and settles down for a meal. By afternoon, she's out in the fields. "I'm not young anymore so there are aches and pains everywhere. But if I don't take care of the house, it will start crumbling," said Tamang.
At present, every Nagdaha villager has a similar story to tell. With the days getting colder, the villagers are working hard in the fields to harvest millet. But like Tamang's, almost every household in the village is empty of young people—only the elderly remain.
"The temperature is dipping. It gets dark early and these old bones cry for rest," said Tamang. "But the fields need to be tended to; meals need to be cooked. We get no rest."
According to the data of the municipality, the total population of the Likhu Tamakoshi-5, is 5,600, but the villages are mostly empty. Around 470 elderly people in the ward get social security allowance from the municipality.
"There are around 200 households in the village and in most of the houses only elderly people remain as most of the young people have left the village in search of employment," said Tamang. "Some older people have also left with their children. Their houses are on the verge of collapse and their fields fallow."
Laxman Shrestha, a 55-year-old man, lives in his ancestral village with his wife. His four children left for greener pastures and haven't returned, says Shrestha.
"It's just me and my wife here. We have three daughters and one son. My daughters are all married off and my son went to Kolkata, India for employment. He died there," said Shrestha. "The lack of young people in the villages becomes more evident during the harvest season. The elderly folks can be seen working in the fields from sunrise to sunset. My wife and I do the same."
Seventy-year-old Bir Bahadur Magar, former ward chairman of Likhu Tamakoshi Ward No 5, says he doesn't want to work the fields anymore, but has no option. "The village has turned into a shell of its former self. Sorrow and sadness have taken over. Roads, electricity and schools have reached the village but for whose benefit, we don't know. There are no children here to attend school," said Magar.
According to Magar, almost half of the houses in the villages are empty with the young people moving away and some convincing their parents to move with them.
"Most of my neighbours have moved to Kathmandu to work in factories, construction sites and as drivers there. In most of the houses, one can see only old people. Agriculture has been the way of life in the villages for so long and those who have remained are carrying the tradition forward. But if the young keep leaving the villages, this way of life will soon become extinct," Magar told the Post.
Shrestha, whose son died in Kolkata, says making a living through farming is getting difficult by the day. "We only have two ropani [0.25 acres] of land. Our harvest lasts us two to three months and then we have no income to see us through the rest of the year," said Shrestha. "Earlier I used to make wicker baskets and sell them, but now there is no demand for such products in the local market, so I stopped."
The economic condition of the elderly population in the village is worsening by the day, says Aash Bahadur Tamang, a 65-year-old man. "Every week someone or the other is moving out of the village. But they are young people and can restart life anywhere. The ones left behind can't go anywhere to earn money so they work in the fields and make do with whatever grows there," said Aash Bahadur.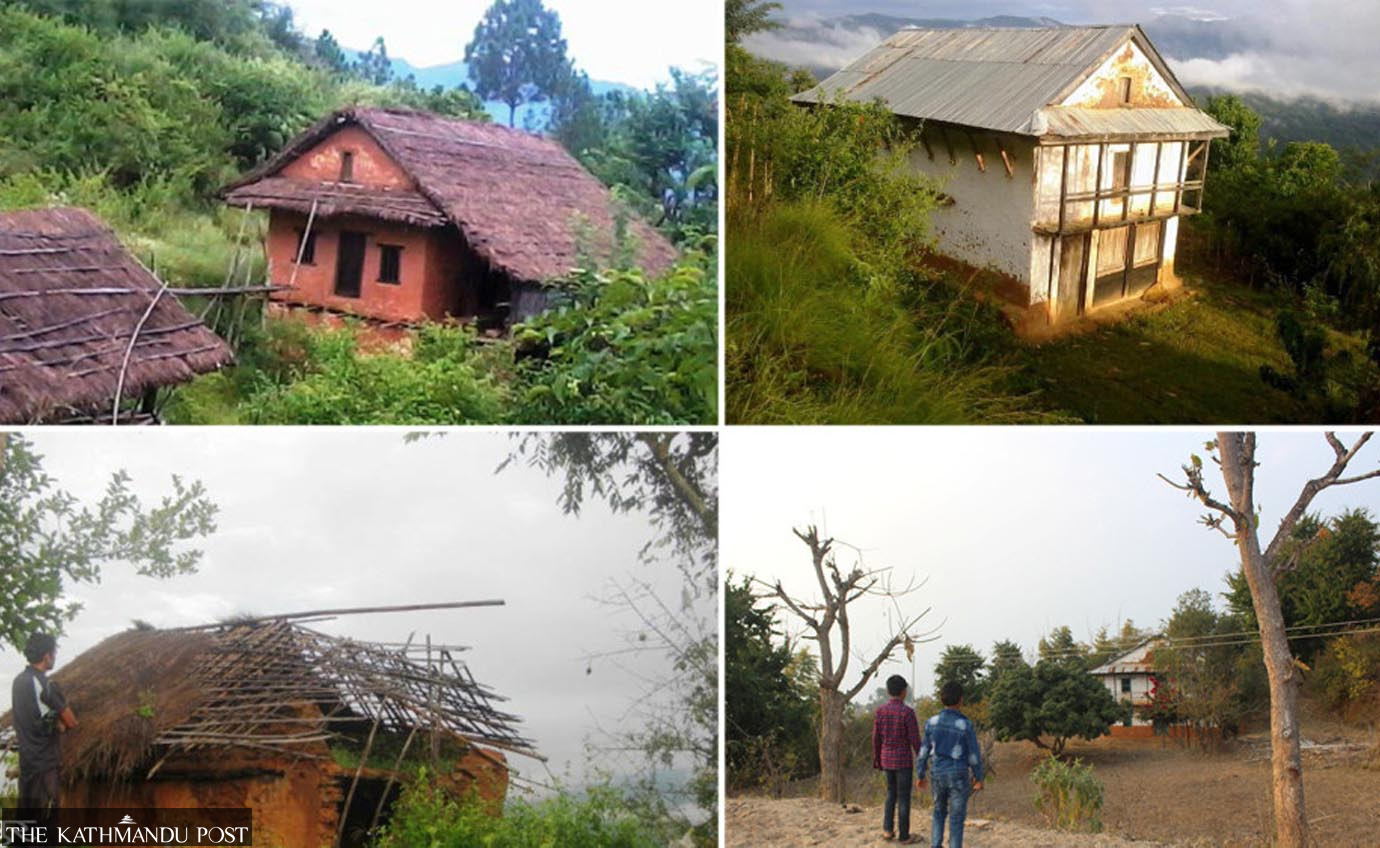 Post Photos
Umesh Gurung, the chairman of Ward No 5 of Likhu Tamakoshi Rural Municipality, says that the youngsters cannot be blamed for leaving the villages. "Everyone has the right to choose the kind of life they want. Rural villages have nothing to offer to the youth. However, leaving their elderly parents to their own devices is also not good. To prevent the youths from leaving, we have to offer them jobs, modern perks and benefits, and develop the rural landscape on par with the urban centres," said Gurung. "All of this is possible, but all three levels of government must work together and find a solution. Local government alone can't bring major changes."
According to Gurung, most development projects in the villages have been in limbo for a lack of manpower. "We could hire labour from other places but that just adds to the cost. We are contemplating how to move forward," he said.
Aash Bahadur says people started leaving the villages in droves around 2007-2008. "The villages used to be quite populated until 10-15 years ago. The locals themselves would engage in development projects and even host public gatherings during social occasions," he said. "But now the villages look deserted. Some older people are still here as they don't want to go to the cities with their children while others don't have anyone to offer them to leave."
A similar story is playing out across villages in Dhankuta district's Chaubise Rural Municipality and Chhathar Jorpati Rural Municipality. Villages in both local units have become desolate with almost every second house locked. In the Kuruletenupa village that spans wards 3 and 4 of the rural municipality, hundreds of houses lay abandoned. Only five out of 50 houses in Kuruletenupa are currently occupied.
Balananda Adhikari, a local of Kuruletenupa, says his village was one of the largest in the rural municipality but in the past decade, it has turned into a ghost village. "Until a decade ago, the villages were full of people and joy. Today many houses are empty; most have been abandoned and are crumbling with the doors and windows broken and hanging on one side," he said. "The continuous migration of people from villages to cities is a sad reality. When you see a settlement from afar, it looks like a thriving place but when you go near, you'll see the houses lay in ruins with no one to care for them," said Adhikari.
Gairigaun, Bajthala, and Thulagaun settlements near Kuruletenupa village are also mostly deserted. "Currently, of the 22 houses in Thulagaun, all except three are empty," said Adhikari.
Similarly, in Dadagaun in ward 3 of the rural municipality, only two out of 26 families still live there. In Andheri in the same ward, out of the 20 houses, only one is occupied.
According to Gopi Krishna Bhandari of Kuruletenupa, people started leaving the villages after struggling with problems such as shortage of drinking water, basic health facilities, schools and such.
Rajkumar Chemjong, chairman of the Chaubise Rural Municipality, said 300 families have relocated from Wards 3 and 4 over the past decade. "We have been making efforts to stop the migration, but in vain," he said.
In ward 4 of Chhathar Jorpati Rural Municipality, out of about 150 houses, only 31 are inhabited.
According to Shankar Ojha, facilitator of the rural municipality, people started deserting the villages more than a decade ago after the water sources dried up. "Perhaps people did not stay here as there were no economic activities or income-generating opportunities. The municipality has taken several steps to keep people back in the villages. We launched a programme to provide cattle for free to those who come back to live here, but there were no takers," he said.
Adhikari, from Kuruletenupa, said most of the traditional houses in villages are crumbling, which signifies the collapse of a way of life. "If these houses are not restored and protected as cultural heritages, and the people not recalled, we may lose an important part of history."
---
---