Contractors with deep pockets are wading into electoral politics
Among the parties, Nepali Congress has fielded most contractors for first-past-the-post seats of lower house.

Post Illustration
bookmark
Published at : October 20, 2022
Updated at : October 20, 2022 09:26
Kathmandu
More than two dozen contractors are running for House of Representatives and provincial assembly seats amid concerns that, if elected, they could use their influence to skew laws and policies in their favour.

Since the country adopted a system of proportional representation (PR), richer segments of society have allegedly tried to buy their way into the legislature.
More and more businessmen and contractors have been showing an interest in contesting first-past-the-post (FPTP) seats.
"As rich people including contractors can financially support political parties to fight elections, the parties in turn are prioritising them over bona fide leaders in ticket distribution," said Shree Hari Aryal, a senior advocate and former president of Transparency International Nepal, an anti-corruption watchdog. "If elected, they could use their influence to formulate self-serving laws and policies."
According to the Federation of Contractors' Associations of Nepal (FCAN), a grouping of builders and contractors, as many as 13 of their members are contesting federal parliament seats while 15 others are contesting provincial assembly seats.
Former minister Bikram Pandey and former lawmaker Mohan Acharya are among the contractors who are candidates in next month's federal elections.
Pandey, owner of the Kalika Construction Private Limited, is contesting a lower house seat from Chitwan-3 on a Rastriya Prajatantra Party ticket.
In December 2018, the Commission for Investigation of Abuse of Authority had filed a corruption case against Pandey along with other 20 government officials and consultants for substandard work in the construction of the multi-billion-rupee Sikta Irrigation Project. But he, along with all other accused, got a clean chit from the Special Court last June. The project's main canal had collapsed in several sections owing to shoddy construction.
Pandey had lost to Puspa Kamal Dahal, chairperson of the CPN (Maoist Centre), from the same constituency in the 2017 elections.
Acharya, the owner of Rasuwa Construction, is contesting from Rasuwa district as a candidate of the ruling Nepali Congress. Among all the parties, the Congress has fielded most contractors for FPTP lower house seats. It has as many as five lower house candidates, followed by the UML and the CPN (Unified Socialist) with two contractors each.
Other Nepali Congress candidates who are contractors include Dambar Khadka, Ramdev Sah Teli, Purna Bahadur Tamang, and Raju Thapa, who are contesting from Ilam-2, Saptari-1, Ramechhap, and Syangja-1, respectively.
Likewise, the UML has fielded contractors Resham Bahadur Lama from Kavre-1 and Prem Tulachan from Mustang.
Former Minister Krishna Kumar Shrestha (Kisan), who was elected to the House of Representatives in 2017 by beating NC veteran Ram Chandra Poudel from Tanahun-1, is another contractor, who is this time contesting from Bara-4 on a Unified Socialist ticket.
Likewise, Dhan Bahadur Budha Magar is another contractor who is a Unified Socialist candidate from Dolpa.
Madhesh-based parties have also given priority to contractors over party leaders and cadres. Contractor Jaya Prakash Thakur is contesting from Saptari-1 on a Loktantrik Samajwadi Party ticket while CK Raut's Janamat Party has fielded contractor Kishori Sah (Kamal) from Dhanusha-1.
When it comes to provincial assembly elections, the Congress is again ahead of other parties in fielding contractors. The party has put forth at least nine such candidates for provincial assembly seats followed by the UML, which has five. Another contractor is contesting as an independent.
For example, Bahadur Singh Lama, owner of Himdung and Thokar Pvt Ltd who was a federal lawmaker until last month, is contesting from Nuwakot 2 (B), while Indra Bahadur Baniya, owner of Baniya Nirman Sewa, is contesting from Makawanpur 2 (B). Both of them are Congress candidates.
Contractors Balibhadra Rana and Chandra Bahadur Lama are contesting provincial elections on UML tickets from Dang 2 (A) and Kavre 1 (B), respectively.
In the local elections last May, over 236 contractors were elected in various local units, according to the FCAN. Around 50 won the chief executive positions, the grouping of contractors said.
Bagmati Province elected the highest number of contractors (67) in local governments, while Madhesh Province elected the lowest number (23), according to the FCAN.
Many such representatives are already facing accusations of rewarding lucrative contracts to companies they or their relatives own.
"The contractors are free to contest elections just like any other citizens," said Aryal of Transparency International Nepal. "My worry is they, as lawmakers, could use their influence to exert great sway in lawmaking."
For example, in 2016, a bill on Banks and Financial Institutions Act was registered in Parliament with a provision that barred those occupying constitutional posts from becoming board members of banks and financial institutions.
But a group of then lawmakers—Ichchha Raj Tamang, Bhisma Nath Adhikari, Prem Bahadur Ale, Ganesh Kumar Pahadi, Umesh Shrestha, Baburam Pokharel and Yagya Raj Sunuwar—registered an amendment proposal demanding that only chiefs and members of constitutional bodies be barred from holding positions in the boards of banks and financial institutions. Also, some lawmakers, who owned private schools, had in 2016 thwarted a government plan to amend the Education Act and convert all private schools into trusts.
When a number of contractors were nominated to the Development Committee of the erstwhile House of Representatives in 2018, a number of lawmakers openly opposed their participation.
Contractor lawmakers Jip Chhiring Lama, Bahadur Singh Lama and Hari Narayan Rauniyar were among the members of the parliamentary committee responsible for monitoring development projects.
Purna Bahadur Tamang, a contractor contesting elections for Ramechhap, defends the representation of contractors in Parliament saying they understand the country's development needs and know-how to meet those challenges.
"Whether or not they are in Parliament, they have to follow the laws and rules to bid for and win government contracts," he said. Tamang had lost parliamentary elections in 2017 from the same constituency to a candidate of the UML-Maost Centre left coalition.
Some politicians say elections are becoming increasingly expensive, and those with limited means are being priced out of them. For example, Maoist Centre leader Rameshwar Raya Yadav announced earlier this month that he would not contest elections this time owing to lack of funds.
"I have yet to pay back the loan taken to fund my election campaign in 2017," he told Kantipur, the sister publication of the Post.
Observers said richer people are increasingly joining electoral politics as they have money to spend.
"In the May local elections, mayoral candidates in metropolitan cities spent up to Rs100 million in campaigning while the average spending of such candidates was around Rs30-40 million," said Binod Sijapati, an economist who has been coordinating a study on campaign financing for Election Observation Committee Nepal, a poll observer body. "This suggests federal and provincial seats are increasingly out of common people's reach."
According to Sijapati, the trend of businessmen and contractors contesting elections is growing. In the past, they would only extend their support to political parties' elections campaigns through donations.
"They believe they can better protect their interest by joining the law-making body instead of staying outside," said Sijapati.
Tamang, the candidate from Ramechhap, says just like other candidates the contractors too are obliged to follow election financing rules. "For example, my expenses are well within the spending limit set by the Election Commission and I will also not rely on others for funds," he said. "But only contractors are being targeted although rich people from other sectors are also contesting elections. This is unfair."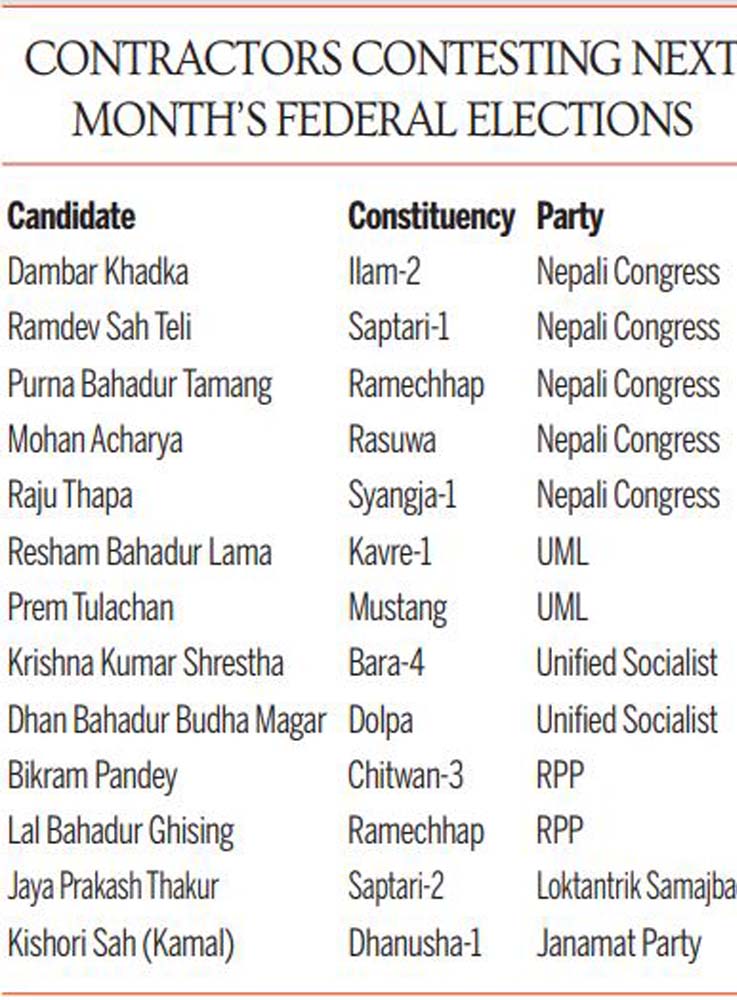 Source: Federation of Contractors' Associations of Nepal
---
---