Cop beats doctor black and blue because he was 'walking at night'
The doctor was heading home after his duty at Arogya Foundation in Pulchowk when the police constable started to verbally and physically abuse him.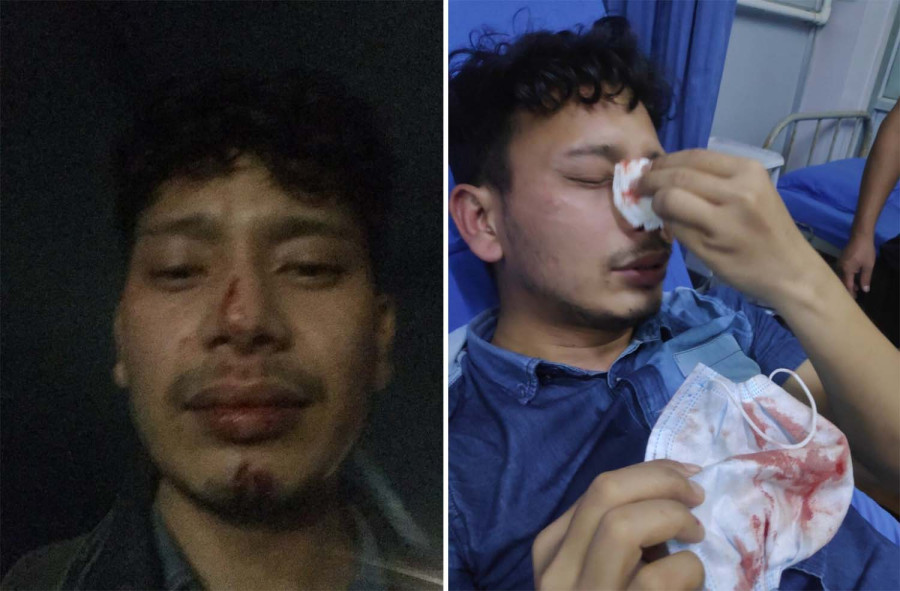 Photo Courtesy: Dinesh Thapa
bookmark
Published at : June 28, 2022
Updated at : June 28, 2022 18:40
Kathmandu
A cop on Sunday at around 8:30 pm beat up a doctor, apparently because the latter was "walking at night."

Dr Kul Bahadur Ghising on Sunday night was walking back to his apartment in Kusunti after finishing his duty at Arogya Foundation, Pulchowk.
When he reached Ekantakuna, after crossing Jawalakhel, traffic constable Rajendra Thapa, from the Traffic Police Circle, Lalitpur, accosted him. After asking the doctor why he was walking at night, the traffic cop beat him black and blue, according to Ghising.
"The constable punched me on my nose and then proceeded to attack me indiscriminately," Ghising, 31, told the Post on the phone on Tuesday afternoon from Alka Hospital, where he is receiving treatment. "I had even shown him my ID card and told him I was walking home from the hospital. But he yelled at me, asking me why I was walking at night."
Ghising said he was alone and could not retaliate.
Senior officials from the traffic department admitted the incident. According to Senior Superintendent Yagya Binod Pokharel, chief of the Lalitpur Metropolitan Police Range, Thapa informed the department of the incident saying the altercation blew up after Ghising tried to take a video on his mobile phone.
"We are yet to hear the other side of the story," said Pokharel.
Lalitpur Metropolitan Police Range said they have launched an internal investigation.
"Police will take departmental action after the investigation concludes," Pokharel told the Post.
Ghising refutes constable Thapa's claim as told by Pokharel that he was trying to film the altercation. "After the cop started to verbally and physically abuse me, I took out my phone to call for help. I wasn't filming as claimed by the police," said Ghising.
After the incident, on Monday, Ghising's brother sent an application to the District Police Office, Lalitpur, demanding an investigation into the case and treatment cost of his brother.
"If he files a case against the concerned person, police will investigate it like any other case and action would be taken as per law," said Pokharel. "So far, Ghising has only sent an application."
Police refused to share further details.
According to Ghising, some other policemen came to the scene and took him to Alka Hospital for treatment. "I was bleeding profusely and was dizzy. Some policemen then took me to the hospital."
He has suffered an internal injury in his nose and his left cheek is still swollen.
Ghising told the Post that he walks the same route regularly at around the same time.
He could not say for sure if the traffic cop was under the influence of alcohol.
"I had just finished my duty at the hospital. I was definitely not drunk," he said.
Dinesh Thapa, manager of Arogya Foundation, called the incident "barbaric".
"We are not safe at the hands of our own state's security personnel when we are walking around the city," said Dinesh. "Ghising is a decent and polite person. This should not have happened to him."
Cops in Nepal have a history of mistreating citizens which experts attribute to a lack of training. They get provoked easily and often tend to resort to baton charges and physical violence, oftentimes while dealing with protests. This behaviour is on display, especially while handling protests in the Tarai region.
With police refusing to provide details saying an investigation is underway, what exactly prompted constable Thapa to attack Ghising is not known.
Social media users have reacted to the incident with dismay.
"So…we have to be afraid while walking home from work at night. I also walk to reach my apartment at around 11pm," a Twitter user wrote. "Is walking during the night not allowed in Kathmandu now?"
Shuvam Dhungana contributed reporting.
---
---