Americans are flying into Nepal in droves. Is there any renewed interest?
The MCC Compact's passage and 75 years of bilateral ties are the reasons, but there's more to it, analysts say.

RSS
bookmark
Published at : May 1, 2022
Updated at : May 1, 2022 07:24
Kathmandu
Two years of the Covid-19 pandemic brought the world to a standstill. The world went online to meet, discuss and address domestic, regional and global issues. Nepal by and large remained aloof, struggling to cope with the challenges posed by the coronavirus, with Kathmandu's regional and global engagements limited to managing resources to fight the disease and securing vaccines.
Nepali politicians, however, were unfettered by the pandemic. After a spectacular game of one-upmanship, Kathmandu saw a regime change. Nepali Congress President Sher Bahadur Deuba returned to power in July last year, just as virus cases were petering out after the third wave.
And suddenly, foreign visits to Nepal increased—most noticeably from the United States.
In early September, a high-level delegation led by Vice President of Millennium Challenge Corporation Compact Operation Fatema Z Sumar arrived in Kathmandu to make a push for the ratification of a $500 million American grant that Nepal signed up to in 2017.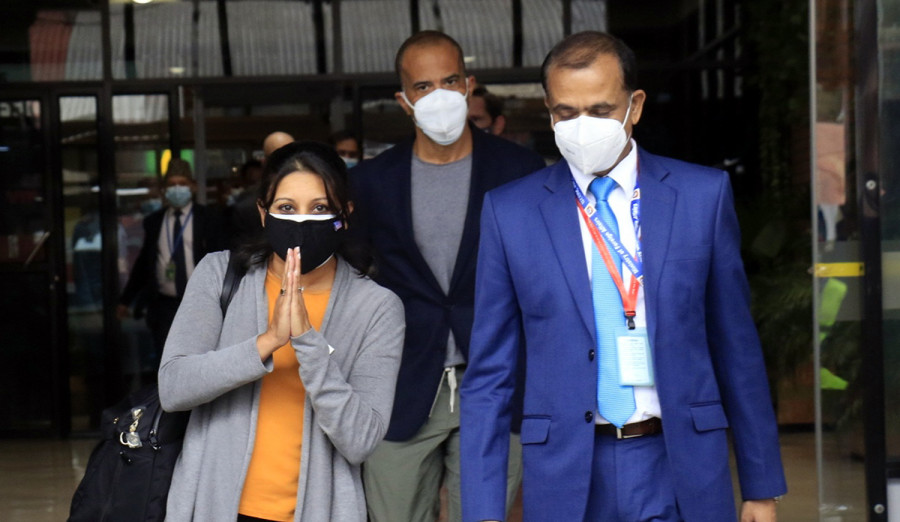 RSS
Two months later, US Assistant Secretary of State Donald Lu visited Kathmandu in the third week of November, carrying the same message: "Ratify MCC."
As Nepali politicians squabbled over the passage of MCC, which became a politically divisive issue in Nepal, Lu rang up Prime Minister Deuba, CPN-UML chair KP Sharma Oli and CPN (Maoist Centre) chair Pushpa Kamal Dahal. The message was: Washington could review its ties with Nepal if it failed to ratify the MCC compact.
It was a serious warning, coming in the year when Nepal and the US are marking the 75th anniversary of bilateral ties.
MCC, however, got ratified—on February 27 in the nick of time as the deadline was set for February 28.
Nepal-US ties appeared to have moved to another level. More high-level exchanges between the two countries are expected now, with Nepal already hosting some American guests.
About a month after the visit of US Congressional lawmakers, Under Secretary for Civilian Security, Democracy, and Human Rights Uzra Zeya is set to arrive in Kathmandu on May 20. Both Nepali and US officials say more high-level exchanges are likely this year.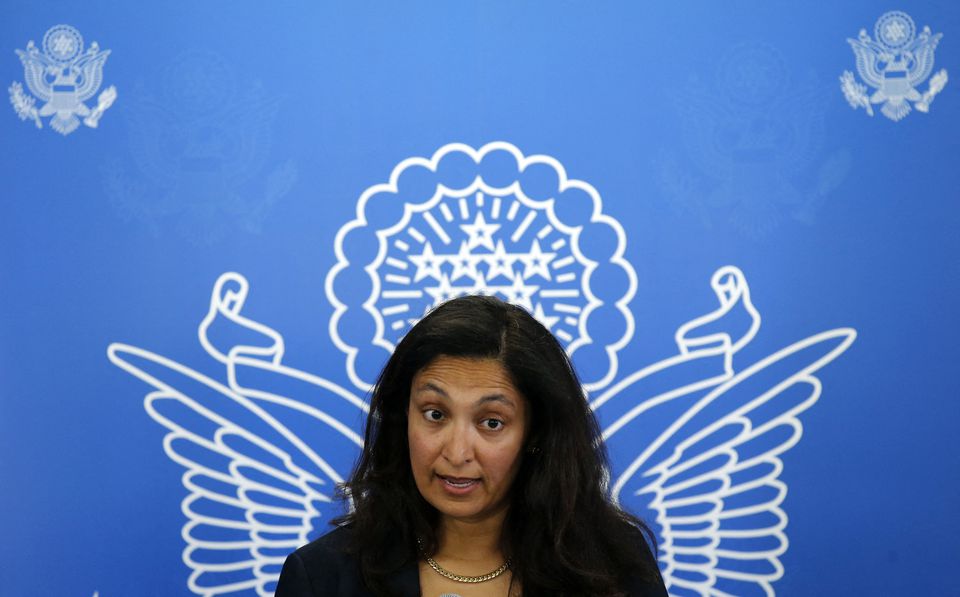 Reuters
Is it just because the two countries are marking 75 years of bilateral ties?
Partly yes, say observers and analysts. But they point out many more reasons.
According to foreign policy experts, observers, and those who are closely following the growing US engagement in Nepal, Washington is upbeat about the Deuba government following the MCC passage because the failure would have impacted the US image in South Asia in the wake of Sri Lanka's refusal to accept a similar $480 million grant "due to external and internal factors".
A senior Foreign Ministry official offered at least four reasons for the back-to-back visits from the US in the recent past and the near future.
"Ratification of the MCC has set a positive tone. Then Nepal's vote in favour of Ukraine at the United Nations' various forums made Washington feel that Kathmandu is totally aligned with its interests," said the official who spoke on the condition of anonymity. "Nepal has also made it clear that it is not quite interested in China's Belt and Road Initiative. And of course, this is the year Nepal and the US are marking 75 years of bilateral ties."
On Friday, the US embassy in Kathmandu hosted a reception to celebrate the 75th anniversary of bilateral relationship. Prime Minister Deuba graced the event.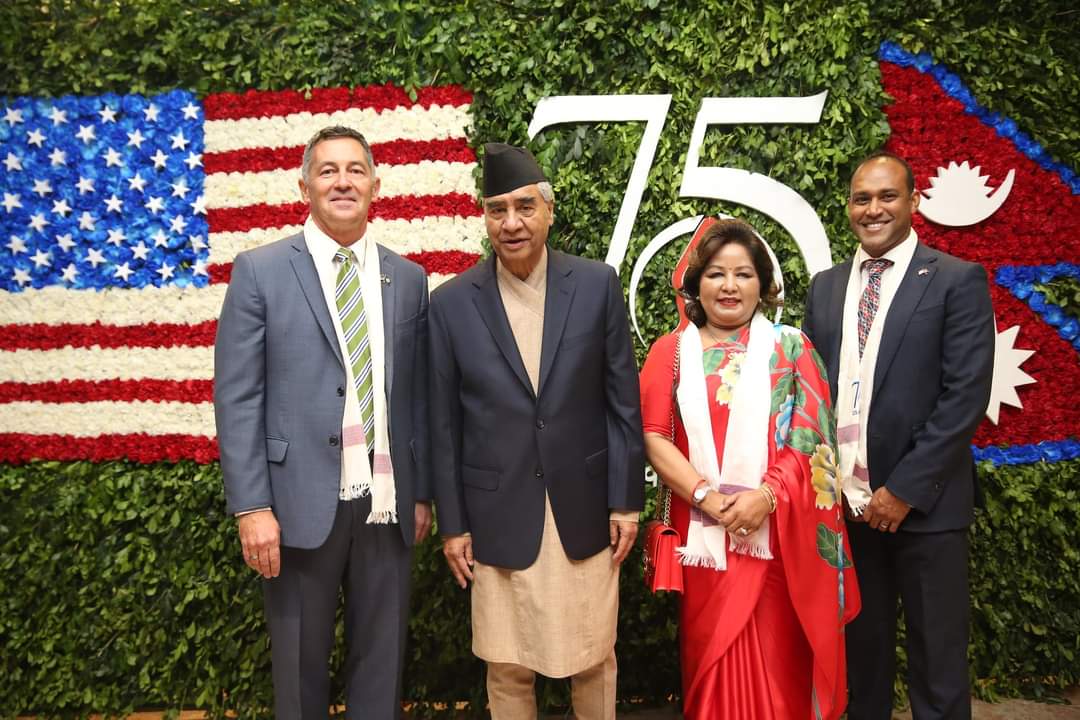 Photo Courtesy: US embassy Nepal
That same day, US Secretary of State Anthony Blinken tweeted, "Nepal has seen incredible changes in its governance, economic development, and international engagements. We are proud of our accomplishments as partners, and look forward to many more decades of friendship."
Ramesh Nath Pandey, a former foreign minister, says there are some interpretations that the recent US engagements and visits from Washington are because of the MCC compact's ratification.
"Some may have been saying Nepal has joined the US/Western camp. Others may have arguments that Nepal is in a bid to appease the US," Pandey told the Post. "But there are multiple facets in Nepal-US ties."
Pandey agrees that MCC passage has given an impetus to bilateral ties, but he says it's for Kathmandu to choose how to navigate its foreign relations amid rapid geopolitical shifts.
Beijing on at least two occasions had spoken against MCC before it was passed. A month after it was ratified, Chinese Foreign Minister Wang Yi travelled to Kathmandu to make a push for projects under the BRI. Nepal was reluctant. Wang flew to Kathmandu from Delhi in a rapprochement bid following the Galwan border skirmishes in 2020. The Narendra Modi administration was not keen despite the fact that Delhi and Beijing were on the same page over the Russian invasion of Ukraine.
Immediately after Wang's visit, Deuba flew to India which itself is struggling to play a balancing act in the Russian-Ukraine war. Delhi rolled out the red carpet for Deuba.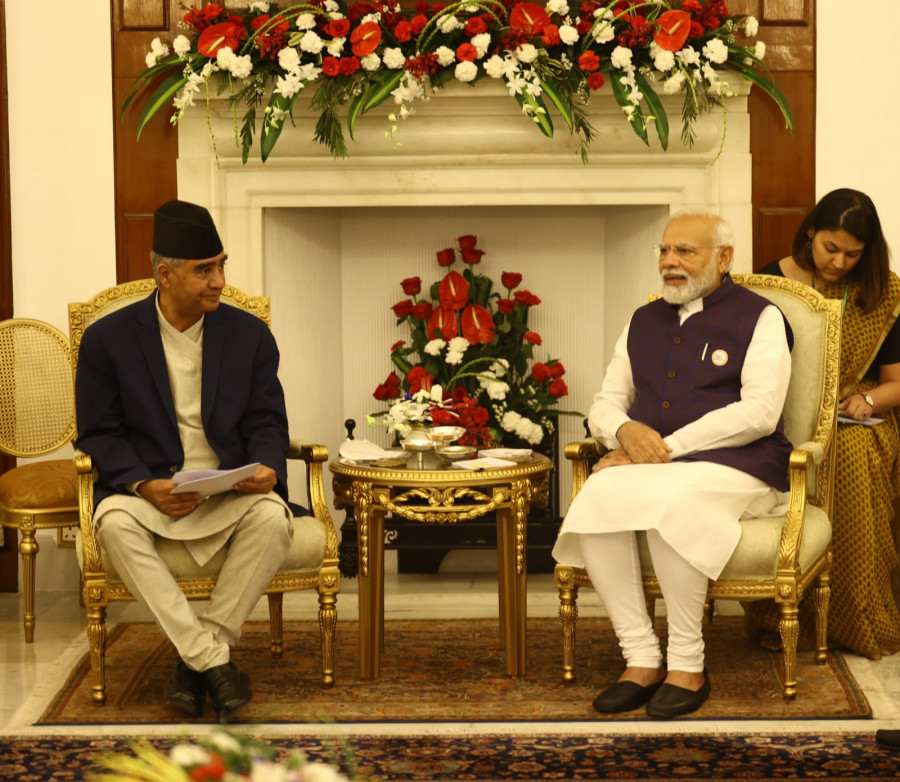 Photo Courtesy: Prime Minister's Secretariat
Amid all this, some left-leaning political parties in Nepal have already been accusing the Deuba government of being loyal to Washington and Delhi.
Multiple analysts the Post spoke to said that Nepal-US ties never felt a threat until the MCC compact became a politically charged issue. They agree that the relations would have suffered a jolt had Nepal failed to ratify the compact.
"There's no doubt that Americans are encouraged after MCC was ratified as Nepal not doing so would have dented Washington's prestige," said Ganesh Adhikari, former head of National Investigation Department, Nepal's sole intelligence agency. "The democratic set-up in Nepal has also encouraged the US to increase its engagements with Kathmandu. But we also need to understand the fact that Washington has intensified its engagement in South Asia."
Adhikari believes the visits have some strategic meaning and as far as Nepal is concerned, it's apparent that Washington wants to keep Nepal under its radar.
After the MCC ratification, Washington announced a $659 million grant to Nepal through the United States Agency for International Development (USAID) for another five years. There was a slight addition to the amount the US was providing through its aid agency.
"In the meetings with Nepali political leaders and officials, the US officials in visits of Nepal have always talked about Washington's core interests in strengthening people-to-people connections, sovereignty, democratic values, empowering democratic institutions, promoting human rights, and lately, they have added the issue of climate change," said a government joint secretary. "Definitely, whether they mentioned it or not, the increasing footprint of China in Nepal used to be their implied message."
Vijay Kant Karna, a former ambassador who heads a Kathmandu-based think tank, says the MCC passage has certainly changed the dynamics in Nepal-US ties.
"Had the MCC failed, it would have been a huge setback to Nepal-US relations in general and it would have been seen as the US losing its clout in the region as Sri Lanka had already rejected the American grant," said Karna. "So Nepal's acceptance of the grant was a saving grace for Washington which does not want to lose its sphere of influence in the region."
According to Karna, the MCC ratification has definitely boosted bilateral ties and the visits are aimed at building goodwill after Nepal's positive response.
"The decades of 1960s and 70s were a watershed moment in Nepal-US ties and recent developments have indicated a similar kind of phenomenon in bilateral ties," Karna told the Post. "Given the way Prime Minister Deuba played a smart game in MCC ratification, they are personally happy with him which has put Nepal under their sphere of interest. It seems the US has accorded Nepal priority. But the convergence of our interests is the key because we have to balance our ties with India, China, and the US. Otherwise we will run the risk of failing and no country will trust us."
Experts, diplomats and observers say how Nepal balances itself with its immediate neighbours like India and China and major powers like the US remains the key challenges in its foreign policy conduct.
"For that, we need institutions, the Foreign Ministry should have strong institutional memory and we should do extra homework," said Prem Khanal, assistant professor at the Department of Internal Relations and Diplomacy at Tribhuvan University. "A nuanced foreign policy after long brainstorming among major political parties is a must."
According to Khanal, the passage of MCC is just one step, as the implementation part is a long way to go.
"That could be one reason why Americans are continuously flying to Kathmandu. Ahead of the MCC ratification, we saw extreme geopolitical rivalry between the US and China. Washington knows MCC's failure in Nepal would have been a serious setback for it," said Khanal.
"But the key issue is—are we prepared? Are we doing adequate homework to steer clear of possible geopolitical games? The visits from the US or any friendly nations are fine. We need to make the most of them."
---
---