Nepal begins study on digital currency as India plans to launch such currency this year
It may take 2-3 years for Nepal to introduce a central bank digital currency, say officials. Study report is expected in two weeks.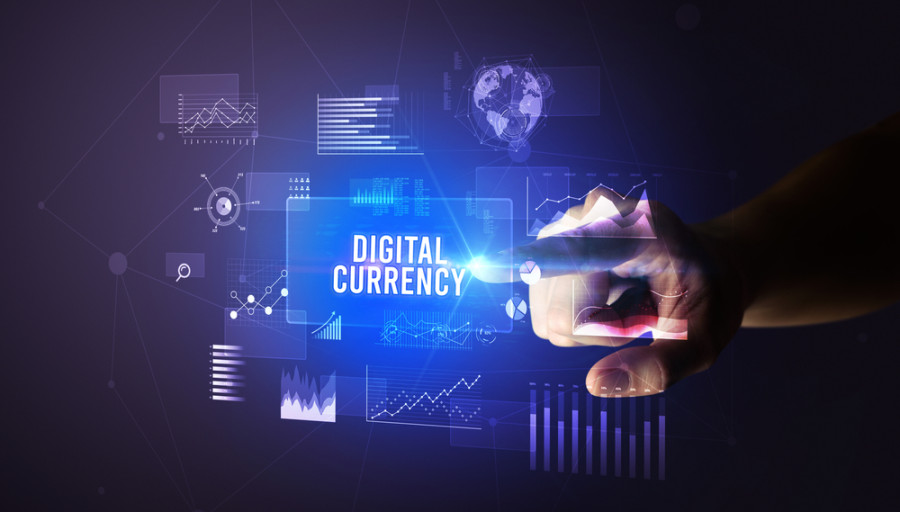 Shutterstock
bookmark
Published at : February 3, 2022
Updated at : February 3, 2022 09:07
Kathmandu
India's Finance Minister Nirmala Sitharaman on Tuesday announced that its central bank would launch a digital version of its currency in the next financial year 2022-23 that begins on April 1.

The southern neighbour is set to be one of the largest economies to introduce a central bank digital currency while Nepal's another neighbour, China, has already started trials for its digital currency in various cities.
Though Nepal has a long way to go before launching such a currency, it has initiated a study for potentially introducing digital currency in the future.
The Nepal Rastra Bank initiated the study in line with the Monetary Policy for the current fiscal year 2021-22 which states that a feasibility study for a Central Bank Digital Currency in Nepal will be conducted in the context of ongoing worldwide studies regarding the usage and feasibility of digital currency.
"A task force headed by a bank director is working on preparing a concept note on the feasibility of introducing central bank digital currency in Nepal," said Revati Prasad Nepal, executive director at the currency management department of the central bank. "We are expecting the report of the taskforce within the next two weeks."
Nepal said that he could not talk about the possibility of introducing the central bank digital currency immediately at least until the taskforce gives its report. "We are not in a rush to introduce such a currency. We will also observe reactions to the digital currency to be introduced in India and elsewhere before taking a final decision."
He expects it would take at least 2-3 years before the country introduces digital currency.
Besides the technical committee headed by the director, the central bank has also formed a steering committee headed by deputy governor Bam Bahadur Mishra to make necessary recommendations regarding the digital currency after discussing the concept note, according to central bank officials.
"If Nepal decides to introduce a central bank digital currency, we have to amend the Nepal Rastra Bank Act authorising it to issue digital currency too," said Nepal.
A central bank digital currency is a legal tender issued by a central bank in a digital form. It is the same as a fiat currency and is exchangeable with the fiat currency. Only its form is different.
Even though different types of digital currency including cryptocurrencies like Bitcoin have been in use for the last several years, most countries are in the early stages of developing central bank digital currency.
A 2021 Bank for International Settlements survey of central banks found that 86 percent were actively researching the potential for central bank digital currencies, 60 percent were experimenting with the technology and 14 percent were deploying pilot projects.
China is at the forefront of introducing the central bank digital currency as it has been trialling the digital yuan in Chinese cities for the last two years, as it prepares for a national rollout that could put China ahead of Europe and the United States.
As the world is moving towards digitization of everything, the importance of digital currency is increasingly felt across the world. In Nepal also, there has been a sharp rise in the use of digital payment methods in recent years.
According to the central bank statistics, Nepalis conducted banking transactions worth Rs88.53 billion as of mid-December 2021 in the current fiscal 2021-22, up from Rs30.28 billion in mid-December 2020.
Likewise, there have been transactions worth Rs15.52 billion through digital wallet companies by mid-December 2021 this fiscal year up from Rs8.98 billion in mid-December 2020. There has been a substantial rise in banking transactions through other digital mediums too, according to the central bank statistics.
"As people are increasingly preferring the digital medium of banking transactions, there is a risk that people would go for buying the virtual currencies developed by the private sector whose role could be disruptive," said Prakash Kumar Shrestha, chief of economic research department. "So, it has been necessary to think about introducing a central bank digital currency in Nepal too."
Nepal has not legalised the use of virtual currency or cryptocurrency. The central bank said last week in a notice that it has been notified that people have been lured into investing in virtual currency-related hyper funds and engaging in network marketing related to virtual currencies such as Jocial, Crowd 1 and Solemax Global.
The central bank also warned of taking legal action against those involved in such activities.
On January 25, the Department of Revenue Investigation registered a case at the Kathmandu District Court against four people on the charge of foreign exchange misappropriation amounting to Rs376.41 million for illegally investing in virtual currencies. "People are investing in virtual currencies but it is not certain how safe their investments are," said Shrestha.
---
---