Amid a virus crisis, Nepalis grapple with an inflation burst
Inflation hits a 64-month high to 7 percent. Prices are going through the roof, which could affect the overall standards of living and hamstring economic growth.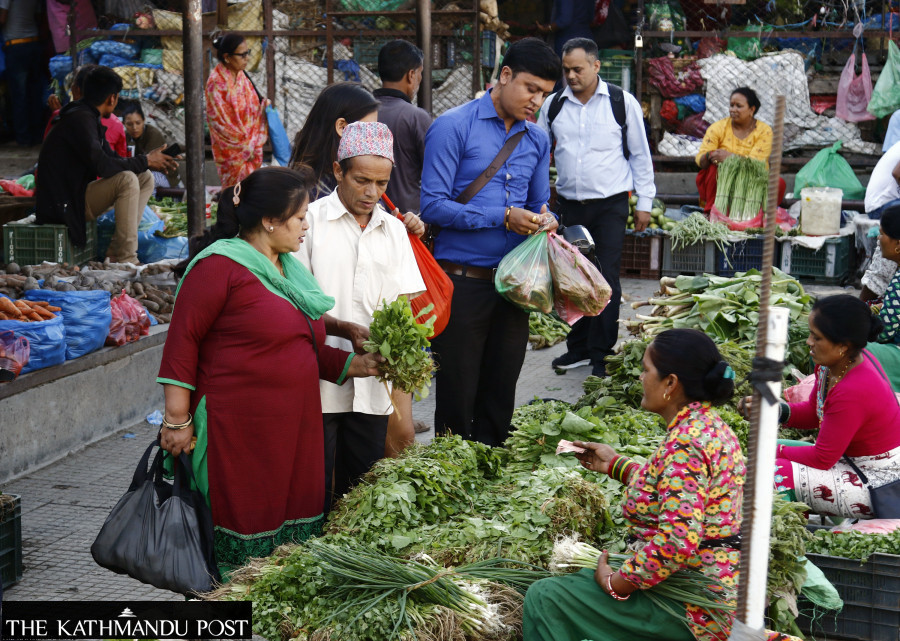 Post File Photo
bookmark
Published at : January 14, 2022
Updated at : January 14, 2022 14:20
Kathmandu
Sharmila Sthapit, a housewife from Ganabahal, Kathmandu, is not just worried about the resurgence of the third wave of Covid-19. She is grappling also with the old nemesis that has emerged strongly—inflation.

"Everything is expensive. From vegetables to edible oil and lentils to rice, prices have gone through the roof," Sthapit, 52, told the Post.
For Sthapit, her kitchen expenses have doubled in the past one year and a half.
"Three-four bunches of green leafy vegetables cost more than Rs150. Even seasonal vegetables like cauliflower do not come at less than Rs90 a kilo. The prices of edible oil, legumes and lentils have been increasing every day," Sthapit said.
Besides food, health services and other non-food items too have become costly, said Sthapit.
The price of ghee and oil has increased by 28.52 percent, transportation by 16.25 percent, pulses and legumes by 11.79 and tobacco by 11.74 percent year-on-year basis, according to the Nepal Rastra Bank.
"I used to set aside Rs20,000 to manage my monthly kitchen expenses," said Sthapit, who has a family of six. "It has doubled now."
The rising costs of food and other necessities are heightening the financial pressures on households. People won't have savings and may not be able to invest in other sectors.
The monthly consumer price inflation climbed to its highest in 64 months in December, rising to 7.11 percent year-on-year from 5.32 percent in November, data from the country's central bank, Nepal Rastra Bank, showed on Thursday. The last time the country saw the highest monthly inflation rate was in September 2016-17 at 7.9 percent.
Experts warn inflation may jump to a double-digit figure this fiscal year.
"It's quite a worrisome situation," said Puskar Bajracharya, an economist. "All households are worried. Even a moderate inflation affects the people during the coronavirus crisis; and 7 percent is a big spike."
If it keeps rising, he said, it will cause a negative impact on economic growth.
In November, the central bank's Inflation Expectation Survey showed that a majority of people expected average prices of goods and services to rise by a staggering 11.3 percent over the next year.
That appears to be going to be a reality. And that could take a bigger bite out of household wallets.
"Rising prices have been mostly affecting daily-wage earners, affecting the overall standards of living," said Bajracharya.
Economists say the emergence of the Omicron variant poses new challenges as it has threatened economic growth while adding to inflation pressures.
A record 15 million new Covid-19 infections were reported across the globe in a single week, as Omicron is rapidly replacing Delta as the dominant variant across the globe, according to reports. Among more than 357,000 cases sequenced in the last 30 days, nearly 59 percent were Omicron, the World Health Organisation said in the epidemiological report.
The world is facing a supply shortage. The price of petroleum products has been increasing. Freight charges have increased to their highest levels. Globally, there is a shortage of transport vehicles and human resources in different sectors. All this has a combined effect on supply shortage, which eventually increases product prices.
"There is already a sharp rise in demand for goods not only globally but in the domestic market as well. But there was a break in the supply chain due to the excess demand which has created pressure on prices," said Gunakar Bhatta, spokesperson for the Nepal Rastra Bank.
Nepal imports most of its goods, mostly food and fuel.
"Naturally, the current inflation is driven upward mainly due to an increase in transportation and freight costs," said Bhatta.
Economists say since the reopening of the country in September last year, people have started travelling again and buying more. People started to spend the money they couldn't spend during the lockdowns.
When an economy is growing, businesses find it easier to raise prices without losing customers. It is reflected in the imports.
Nepal's import bill is close to touching a Rs1 trillion mark in the first half of the current fiscal year.
During the five months of 2021-22, merchandise imports increased 59.5 percent to Rs838.41 billion against a decrease of 9.6 percent in the same period a year ago.
Shipping costs are a key component of food and non-food prices in countries like Nepal.
The United Nations Conference on Trade and Development has predicted that higher shipping costs will make goods costlier, raising consumer prices by 2.2 percent in the least developed countries over the next year, based on an 8.7 percent increase in import prices.
Experts are worried that high inflation could make Nepali consumers cut back on their spending, which would be disastrous for the recovery of an economy that has been battered by the pandemic.
Consumer spending is the main driver of Nepal's economy.
The Central Bureau of Statistics has revealed that in the last fiscal year 2020-21 that ended in mid-July 2021, Nepal's final consumption expenditure at current prices amounted to Rs3.98 trillion, accounting for 93.38 percent of the gross domestic product.
"Obviously, the spike in inflation will negatively impact the economy," economist Keshav Acharya, told the Post in a recent interview. "A rise in inflation means a decline in consumption. People will invest less."
When consumers start to hold back on their consumption budgets, it adversely affects the production cycle, which cuts employment and reduces government revenue.
"The reduced output, ultimately, will hit the GDP or economic growth," said Acharya.
According to Acharya, inflation has two side effects.
"It affects income and pushes consumers to look for alternatives. This is the substitution effect. The substitution effect is a decrease in sales for a product that can be attributed to consumers switching to cheaper alternatives," said Acharya.
Amid the Omicron threat, the World Bank has said the global economy is entering a pronounced slowdown with a rise in inflation, debt and income inequality that could endanger the recovery in emerging and developing economies like Nepal.
The rapid spread of the Omicron variant indicates that the pandemic will likely continue to disrupt economic activities in the near term, the World Bank said, projecting Nepal's economy may grow 3.9 percent this fiscal year, ending mid-July 2022, unchanged from its June 2021 outlook.
"There is a risk ahead," said Bajracharya. "Inflation may balloon further."
Bhatta of the central bank said uncertainty looms.
"Omicron poses downside risks to employment and growth and upside risk for inflation," said Bhatta. "We cannot predict how inflation will grow. But inflation has spiked."
---
---