All in a day's work
Rejina Basnet finds her job as a ticket collector, something considered men's province until a few years ago, rewarding, which she says earns her livelihood and respect.

Twenty-seven-year-old Basnet at work on a recent afternoon. Keshav Thapa/TKP
bookmark
Published at : December 9, 2021
Updated at : December 9, 2021 12:45
Kathmandu
Rejina Basnet starts her day as early as five in the morning. She needs to report to work by seven.

Just as the clock hits seven, she enters her office, a moving one. It's a 41-seater green Sajha Yatayat bus. She is a ticket collector.
"Today, I am assigned a bus on the Lagankhel-Budhanilakantha route," Basnet told the Post on Sunday.
Basnet, 27, joined Sajha Yatayat as a helper some four years ago.
"Before that, I worked at a shop that sold gold-plated jewellery," she said. "I found out about this job at Sajha through a vacancy announcement. I applied and landed the job."
Basnet, one of the five women at Sajha working as ticket collectors, is an example of how women are entering into jobs that until a few years ago were considered men's province.
Keshav Thapa/TKP
Dil Bahadur Thing, 39, the bus driver, said Basnet is extremely efficient at her work.
"She is sincere, she is reliable," said Thing.
Her job entails collecting fare and issuing tickets. "I also make sure that the door is closed and no one is hanging on the door before signaling the driver to move," she said.
Originally from Mamling of Sankhuwasabha, Basnet first came to Kathmandu in July 2017.
With just a 10th class certificate, jobs were hard to come by, said the single mother. Her daughter, Reshika, was just four then.
"I was in search of a job so that I could pay for my daughter's education," she said.
Her fourth-grader daughter goes to a school which is near her rented apartment in Kupandole. She shares a flat with her brother and sister in-law, who take care of her daughter when she is at work.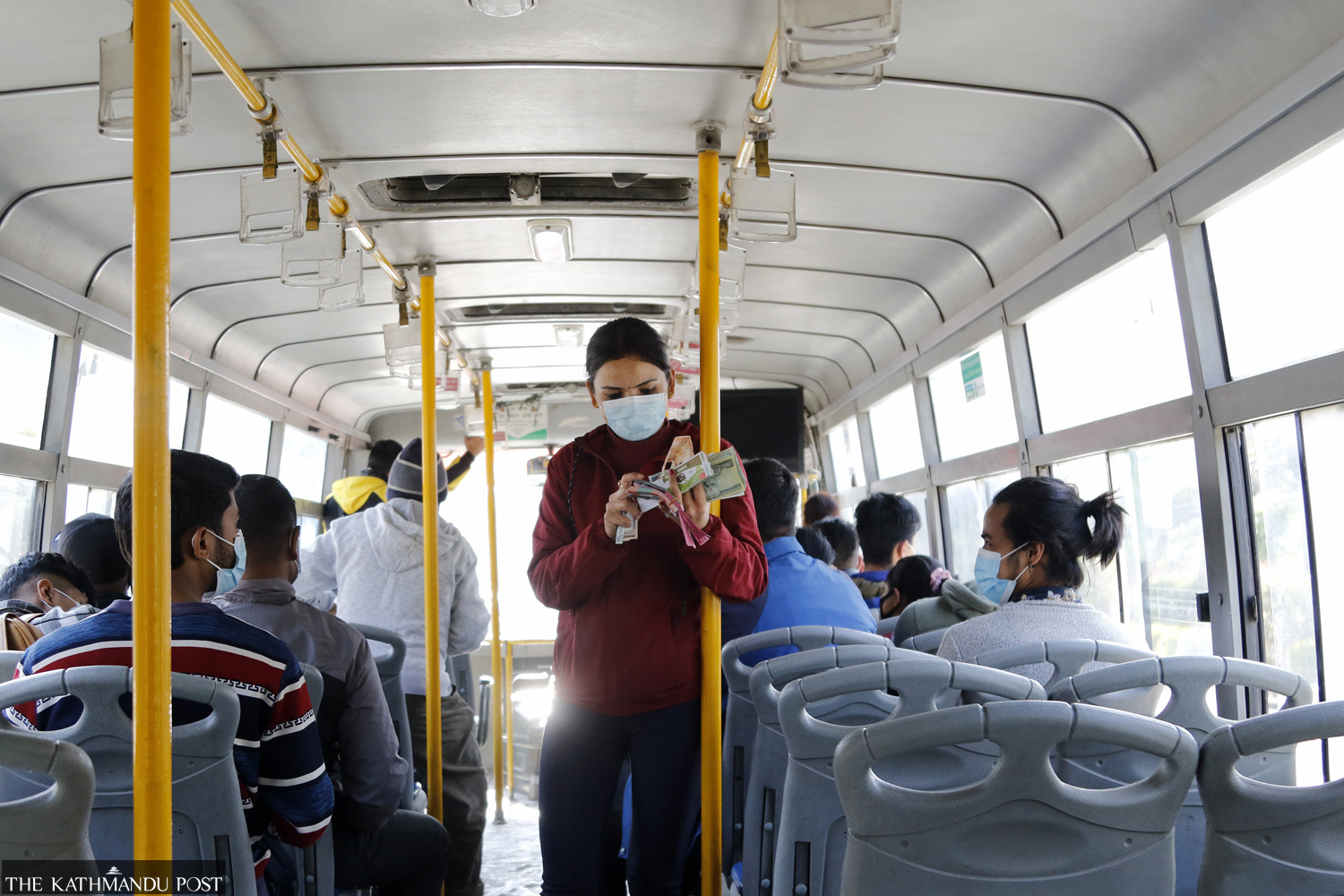 Keshav Thapa/TKP
She says she was not sure about doing the job when she first applied for it.
"I had seen some women helpers in buses though. Why not give it a try, I thought. And it didn't take me long to get the hang of it," she said. "Now I enjoy this work. I make a decent earning."
Apart from the regular salary, she receives a daily allowance as well.
But it's not that her work is hassle-free; dealing with hundreds of people of different nature itself is a task that needs patience.
"Then which work in the world comes without some trouble?" she chuckled. "There are some passengers who haggle. Some want to take the seats that are reserved for women, elderly and the disabled and I have to convince them to allow the designated people to sit. Traffic jams are frustrating. Sometimes I have to deal with traffic police personnel. But it's part and parcel of my job."
Every day, the bus makes around 4 trips on the designated route, covering over 60 kilometres. Her duty route also changes.
She is assigned Lagankhel-Budhanilakantha and Lagankhel-New Bus Park routes on alternate weeks.
It's a 7am to 7pm job for 18 days a month.
The pandemic, however, had changed her routine for a while last year and this year. The lockdown meant everything was closed. "I was lucky that the company paid us in full during the first lockdown and partially during the second lockdown," she said.
Even though she has received two shots of vaccine, she is concerned she could be a virus carrier to her daughter, as her job means dealing with hundreds of passengers every day.
"I am very particular about masks. I also make sure passengers have their masks on when they get onto the bus," she said. "The virus risk is there and it looks like this corona will continue. We need to be careful and take precautionary measures. This is my job. I got to do what I got to do."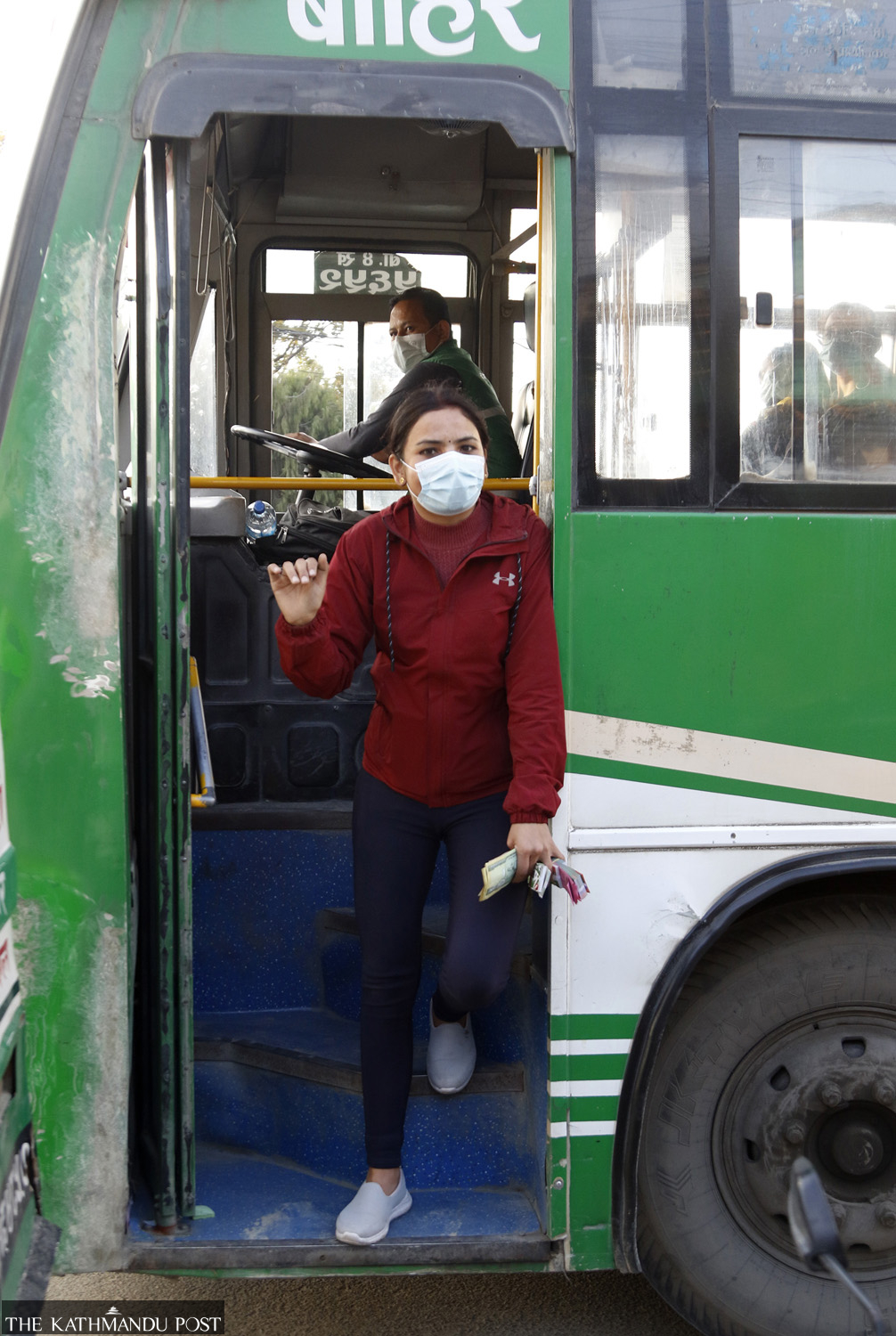 Keshav Thapa/TKP
Now after four years on the job, Basnet aspires to become a driver.
"I found on this big four-wheeler a new ground to stand on my feet. This job has helped me earn money as well as love and respect," said Basnet. "No job is small or big. A job is a job and we must respect what we do."
Sajha Yatayat, which currently operates 36 buses in the Valley on different routes, has five women helpers, including Basnet.
"Basnet is the longest-serving one," said Hari Ram Mishra, a supervisor at Sajha. "We are happy to see women work as ticket collectors, which in the past was considered to be a job done only by men."
Basnet's regret, however, is she has not been able to manage time to learn driving.
"I need to give time to my child also. I will see how I can work around time to learn to drive," said Basnet. "Some day I want to see myself behind the wheel. Hopefully, I will have a young woman working in my place, assisting me as a ticket collector."
---
---