Odyssey of a man who came home after 47 years
Left Bardiya for India at eight. After switching odd jobs and serving time in Karachi prison, freed by a twist of fate.

Bale Chhetri Bhandari arrived in Kathmandu from Karachi, Pakistan on Monday. Keshav Thapa/TKP
bookmark
Published at : September 4, 2021
Updated at : September 4, 2021 11:54
Kathmandu
Bale Chhetri Bhandari struggled to recall his childhood.
Born Bal Bahadur, everyone fondly called him Bale back in Bardiya. But one day, he suddenly disappeared. He was eight then. Then there was no information about him. No letters, no phones—no communication at all. When he landed at Kathmandu airport on Monday night, more than four decades had elapsed—47 years to be precise.
"Yo sabai taqdir hola," Bale said as he landed in Kathmandu, in Nepali that carried a heavy Hindi influence. [Translation: It must be my fate."]
He was brought home back from Pakistan. He was in a jail in Karachi.
It looked like he had a zillion things to say, but he was unable to figure out how—what to say first.
"I lost my way to Madras [now Chennai]… I landed in Bombay [now Mumbai]. I went to Kerala. I took a train to return home… but it so happened that I reached Gujarat," he said.
He was completely unaware of what lay in store for him.
In the beginning of 2018, scores of fishermen were arrested by Pakistan for straying into the country's territorial waters. Bale was one of them. A Nepali who had ventured out of home for work as a child had found himself in a jail in Karachi.
After an investigation by the Embassy of Nepal in Pakistan, Bale's identity was ascertained that he was a Nepali. Accordingly, he was flown to Kathmandu.
Guman Singh, Bale's younger brother, had arrived in Kathmandu earlier in the day after he was informed that his long lost brother was arriving.
There was no way the two brothers could recognise each other—they were seeing each other after four decades. And someone introduced them.
"Oh my brother, Gumane!" Bale exclaimed as he hugged Guman after he was introduced to his younger brother. "Did you get married?"
Both tried, unsuccessfully, to pick up the threads.
"Brother, our 87-year-old father always remembers you… he keeps on asking about you. Father did not believe when we told him that you are returning alive," said Guman.
"Is our father still alive?" Bale was quick to ask, as though he did not have other things to say.
Then there was a call on Guman's cell phone. It was their younger brother Surendra from Bardiya.
"Who Surendra? Do I have another brother also?" he questioned. When Bale, the eldest son of the family, had left home at the age of eight, Surendra was not even born.
When Bale was found in Karachi prison, he could remember just two things—the place where he was born and his father's name.
"I had gone to Sita (Rana)'s home in Danfe, Nepalgunj to work. Then I went to Rajapur," Bale recalled. "Soon after I reached Kerala in India to work at the house of a relative of Dr Saroj Rana, an acquaintance. But wherever I went, I could find only menial jobs... doing household chores, cleaning the house, doing dishes. Fed up with that, I decided to take a train home. But I landed in Madras."
In Madras too, life remained the same. "Once again, I landed a job of cleaning dishes," said Bale. Destiny then took him to Mumbai, where a friend of his taught him how to fish. Learning that fishing prospects were better in Gujarat, he followed his friend to the western Indian coastal state.
"I worked as a watchman… I worked at a tea stall," he said. "One day a friend said I could earn up to Rs15,000 Indian rupees monthly if I managed to get a job on big fishing boats."
He spent most of 2017 working on fishing boats.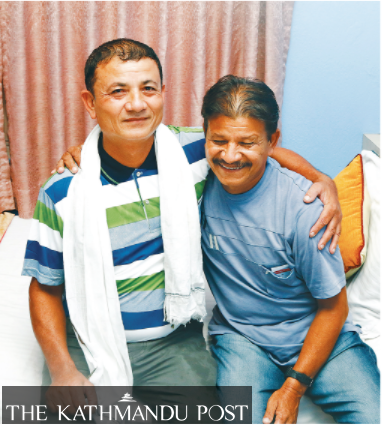 Bale Chhetri Bhandari (right) with his younger brother Guman Singh. Keshav Thapa/TKP
"It was water water everywhere… We had to spend up to 15 days on the boat continuously. Every three hours, we had to pull the big fishing nets out of the waters. Every meal was fish and rice... fish in the morning, fish in the evening," recalled Bale, adding that he had accumulated around Rs80,000.
But before he could collect the money, he was arrested along with other Indian fishermen.
He remembers that at least six fishing boats were impounded. Every boat had six "helpers", at least, and by his calculation, around 40-42 people must have been arrested then.
"All boats were owned by a single person," he said.
Fishermen from India and Pakistan are often arrested whenever they stray into each other's territorial waters. And they are often convicted of trespassing. The arrests of Pakistani fishermen by Indians and Indian fishermen by Pakistanis have long been a humanitarian problem, a solution of which rights bodies say must be found by the arch-enemies themselves.
Bale also became the victim of the long-standing practices by India and Pakistan of arresting fishermen.
There are around 500 people in Karachi prison who were arrested when they reached the Pakistani waters from India while fishing, according to his estimates.
As Bale says "taqdir," it's his luck that he managed to get out of the prison. In April 2018, when the arrested fishermen were taken to the court for a hearing, Bale pronounced: "I am a Nepali," not really knowing if that would lay the ground for his release.
The Embassy of Nepal in Pakistan came to learn that there was a Nepali in a prison in Karachi. The embassy then took up the case and made arrangements for his repatriation, after providing sufficient evidence that he was from Nepal. At the time of his arrest, he did not have his citizenship card with him. Nor did he have any other documents to prove who he was.
He regrets having accidentally landed in jail, but he appeared grateful to the Pakistani "brothers" who he met in the jail.
"Everyone took good care of me in jail," said Bale. "The fellow inmates liked me. Those in jail from Pakistan would bring toothpaste and toothbrush for me. They would sometimes also offer chicken curry and rice."
After spending years in India, he speaks Gujarati and Hindi fluently, but he has not forgotten Nepali completely, even though the effort he has to make to speak in Nepali is quite visible, and the conversation is frequently punctuated by Hindi terms.
And "taqdir" is one.
"Taqdir kai karan jindagi ma ramro kehi garna sakiyena," said Bale. [Translation: I lagged behind... as everything, every path of mine was predetermined.]
"Everyone used to console me when I was in India, saying 'don't worry, it's all about luck'. Luck will return to your side some day, they would say," he said as he smiled. "I have been able to return home despite fate taking me to jail. It looks like luck indeed has returned."
Out of jail and in home country now, nearly five decades later, incoherence is quite apparent when Bale talks. He struggled to pick a topic for conversation.
"We have some lands right? Or have you already sold it?" Bale wondered, turning to his brother. Guman, however, opted not to spoil the happy reunion. He chose not to explain that the property [and land] had already been divided between the brothers and that he had already shifted to Banke from Bardiya.
Bale thinks his immediate next move should be collecting the money he had earned as a fisherman in Gujarat.
"I don't know about any other thing… but at the first chance, I will definitely go to Porbandar in Gujarat. The Rs80,000 that I earned while working as a fisherman is still with the man who owned the fishing boat."
He does not know what else he would do now.
"Maybe I will get married… but maybe I will get into farming," he mumbled.
This story was originally published in Kantipur, the Post's sister paper.
---
---