Around a dozen children in Dhorpatan ward malnourished
Most families in the villages are from poor backgrounds with little to no means to provide nourishing food for their children.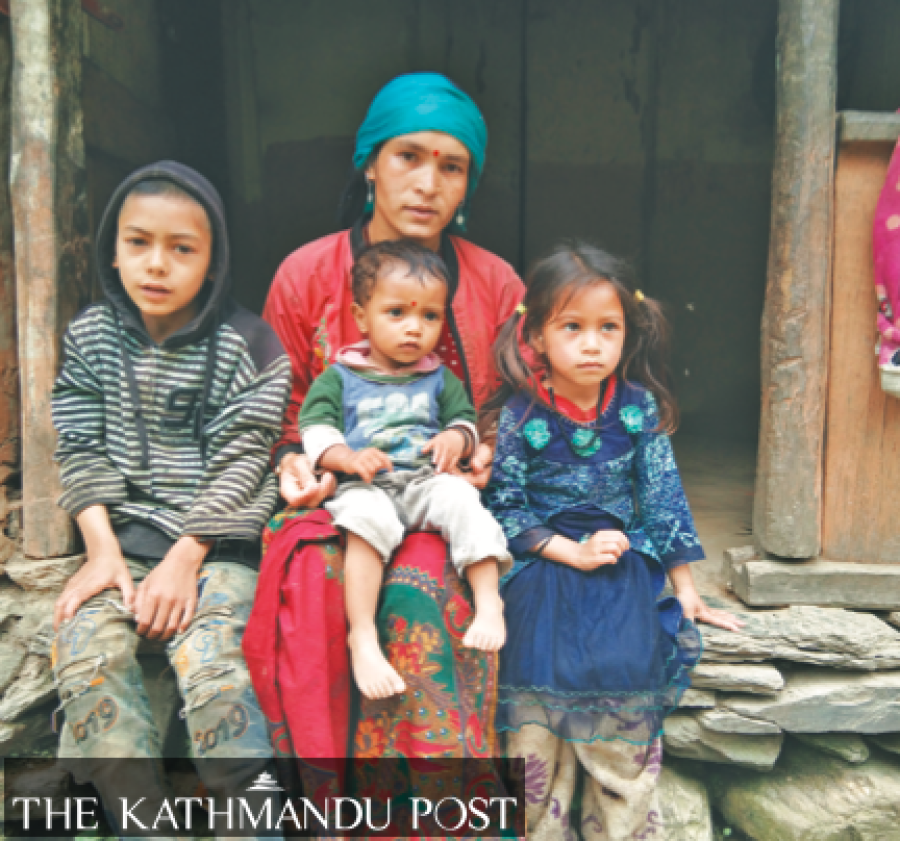 Prem Kumari BK with her three underweight children. Post file photo
bookmark
Published at : July 12, 2021
Updated at : July 12, 2021 01:39
Baglung
Prem Kumari BK's six-year-old daughter weighs only seven kilograms. Her nine-year-old son weighs 12 kilograms.
Both the children are underweight for their age.
BK, a resident of Phalamkhani in Dhorpatan Municipality Ward No. 4, says her third child, a 15-month-old son, is also underweight. She has been struggling to provide nutritious food to her children after her husband left her two years ago, BK says.
"I have been working as a daily wage worker to feed my children but I don't earn enough to feed them well," she said.
According to the Community Health Unit in Dhiri, Ward No. 4 of Dhorpatan Rural Municipality, as many as 12 children in the ward are suffering from malnutrition.
"Most of the people in the ward are daily wage workers. They are unable to provide nutritious food to their children," said Hira Gaire, chief at the Community Health Unit in Dhiri.
"A one-year-old infant in Dhiri is severely malnourished. Some children in the village have physical infirmities and stunted mental growth caused mostly by malnutrition," said Gaire. "Almost all the villages in the rural municipality are home to people from poor economic backgrounds. The parents do not have the means to provide nourishing food to their children."
The District Health Office in Baglung has been providing free treatment through three primary health centres and running residential nutrition treatment centres at Dhaulagiri Hospital in the district headquarters. But most parents of malnourished children are not aware of the services.
Prem Kumari BK, the mother of three malnourished children, says she did not know she could get free treatment for her children at the health centre.
"I did not know that malnourishment is treatable and that the health authority provides free treatment to malnourished children," she said.
According to Suraj Gurau, chief at the District Health Office in Baglung, underweight children with lean and thin bodies and a big bulging head are ones in immediate need of treatment.
"Malnourished children do not only have physical infirmities but also have difficulties in emotional and intellectual developments. These infirmities may turn into deformities if not treated immediately," said Gurau.
Bharat Kumari Gotame, a resident of Phalamkhani, says it's not only the women but pregnant and postpartum women in the village are also deprived of nutritious diet.
"The mothers are weak because of a lack of nutritious food during and after pregnancy," he said.
According to Gaire, malnourished children must be immediately taken to a nutrition centre to see improvement in their health.
The data at Dhaulagiri Hospital in Baglung Bazaar states that more than 150 malnourished children get treatment at the nutrition treatment centre set up at the hospital every year. A malnourished child, along with his/her guardian, is kept at the centre for three months and given nutritious food and medical care.
The federal government, in coordination with a local social organisation, has also been running a nutrition programme called Suaahar Karyakram in Baglung for the past eight years. Under the programme, campaigns against malnutrition are raised in every ward by raising awareness among villagers. However, such campaigns have not been effective at the ward level.
"I did not know that so many children in the ward were malnourished," said Tilak Gharti, the ward chairman of Dhorpatan-4. "We will now actively identify such children and provide them timely treatment."
According to health workers, various factors are responsible for malnutrition in children. "First is the financial problem. Impoverished families can't afford wholesome healthy meals for mothers and their children," said Gaire. "A lack of vaccination during pregnancy and pre-and post-natal care for both the mother and child are some of the causes behind malnutrition in children."
---
---