Supreme Court tells government to ensure oxygen supply and adequately-resourced hospitals
The order comes as hospitals across the country face an acute shortage of oxygen forcing many to stop admitting patients.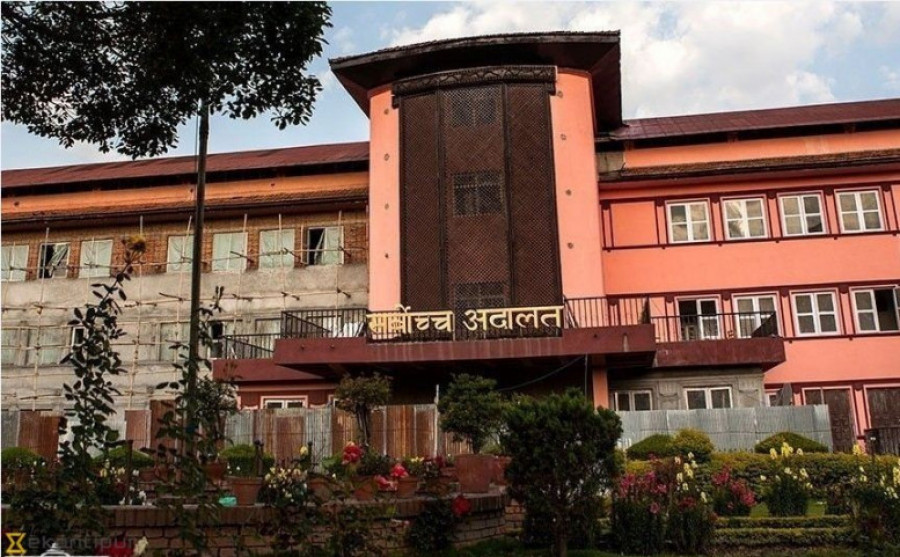 Post file photo
bookmark
Published at : May 11, 2021
Updated at : May 11, 2021 23:39
Kathmandu
The Supreme Court on Tuesday issued an interim order to the government to manage oxygen supply, medicines, and well-equipped hospitals with adequate human resources immediately to treat Covid-19 patients.

The order comes as the country is facing huge challenges in making provisions for adequate oxygen supply as infections continue to soar.
On Tuesday 9,483 new infections were reported, a record single day spike, and 225 deaths, which also includes deaths from previous days, according to the Health Ministry.
Hospitals have stopped admitting new patients because they do not have enough oxygen supply.
The government on Saturday directed oxygen manufacturers not to supply oxygen directly to hospitals without its recommendation which has been criticised by private hospitals as it adds bureaucratic red tape.
"To manage facilities which are directly related to human life, an interim order has been issued in the name of defendants to ensure that people's problems are effectively resolved even if there is need to form a working committee including all the stakeholders," states the interim order issued by a single bench of Justice Bam Kumar Shrestha.
Advocate Shailendra Prasad Ambedkar and advocate Mohna Ansari, who is also a former commissioner of the National Human Rights Commission, had jointly filed the writ petition at the Supreme Court on Monday demanding that the federal and provincial governments to supply necessary oxygen and medicines, set up Covid-19 hospitals, appoint more doctors and nurses at the hospital to cater to the increasing number of patients, manage vaccines and action against hospitals charging exorbitant fees.
The apex court has also directed the defendants—federal and provincial governments— to present written explanations by May 21 on why the Supreme Court should not issue the order as demanded by the writ petitioners given the seriousness of the issue.
The petitioners have demanded an order of mandamus in the name of both federal and provincial governments to develop oxygen plants throughout the nation to ensure easy supply of oxygen for the patients as people are dying for the want of oxygen.
The petitioners had also demanded the Supreme Court to issue interim orders in the name of the concerned government authorities to manage necessary human resources—doctors and nurses— as well as necessary equipment including intensive care unit beds and ventilators at many specific hospitals throughout the nation.
---