Residents in Karnali and Sudurpaschim hit hard by the second wave of pandemic
Pandemic brings challenges to regions suffering from lack of proper healthcare system and poor road connectivity.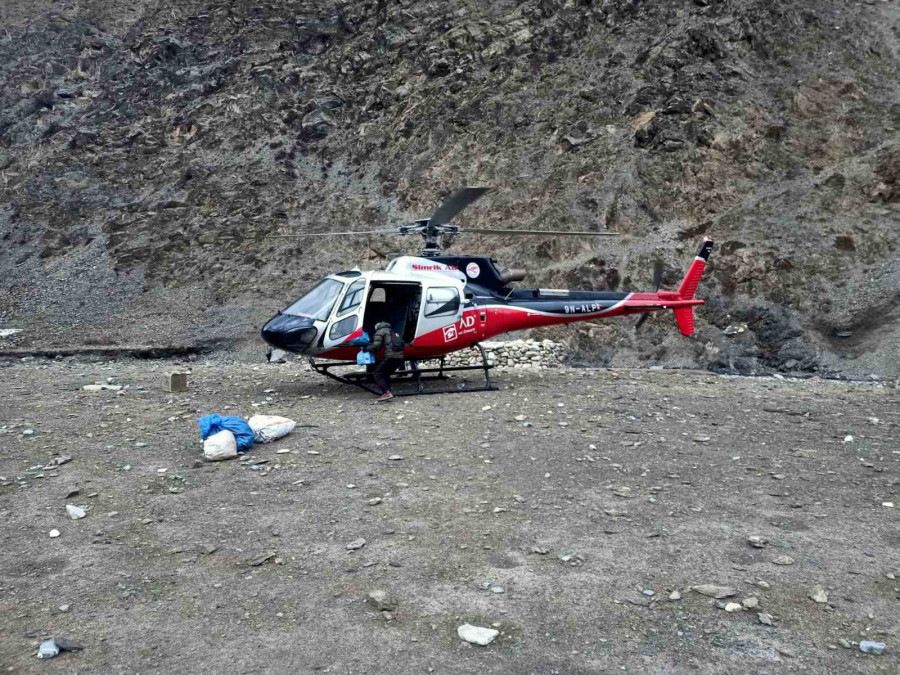 Critical Covid-19 patients in remote regions have to charter helicopters to receive timely treatment. Post Photo
bookmark
Published at : May 8, 2021
Updated at : May 8, 2021 08:10
Rukum (west)/humla/achham/bajhang
Never before has the lack of easy access to transportation been more visible and detrimental to the population of rural Karnali and Surduspaschim provinces. The Covid-19 pandemic has brought added challenges to the regions already suffering from a lack of a proper health care system and poor road connectivity.

Because of poor road connectivity in most mountainous regions of Karnali and Sudurpaschim provinces, the only way to ferry Covid-19 patients to better health facilities in cities is by chartering helicopters.
Since chartering helicopters is not an affordable recourse for most living in these regions, the rescue of patients amid a surge of Covid-19 cases is becoming a mammoth task, says Amar Singh Shahi, acting health manager at Health Service Office in Dolpa.
On Thursday, two health workers and two technicians were airlifted to a Surkhet-based hospital from Dho of Upper Dolpa after they showed symptoms of Covid-19.
Dolpobuddha Rural Municipality chartered the helicopter at a price of Rs 600,000. "All four employees tested positive for Covid-19 in Surkhet," said Temba Gurung, chairman of the rural municipality. "It was a hefty sum to pay but we couldn't risk their lives so we had to charter a helicopter."
It takes three to six days on foot to reach the District Hospital in Dolpa from Upper Dolpa. In most cases, Covid-19 patients are referred to health facilities outside the district since the district hospital is not equipped to handle critical Covid-19 cases. The 50-bed hospital has one ventilator, which is currently not being operated for a lack of skilled human resource, and two beds with oxygen facility.
Four patients are currently receiving treatment at the hospital. "Other Covid-19 patients are staying in home isolation. If their health condition worsens, they will have to be airlifted to Surkhet," said Shahi.
There are no doctors available in any of the local units in Upper Dolpa. The local units have decided to establish quarantine facilities for new arrivals to the villages for their mandatory 14-day quarantine.
Shahi from the Health Service Office in Dolpa said, "The local units should manage all expenditures for the care of Covid-19 patients. There's no separate management for Covid-19 patients in Upper Dolpa." According to him, since most villagers are from an economically poor background, it is the prerogative of the local authorities to step in.
According to him, Dolpobuddha Rural Municipality has agreed to airlift Covid-19 patients in case they need oxygen supplement. "Critical patients must be airlifted. Only a few patients with mild symptoms can be expected to make the journey to hospitals on horsebacks," said Shahi.
Until Friday, 35 Covid-19 cases have been reported in Dolpa since the start of April.
The situation is also similar in Humla, another remote mountainous district in Karnali, which is yet to be connected to road networks. So far, 11 individuals have tested positive for Covid-19 in the district. But none of them have visited any health facility, as their health condition is normal, said Dr Tashi Lama, chief at the District Hospital in Humla.
"The District Hospital cannot admit critical Covid-19 patients. The hospital has only two beds with oxygen supply," said Lama.
According to him, patients will have to be airlifted to Surkhet if their health condition becomes serious. "There's no other option," he said.
Karnali provincial government has also decided to rescue critical Covid-19 patients from mountainous districts via helicopters. But the decision is yet to be implemented and the standard working procedure yet to be set.
Minister of Internal Affairs and Planning Bimala KC, also the spokesperson of the government, said, "The government has decided to rescue Covid-19 patients after evaluating their financial backgrounds. Patients from impoverished families will be rescued free of cost whereas those who can afford treatment will have to pay the airfares."
The emergence of Covid-19 in these remote villages has worried the local people and the authorities alike. "The four people from Upper Dolpa who tested positive for Covid-19 are receiving treatment at a hospital in Surkhet. If more people get infected and their condition worsens, the only option is to airlift them to health facilities outside the district," said Gurung.
The local unit is yet to initiate mass testing of its local population, said Gurung.
In Sudurpaschim, the geography has made things more difficult for Covid-19 patients and their relatives. It takes a minimum of 12 hours for the families of Covid-19 patients in Bajhang and Achham districts to take the patients to well-equipped hospitals in Kailali district.
And not everyone can afford to charter a helicopter to take their infected family members to hospitals outside the district.
Last Wednesday, Bam Bahadur Thapa, a headteacher of Mangala Nera Secondary School in Mangalsen Municipality-9, Achham, died of Covid-19 complications. He was 43 years old.
Thapa had tested Covid positive on April 26 and since then had been staying in home isolation. However, on May 3, when he experienced difficulty in breathing and his health worsened, he was taken to the District Hospital in Achham.
At the district hospital, Thapa's struggle to breathe continued since the hospital does not have an oxygen supply. His family's attempt to airlift him to Kathmandu for treatment failed.
He suffered for three days at the hospital before he died, his family says.
"At first, it took time gathering information on how to manage a helicopter and then we wasted more time arranging for money," Thapa's brother told the Post. "When all arrangements were made, we were informed that the helicopter could not fly due to adverse weather conditions."
"We kept on waiting for the weather to improve so we could take him to Kathmandu. But that never happened," he said.
Thapa's family members, who had arranged Rs 900,000 to airlift him to Kathmandu, say he could have been saved if only he had access to supplemental oxygen at the district hospital.
On Wednesday, the District Hospital in Bajhang referred one of its Covid-19 patients from Masta Rural Municipality-5 to a hospital in Dhangadhi. The family was asked to arrange for an ambulance to take him to Dhangadhi, more than 250km from the rural municipality.
But the 55-year-old Covid-19 patient died before he could be moved out of the hospital and into the ambulance.
Health facilities across Nepal have been overwhelmed, as the country is ravaged by the second wave of the Covid-19 pandemic. Even in major cities, including the Kathmandu Valley, there is a shortage of medical supplies, oxygen, beds, ICU and ventilator facilities.
In Achham, the local people have started questioning the local elected representatives and the district hospitals for their lackadaisical approach to health care in rural areas.
"Achham has many well-known leaders who have made many promises to us but when we are suffering they are nowhere to be found," said Mahesh Bohara, a local resident of Mangalsen Municipality-8. "People are dying due to a lack of oxygen and they have left us at the mercy of God even during a pandemic. The pandemic has only exposed the true colours of our leaders."
Achham has so far reported 1,998 Covid-19 cases since the pandemic hit the country in March last year. As the infection has spread through communities, the situation has further worsened in recent weeks.
Although the district is seeing a steady rise in the number of patients who require ICU and ventilator facilities, the authorities have not yet made arrangements for oxygen which is vital in saving the lives of Covid-19 patients.
Six people have already died in Achham in the last few days.
The District Hospital in Achham has two ventilators and one ICU bed. "But the ventilators have not been put to use for a lack of trained human resources," said Dr Atul Bharadwaj at the District Hospital.
"We need 10 staff to operate the two ventilators," said Bharadwaj. "We are facing a severe crunch of medical infrastructure and medical staff to treat Covid-19 patients at the hospital."
Bajhang has so far reported 1,127 coronavirus cases.
The district has adequate oxygen supply, however, patients requiring ventilator and ICU service must be referred elsewhere.
"We have a ventilator but we have not been able to operate it because of a lack of trained human resources," said Dr Milan Khadka at Bajhang District Hospital. "We are afraid to refer Covid-19 patients to hospitals outside the district. We may lose them on the way. And private hospitals are very expensive. Most people in the villages do not have the financial resources to seek treatment there."
---
---