On National Paddy Day, Oli champions agriculture but farmers don't share his optimism
Beset by an armyworm invasion, the Covid-19 lockdown, and a shortage of chemical fertilisers, farmers are not confident about yields this year.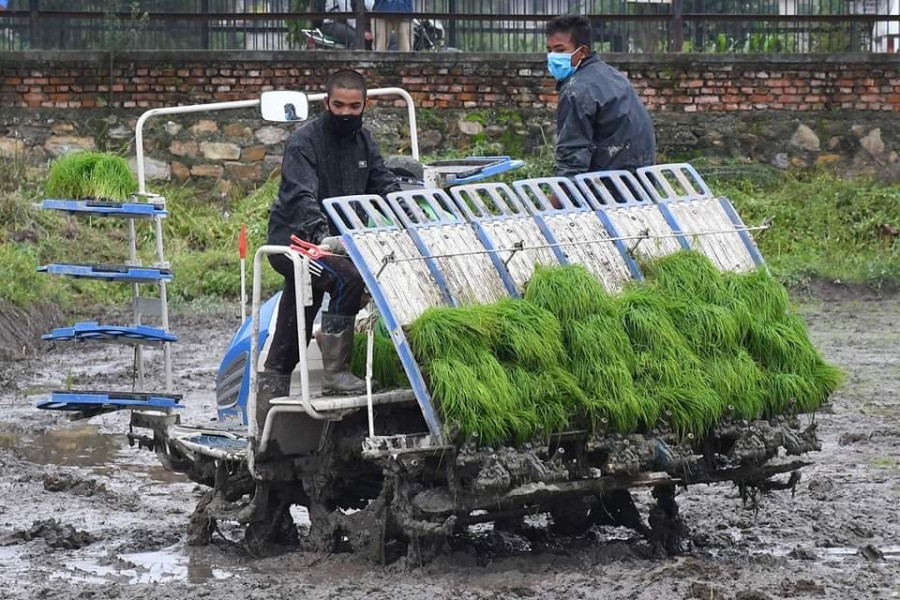 The government has not paid adequate attention to modernising the agriculture sector. Anish Regmi/TKP
bookmark
Published at : June 30, 2020
Updated at : June 30, 2020 23:19
Kathmandu
While Prime Minister KP Sharma Oli has been championing agriculture as a potential antidote to the economic havoc wrought by the Covid-19 crisis, farmers in the fields do not share the prime minister's optimism.
Oli, while extending greetings on the occasion of National Paddy Day on Monday, said that the impact on the country's economy from Covid-19 could be minimised by increasing agricultural productivity and making certain arable land does not go to waste.
But for farmers like Bhola Raj Mishra in Butwal, the prime minister's lofty goals are belied by the fact that he has just suffered through a fall armyworm invasion and a government-mandated lockdown that kept him away from his fields. Now, due to Covid-19 related complications, there is a shortage of much-needed chemical fertilisers.
Mishra said he is uncertain about productivity this year, despite having completed transplanting paddy in his fields two weeks earlier than last year. There has been abundant rainfall but if he doesn't get an adequate quantity of fertiliser, his crops will not grow as expected.
Mishra has transplanted the hybrid 'US 312' variety of seeds that provide higher yield in irrigated systems, provided that the soil gets enough nutrition from fertilisers.
Normally, farmers like Mishra travel to towns along the Indian border to get fertiliser if state-subsidised chemical fertiliser is unavailable at cooperatives, the government's distribution mechanism.
"But it was not possible to get fertiliser in bordering Indian towns due to the border restriction," said Mishra.
Subsidised nutrients distributed by the government meet only 40 percent of the country's demand, with the rest of the requirement met by illegal imports from India.
This year, fertilisers were neither to be had from the government's supply mechanism nor from illegal traders, as their clandestine supply lines were severed by the lockdown and strict border restrictions put in place to prevent the spread of the coronavirus.
Recent governments have attempted to prioritise agriculture, by according the sector a more sizable share of the national budget. The agriculture sector has received Rs41 billion in the budget for next fiscal year.
But as Mishra's experience attests, this fiscal priority has not led to any significant growth of the sector, with agricultural imports reaching alarming levels.
Nepal's agricultural goods import bill ballooned to an all-time high of Rs220 billion last fiscal year. Nepal's reliance on foreign markets for agricultural products has increased fivefold in the last 10 years alone. The agricultural imports bill in 2009-10 was just Rs 44.43 billion.
The cereal import bill alone amounted to Rs51.80 billion last fiscal year, with rice and paddy constituting more than Rs31 billion. This year's problems, like the fall armyworm, Covid-19 and a shortage of chemical fertilisers, may further compound the problem and increase imports even further.
"Paddy day is a routine celebration where people are happy marking the day but no one really cares what happens to the farm sector," said senior agro-economist Devendra Gauchan. "If chemical fertilisers fail to arrive within 15 days, the problem will be serious."
Tens of thousands of farmers, who rely on contraband fertilisers that used to pass easily into the country through the 1,700-kilometre leaky border with India, will be severely hit, and this could aggravate food insecurity, he said.
Gauchan, who is also a former scientist with the Nepal Agricultural Research Council, believes that for the amount that Nepal spends on imports every year, a small fertiliser plant could be built in Nepal itself.
Annually, chemical fertilisers worth nearly Rs20 billion are imported and despite such large imports, farmers still do not receive a timely supply.
"If Rs20 billion is spent on the import of chemical fertilisers annually, in 10 years, that amount would be Rs200 billion. That's enough to install a small chemical fertiliser plant here," said Gauchan.
Oli has stressed modernisation, commercialisation and mechanisation in agriculture as the primary base for fulfilling the 'Prosperous Nepal, Happy Nepali' campaign, but experts say that speeches alone don't increase production. Nepal's agriculture sector needs investment in the form of infrastructure like processing centres and cold storages, say experts.
"The problem in Nepal's agriculture, despite having big investment in the last couple of years, is that we are lagging behind in research and development and are years behind other countries," said Krishna Joshi, the International Rice Research Institute country representative in Nepal.
Joshi said that Nepal needs proper research and development as innovation systems are vital to ensuring food security. Agriculture is the mainstay of Nepal's economy, employing around 60 percent of the total workforce and generating around 27 percent of the total GDP.
Though there is growing evidence that technological innovation has a key role to play in increasing agricultural output and strengthening food security, successive governments have failed to translate rhetoric into action by financing research and development in agriculture.
"We have to invest in research and development—400 times what we have been investing now," said Joshi, who has led several key agricultural research development projects in Bangladesh, Pakistan and India.
"We have requested $20 million from the government to invest in research and development for the transformation of Nepal's agriculture sector. The government and International Rice Research Institute signed a five-year work plan to transform the rice sector of Nepal. Government is yet to mobilize necessary resources," said Joshi.
Nepal imports rice worth Rs32 billion annually, and if Rs2 billion is invested in research and development, within 10 years, Nepal could substitute agricultural goods import, according to Joshi.

---
---