Private schools to lobby government to resume classes next month
Parents worry resuming classes may increase the risk of transmission of Covid-19.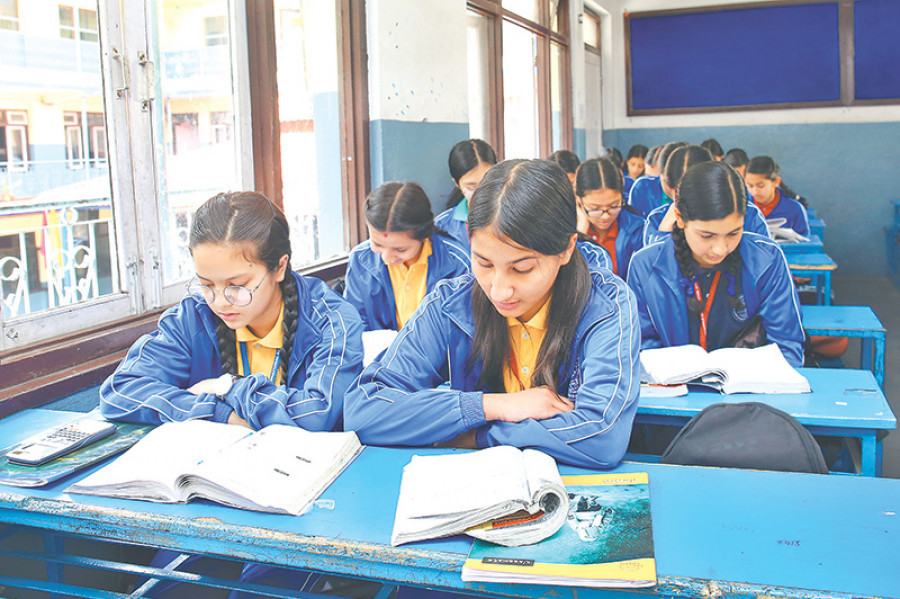 Post File Photo
bookmark
Published at : June 7, 2020
Updated at : June 7, 2020 07:42
Kathmandu
Private schools are preparing to lobby the government to allow them to enroll students later this month and resume classes in areas with low Covid-19 infection rates from next month.

Representatives from the Higher Institutions and Secondary Schools' Association Nepal (Hissan), who couldn't meet Deputy Prime Minister Ishwor Pokhrel, the coordinator of the High-level Coordination Committee for Prevention and Control of Covid-19, on Saturday due to his busy schedule, have prepared a list of demands on the reopening of schools and colleges.
"Our recommendation is to start enrollment from mid-June in areas with low infection rates," Lok Bahadur Bhandari, general secretary of the association, told the Post referring to the list of demands yet to be presented to the government. "We need to start the enrollment process to track students," as many people have gone to their villages with their children since the pandemic began, he added.
Bhandari, who represents Hissan—one of nine associations of the private schools and colleges preparing to jointly submit their list of demands—said that the associations are in favour of allowing local governments to decide on the reopening of schools in their area after analysing the risk of spread of the infection.
"The schools can resume from mid-July in the green zones by exercising necessary precautions," said Bhandari. They are planning to urge the government to decide the fate of the exams of grades 10, 11 and 12.
On virtual learning, the associations want online education to be included in the curriculum, said Bhandari. The Ministry of Education, in its guidelines for virtual learning, hasn't recognised it as a means of formal learning. The ministry says virtual classes are just a means to engage students in learning.
Meanwhile, parents of students who go to private schools say they are not sure if it is the right time to reopen schools. Keshav Puri, chairperson of the Guardian Association Nepal, said private schools and colleges are pressing the government to open admissions despite knowing that resumption of classes is not possible at this point. "Their only intention is to make money," he told the Post. "We have asked our fellow guardians not to enroll their students unless the threat subsides."
Bhandari, however, said registration of students shouldn't be taken as an opportunity to raise money.
The associations have also listed a number of demands on providing relief to schools and colleges hit hard by the lockdown. They have demanded an economic package from the government to recover losses caused by the lockdown. April is admission month for schools when they make billions of rupees through admission fees, sales of textbooks and even uniforms. Similarly, admissions for the grade 11 starts in July.
Puri asked the government not to hurry to resume schools and colleges. "Who will take the responsibility if the students contract the infections when they go to study?"
---
---