Husband of newborn mother who died of Covid-19 says they had to wait for seven hours to get an ambulance
There have been several complaints about ambulance drivers refusing service during the lockdown.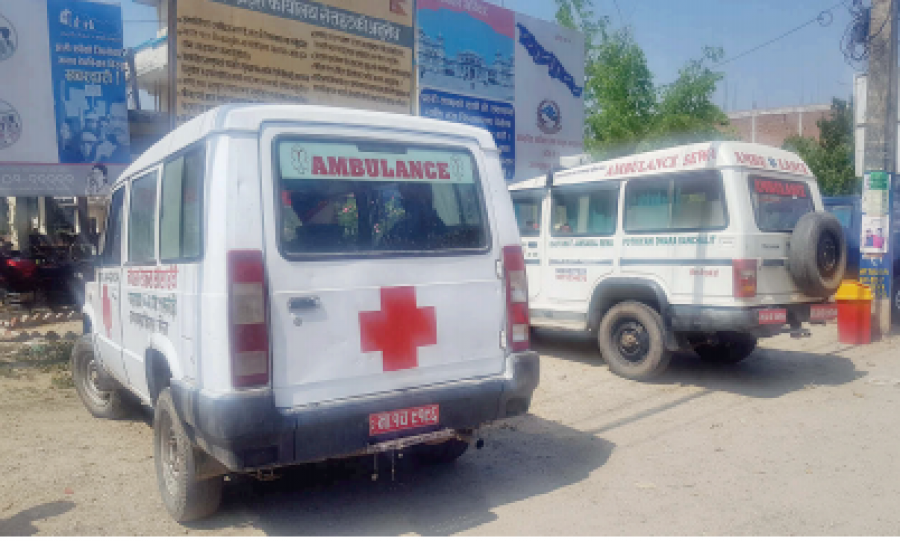 Post file photo
bookmark
Published at : May 19, 2020
Updated at : May 19, 2020 07:33
The family of the woman who died of Covid-19 on May 14 had to wait for seven hours to get an ambulance while her health deteriorated.

The 29-year-old woman, who had given birth to a baby boy little over a week earlier in Kathmandu, had developed a respiratory illness while she was convalescing at her home in Sindhupalchok. When her condition started getting worse, her family had taken her to a health post in Barhabise, where the doctor referred her to Dhulikhel Hospital.
The woman's husband, who is currently staying in an isolation ward in Dhulikhel Hospital with his newborn baby, told the Post over the phone that his wife would not have died if only she could have received medical attention in time.
The woman had died on the way to the hospital, a doctor at Dhulikhel Hospital said.
She was the first Covid-19 fatality in the country. But she need not have been, her husband says.
"I still can feel my wife's life would have been saved if only the ambulance was there on time. We started looking for an ambulance from 12pm and it was 7pm when we finally got one," he said. "The car that we had hired to take my wife to the health post refused to go to Dhulikhel Hospital, so we decided to take her on the ambulance owned by the health post. But the promised ambulance arrived seven hours later and my wife was very poorly by that time."
When they finally reached the Dhulikhel Hospital, doctors pronounced the woman dead on arrival. Her family would later learn that she had died of the coronavirus infection.
The woman's husband says his wife had been healthy and had given birth to their second child at the Tribhuvan University Teaching Hospital in Kathmandu on May 6.
"It was a normal delivery and we returned home with our newborn baby on May 7. Everything was fine for a few days after we had reached home," he told the Post. "I know many people have recovered from Covid-19. I believe that my wife too would have survived if the ambulance had arrived in time."
Asked about the ambulance service delay, which might potentially have contributed to the death of the young mother, Chief District Officer of Sindhupalchok Umesh Kumar Dhakal said the matter was still under investigation.
"I can't speak regarding the issue right now without any proof," he told the Post."We are in the preliminary stage of our investigation, we can only say after we have detailed findings about the issue."
Ever since Covid-19 cases started rising in the country, there have been several complaints against ambulance service.
Kamal Mishra, a resident of Sano Thimi, Bhaktapur, says his daughter had to call five hospitals for an ambulance service when he developed a respiratory problem three weeks ago.
"My daughter called five hospitals in the district, including Madhyapur Hospital, Iwamura Memorial Hospital and Bhaktapur Hospital to take me to Teku, but nobody obliged," Mishra said
After several hours of making calls, Mishra finally found one ambulance driver who agreed to take him to the hospital.
That ambulance driver was Buddha Krishna Baga Shrestha, who is well known around here for piercing his tongue during the Bisket Jatra.
"I have carried over 200 patients to Teku Hospital since the lockdown started," Shrestha told the Post. "I know most ambulance drivers are hesitant to pick up patients these days because of the coronavirus fears."
SP Sabin Pradhan, chief of Metropolitan Police Range, Bhaktapur, says ambulance service providers should not shirk responsibility, particularly in times of emergency.
"I can't say all ambulances do that, but there are some who are just working to earn money, and taking advantage of difficult situations," Pradhan told the Post.
"Ambulance drivers should take precautions because you never know who is Covid-19 patient, but it's their duty to go receive patients and take them to the health facilities."
So far, the total cases of Covid-19 in Nepal had reached 357, with 53 cases confirmed on Monday.
There have been two Covid-19 deaths so far. The latest death was that of a 25-year-old man, who passed away in a quarantine facility in Banke on Sunday. Just like the first victim, he too had died without getting any medical attention.
Frequently asked questions about the coronavirus outbreak
UPDATED as of September 22, 2020
What is Covid-19?
Covid-19, short for coronavirus disease, is an illness caused by the coronavirus SARS-CoV-2, short for severe acute respiratory syndrome coronavirus 2. Common symptoms of the disease include fever, dry cough, fatigue, shortness of breath and breathing difficulties. In severe cases, the infection can cause pneumonia, severe acute respiratory syndrome, kidney failure and even death.
How contagious is Covid-19?
Covid-19 can spread easily from person to person, especially in enclosed spaces. The virus can travel through the air in respiratory droplets produced when a sick person breathes, talks, coughs or sneezes. As the virus can also survive on plastic and steel surfaces for up to 72 hours and on cardboard for up to 24 hours, any contact with such surfaces can also spread the virus. Symptoms take between two to 14 days to appear, during which time the carrier is believed to be contagious.
Where did the virus come from?
The virus was first identified in Wuhan, China in late December. The coronavirus is a large family of viruses that is responsible for everything from the common cold to Middle East Respiratory Syndrome (MERS) and Severe Acute Respiratory Syndrome (SARS). After an initial outbreak in Wuhan that spread across Hubei province, eventually infecting over 80,000 and killing more than 3,000, new infection rates in mainland China have dropped. However, the disease has since spread across the world at an alarming rate.
What is the current status of Covid-19?
The World Health Organisation has called the ongoing outbreak a "pandemic" and urged countries across the world to take precautionary measures. Covid-19 has spread to 213 countries and territories around the world and infected more than 31,405,983 people with 967,505 deaths and 22,990,260 recoveries. In South Asia, India has reported the highest number of infections at 5,557,573 with 88,943 deaths. While Pakistan has reported 306,304 confirmed cases with 6,420 deaths. Nepal has so far reported 65,276 cases with 427 deaths.
How dangerous is the disease?
The mortality rate for Covid-19 is estimated to be 3.6 percent, but new studies have put the rate slightly higher at 5.7 percent. Although Covid-19 is not too dangerous to young healthy people, older individuals and those with immune-compromised systems are at greater risk of death. People with chronic medical conditions like heart disease, diabetes and lung disease, or those who've recently undergone serious medical procedures, are also at risk.
How do I keep myself safe?
The WHO advises that the most important thing you can do is wash your hands frequently with soap and water for at least 20 seconds or use hand sanitizers with at least 60 percent alcohol content. Avoid touching your eyes, nose and mouth with unclean hands. Clean and disinfect frequently used surfaces like your computers and phones. Avoid large crowds of people. Seek medical attention if symptoms persist for longer than a few days.
Is it time to panic?
No. The government has imposed a lockdown to limit the spread of the virus. There is no need to begin stockpiling food, cooking gas or hand sanitizers. However, it is always prudent to take sensible precautions like the ones identified above.
---
---