Despite calls to ease the lockdown, high-level committee recommends extension
The high-level committee to control Covid-19 has concluded that opening up the country right now is not a wise move, given the rising number of coronavirus cases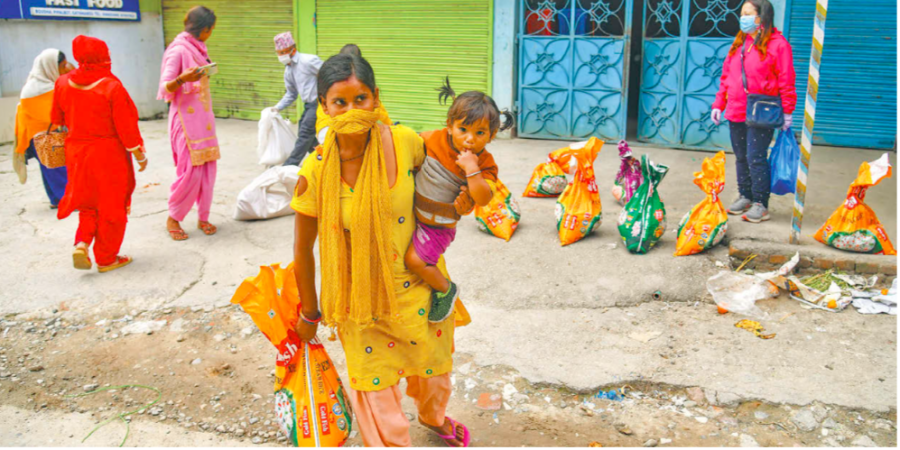 A prolonged lockdown has been painful for the public, particularly the poor people. Post file photo: Deepak KC
bookmark
Published at : May 6, 2020
Updated at : May 6, 2020 09:40
Kathmandu
The high-level coordination committee for the control and prevention of Covid-19 has recommended yet another extension to the ongoing lockdown in light of the rising number of coronavirus cases in the country.
"We have decided to recommend that the government continue with the ongoing lockdown but easing the production and movement of essential goods," said Narayan Prasad Bidari, member-secretary of the high-level coordination committee.
Various ministries had proposed that one of the ways in which the lockdown could be eased was by categorising the country into zones, but Bidari said the committee dismissed the idea.
"Since the concept of different zones isn't appropriate for a small country like ours, today's meeting discussed the idea but dropped it for now," he said. "So the committee decided to continue the lockdown while putting no restrictions on essential services and gradually easing the lockdown in the industrial and agricultural sectors."
As the country went into the sixth week of lockdown, discussions had started about relaxing the restrictions. But there was a sudden rise in the number of cases this week alone, with 23 new cases reported since Sunday.
Seven new cases in Nepalgunj of Banke on Tuesday took the country's tally to 82, prompting the authorities to put the district on high alert. On Sunday, the district had reported 15 Covid-19 cases.
According to Bidari, since categorising the districts into different zones did not look feasible, the committee has recommended that strict security be implemented so as to ensure that only essential items, like medicines, can be transported across districts.
"We concluded that categorising districts into different zones is practically not possible," Bidari told the Post.
Nepal has been on lockdown since March 24, with the last extension set to expire on May 7.
Bidari said the committee, however, did not discuss how long the lockdown should be extended for.
"Tomorrow's Cabinet meeting will take a decision," said Bidari. "The committee, however, concluded that the lockdown has been instrumental in containing the spread of the virus."
Calls, however, have been growing of late to gradually relax the lockdown by identifying areas where the chances of the spread of the virus are lower.
According to Bidari, the committee concluded that if the lockdown has to be eased, it needs to be done in phases.
A joint-secretary at the Ministry for Industry, Commerce and Supplies said that the ministry will issue detailed guidelines to allow companies providing essential services and industrial establishments to gradually resume activities.
Earlier on Tuesday, Minister for Industry, Commerce and Supplies Lekh Raj Bhatta told reporters that restrictions and relaxations in various provinces would be based on the incidence of Covid-19.
During a virtual interaction with reporters organised by the Society of Economic Journalists Nepal, Bhatta said that in the first phase, food industries that are directly related to people's daily lives could be allowed. In the second and third phases, construction and export-oriented industries could be allowed to resume operation respectively.
As the government has ordered everyone to stay at home to tame the virus, offices, schools and factories have closed, and life has come to a halt, affecting Nepal's fragile economy and pushing millions of Nepalis out of work.
The coronavirus is set to deliver a massive blow to Nepal's economic growth, bringing it down from targeted 8.5 percent to 2.27 percent this fiscal year, the lowest in the past four years, according to the Central Bureau of Statistics.
"We are discussing the management of workers with trade unions to resume operation of factories," said Bhatta. "Besides, we plan to resume operations in industries that have been classified as sick on a public-private partnership model through the upcoming budget, which is due on May 29."
Bishnu Agrawal, senior vice-president of the Confederation of Nepalese Industries, said that industries are suffering, with zero income, and paying salaries has become a major concern.
The hotel sector is already in the doldrums and all industries could face similar problems if the lockdown is extended, he said.
To take a decision on lockdown, the government is also taking into consideration how neighbouring India, with which the country shares an around 1,800-km-long open border, is responding.
India said on Friday that it will extend its lockdown for another two weeks beyond May 4 but will allow considerable relaxation in lower-risk districts. India has marked some districts as green and orange zones based on the incidence of cases. India has been on lockdown since March 25.
India as of Tuesday evening reported more than 46,000 positive cases and over 1,550 deaths.
Tika R Pradhan contributed reporting.
Frequently asked questions about the coronavirus outbreak
UPDATED as of September 22, 2020
What is Covid-19?
Covid-19, short for coronavirus disease, is an illness caused by the coronavirus SARS-CoV-2, short for severe acute respiratory syndrome coronavirus 2. Common symptoms of the disease include fever, dry cough, fatigue, shortness of breath and breathing difficulties. In severe cases, the infection can cause pneumonia, severe acute respiratory syndrome, kidney failure and even death.
How contagious is Covid-19?
Covid-19 can spread easily from person to person, especially in enclosed spaces. The virus can travel through the air in respiratory droplets produced when a sick person breathes, talks, coughs or sneezes. As the virus can also survive on plastic and steel surfaces for up to 72 hours and on cardboard for up to 24 hours, any contact with such surfaces can also spread the virus. Symptoms take between two to 14 days to appear, during which time the carrier is believed to be contagious.
Where did the virus come from?
The virus was first identified in Wuhan, China in late December. The coronavirus is a large family of viruses that is responsible for everything from the common cold to Middle East Respiratory Syndrome (MERS) and Severe Acute Respiratory Syndrome (SARS). After an initial outbreak in Wuhan that spread across Hubei province, eventually infecting over 80,000 and killing more than 3,000, new infection rates in mainland China have dropped. However, the disease has since spread across the world at an alarming rate.
What is the current status of Covid-19?
The World Health Organisation has called the ongoing outbreak a "pandemic" and urged countries across the world to take precautionary measures. Covid-19 has spread to 213 countries and territories around the world and infected more than 31,405,983 people with 967,505 deaths and 22,990,260 recoveries. In South Asia, India has reported the highest number of infections at 5,557,573 with 88,943 deaths. While Pakistan has reported 306,304 confirmed cases with 6,420 deaths. Nepal has so far reported 65,276 cases with 427 deaths.
How dangerous is the disease?
The mortality rate for Covid-19 is estimated to be 3.6 percent, but new studies have put the rate slightly higher at 5.7 percent. Although Covid-19 is not too dangerous to young healthy people, older individuals and those with immune-compromised systems are at greater risk of death. People with chronic medical conditions like heart disease, diabetes and lung disease, or those who've recently undergone serious medical procedures, are also at risk.
How do I keep myself safe?
The WHO advises that the most important thing you can do is wash your hands frequently with soap and water for at least 20 seconds or use hand sanitizers with at least 60 percent alcohol content. Avoid touching your eyes, nose and mouth with unclean hands. Clean and disinfect frequently used surfaces like your computers and phones. Avoid large crowds of people. Seek medical attention if symptoms persist for longer than a few days.
Is it time to panic?
No. The government has imposed a lockdown to limit the spread of the virus. There is no need to begin stockpiling food, cooking gas or hand sanitizers. However, it is always prudent to take sensible precautions like the ones identified above.
---
---