Farmers are selling their produce for a pittance even as customers are paying exorbitant prices
The lockdown has meant that farmers are unable to travel to Kathmandu to sell their produce, relying instead on middlemen who are maximising profits.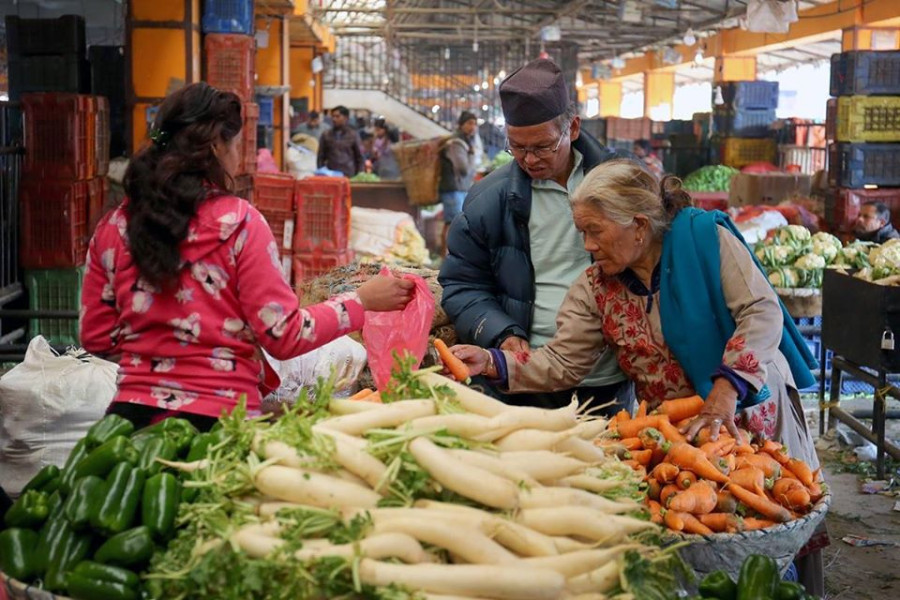 File photo of people purchasing vegetables in Kalimati vegetable market in Kathmandu. Anish Regmi/TKP
bookmark
Published at : April 11, 2020
Updated at : April 11, 2020 09:04
Kathmandu
Kanchha Shrestha, a vegetable farmer in Dhading, is desperate to sell his produce. His vegetables are ready to be harvested and dispatched to the markets, but he has no means to transport them. He is now selling whatever he can at cut-rate prices. Off-season vegetables like cauliflower and cucumbers are going for less than Rs20 per kilo when last year, he was selling the same for Rs 130 a kilo.
"The yield looks more promising when compared to last year, but the revenue will be lower than anticipated," said Shrestha.
Due to the nationwide lockdown, most farmers in Kavre, Dhading and Makwanpur districts, which generate most of what is consumed in Kathmandu, are in a similar situation. Many farmers rely on public transport to bring their produce to the city for sale, either at the central Kalimati bazaar or on their own around the city. But with all public transportation prohibited, farmers are now forced to rely on middlemen for ferrying their produce, who are offering exceedingly low prices.
"They [the middlemen] set the prices that benefit them and we are bound to comply, or we will be left with no choice but to lose our harvest," said Pushkar Nepal, a vegetable farmer from Kavre. "Some farmers from the area have agreed to sell gourds for less than Rs10 a kilo to these middlemen."
Selling their produce locally within the district is an option for both the farmers but the market is not big enough. They had scaled up their production in the previous years to meet demands from Kathmandu, and now they have an abundance of crops that they are unable to sell.
But in Kathmandu, there is a very different scenario unfolding. Prices of fresh produce have soared. According to traders at a vegetable market in Naxal, consumers in the last week are paying between Rs70 and Rs 100 for a kilo of gourds.
And prices are expected to increase, given that the vegetable market at Kalimati, where most retailers source their vegetables from, is now closed. According to farmers from Jitpurphedi, middlemen are using this as an excuse to cut prices, knowing farmers have few alternatives.
This difference in prices can be attributed to obstacles faced by other key players in the supply chain, said Mahadev Prasad Poudel, a senior agriculture economist at the Department of Agriculture.
"Despite a directive from the Ministry of Agriculture to permit vehicles transporting agricultural produce, we have received complaints of police and municipalities not letting them ply the roads," said Poudel.
Transporters are also reluctant to collect and dispatch agricultural produce without protective equipment due to a fear of contracting Covid-19, which has reduced the quantity of produce collected from farmers, he said. This has provided an opportunity for the middlemen to operate in a market with few competitors, allowing them to set a price that increases their profit margins.
"Most transporters do not have their own vehicles so they rent them from contractors. This lockdown has also increased the costs of renting," said Surya Rijal, an agricultural economist.
As demands for fresh produce are likely to have dropped, with all restaurants and hotels closed, prices should either have stayed stable or even fallen, given the glut of produce in the market. But transport restrictions, and now the closure of the largest centralised market in the city, have had the opposite effect.
The government has identified 11 spaces around the Valley for farmers to sell their produce, but there is ambiguity in market timings and locations.
"A contractor only agreed to carry 10 kilos of beans from my farm to Kathmandu," said Bishnu Shrestha, a farmer from Kavre. "But I heard the beans were dumped outside the vegetable market in Kalimati since it is closed."
With both farmers and consumers in a pinch, it is the middlemen who are making a killing. Even among consumers, it is the urban poor and daily wage workers who will suffer more, as they are out of jobs and generally have fewer savings, meaning they are less likely to be able to afford the more expensive vegetables and fruits.
The Ministry of Agriculture has asked the Cabinet to come up with relief packages targeting the worst-hit farmers to cover at least the initial investment, according to Poudel.
Kanchha Shrestha, meanwhile, is afraid that he will have to take out more loans if he is unable to sell his produce for the entire season.
"If I lose my yield before it reaches the market, I will be pushed into debt," he said. "Other farmers like me are in a similar situation and we seek some support from the government in such distressing times."
---
---