Oli emerges to address the nation but questions remain regarding measures to fight the pandemic
Oli's address was long overdue, especially at a time when his government faces allegations of corruption—which the prime minister did not address.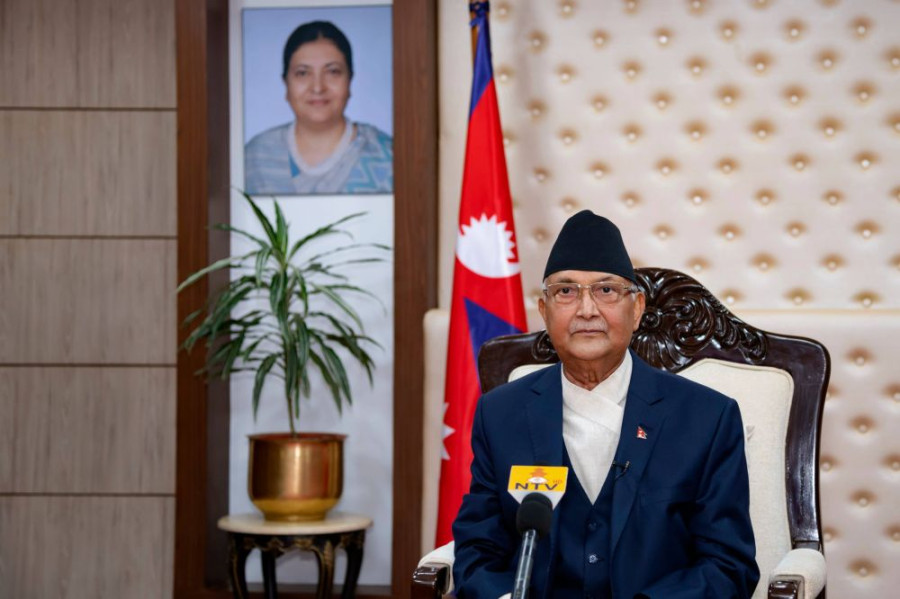 Photo via Prime Minister's secretariat
bookmark
Published at : April 7, 2020
Updated at : April 8, 2020 07:50
Kathmandu
After earning criticism for his uncharacteristic silence at a time of crisis, Prime Minister KP Sharma Oli finally emerged before the public on Tuesday to address the nation via television.

While expressing sympathy for the plight of many Nepalis who are suffering under the strict conditions imposed by the lockdown, Oli stressed that social distancing was the only way to keep Covid-19 at bay. Nepal has been under lockdown since March 24, with an extension up to April 15.
"I understand that the lockdown has caused inconvenience, but this is the need of the hour to fight this disease, which has become a global problem," Oli said in his first address to the nation since the lockdown began. "I urge all Nepali people to support and show solidarity with the government's efforts. The coming two weeks will be very crucial in our fight against the coronavirus."
Read more: As government extends lockdown, non-natives of Kathmandu Valley wish to return to their hometowns
Oli went on to propose that Nepalis choose life, saying that it was pointless to get bogged down in a debate over life and liberty.
"Safeguarding life is the most important human right," said Oli, which some observers have taken exception to, saying that security and freedoms go hand-in-hand and one cannot be traded for another.
Senior journalist Kishore Nepal said that without liberty, there can be no meaning to life.
"The statement to choose life over personal freedom is meant to appease his cadres," said Nepal. "But this kind of statement is not acceptable because our lives will be like that of an animal if personal freedoms are compromised."
Oli's statement is the result of a defeated mentality, he said.
In his address, Oli also announced the creation of a new agency, the "Corona Crisis Management Centre", to coordinate, oversee and act on a "war-footing" to fight the Covid-19 pandemic. This agency will also be led by Defence Minister Ishwar Pokhrel, who currently heads the high-level coordination committee for the prevention and control of Covid-19.
The committee, according to Finance Minister Yubaraj Khatiwada, who is also the government spokesperson, will work to ensure effective implementation of all government decisions regarding the containment of the coronavirus, including people's stay in quarantine.
Read more: Nepal cannot afford to fail in quarantine and treatment measures
Nepal so far has reported nine cases of Covid-19, including one local transmission, which has taken the country into stage 2 of the pandemic. Given fears that local transmission will lead to the coronavirus spreading in the community, the government announced an extension to the lockdown on Monday.
Oli admonished those who had returned from abroad but did not self-quarantine themselves, which risks spreading the virus in the community. The one case of local transmission is in a woman who is the sister-in-law of a Covid-19 patient.
The prime minister urged those who had returned home to remain in quarantine and said that his government was coordinating with India to make sure that Nepalis stuck at the border are also placed in quarantine.
According to Oli, quarantine facilities to house 30,566 people have been built across the country. At present, 9,168 people are in quarantine while 95 people are undergoing treatment in isolation.
"We have coordinated with the Indian government to keep Nepalis returning from India in quarantine. Around 2,147 Nepalis are kept in quarantine on the Indian side and over 7,00 Indian nationals are in quarantine in Nepal," said Oli. "Those who are in quarantine at the Nepal-India border will be allowed to return home once their quarantine ends and they undergo some tests. We did not allow them to enter Nepal due to risk of transmission."
Read: Nepalis are swimming across the Mahakali to get home
Doctors, however, have expressed serious concern regarding the state of Nepal's quarantine facilities, especially in the districts. Many people in quarantine are forced in close quarters and end up sharing many things, often even beds. Doctors have warned that the quarantine facilities themselves could emerge as outbreak hotspots.
But critics say that the prime minister has failed to address the grievances of hundreds of people who are currently stuck at the Nepal-India border, unable to enter their own country. People have gotten so desperate that some have taken to swimming across large rivers in order to get back home.
Members of the primary opposition Nepali Congress said that Nepali citizens want to hear how the government is going to improve service delivery at a time of crisis.
"We have been hearing what the government is doing on a daily basis," said Gagan Thapa, a Nepali Congress leader and former health minister. "We wanted to hear how the government is going to fulfil the gap. But it looks like the prime minister does not want to correct his mistakes and failed to answer several questions that are being raised."
A public address by the prime minister was long overdue, especially at a time when world leaders have been appearing more frequently in public to assuage fears and provide a sense of leadership during a pandemic. Calls for Oli to appear only grew louder after President Bidya Devi Bhandari addressed the nation on April 3.
Political commentators had seen Bhandari's address as a defence of the government's actions, despite a corruption scandal that has pulled in both the defence minister and the health minister.
Oli was expected to address the allegations of corruption against the two ministers but he refrained from speaking directly on it, instead making oblique references to "propaganda" aimed at making the government look incompetent.
"The government is committed to fighting corruption and it won't hesitate to take action against those who are found involved in corruption," he said.
Defence Minister Ishwar Pokhrel and Health Minister Bhanubhakta Dhakal have both been pulled into a controversy regarding the procurement of medical supplies from China via a private Nepali company. After questions were raised over the tender process and allegations of corruption made in the media, the government annulled the tender and handed over the procurement process to the Nepal Army, which too has drawn criticism.
But instead of taking responsibility, Oli is attempting to cover up for his minister, said Thapa.
"Earlier, when people close to the prime minister made mistakes, their aides would cover up for them," he said. "But now, the prime minister himself is covering up."
Read more: The Covid-19 outbreak so far and how Nepal can prepare for the worst
Much public anger has been directed at the government's failure to ensure that frontline health care workers are working without proper protective equipment, which the procurement was supposed to address. Oli said that the government had dispatched 1,048 sets of personal protective equipment, 11,819 gowns, 4,345 N-95 masks and 5,65,261 surgical masks to all seven provinces as of Monday while thanking health workers and security officials for their tireless service.
Although Oli in his speech assured that more tests will be carried out, especially in Sudurpaschim Province where a majority of cases are now located, the government has been hamstrung by concerns regarding the quality and veracity of the results from rapid testing kits imported from China as part of the annulled deal. The government currently has around 75,000 test kits but has been unable to use them as they have yet to be tested themselves for efficacy.
"At this time of crisis, everyone is looking to the government for some kind of concrete assurance," said Rajendra Mahato, a member of the Rastriya Janata Party Nepal praesidium. "But the prime minister's address failed to meet the aspirations of the people."
---