Amid Covid-19 fears, Nepalis returning home in droves from the south Indian state of Karnataka
Most of the Nepali workers say they are concerned about their safety rather than losing jobs, as the state government declares a partial lockdown.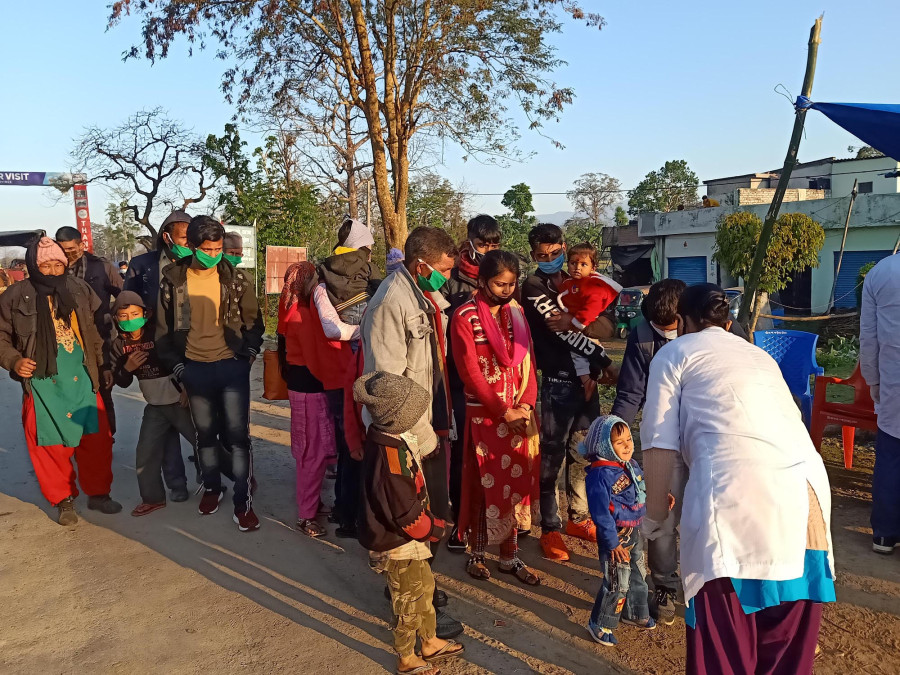 People returning from India undergo health screening at the border in Kanchanpur. Post Photo
bookmark
Published at : March 20, 2020
Updated at : March 30, 2020 12:25
New Delhi
Manoj Bhatta from Doti is a cook in Bangalore, the capital of the Indian state of Karnataka.

The man in his late 20s has been working in the city dubbed India's high-tech capital for the last three years.
"Life has been good here," Bhatta told the Post on Wednesday over the phone from the train he had taken to return home.
Bhatta's earlier plan to return Nepal after two months suddenly changed earlier this week after widespread fears of Covid-19 outbreak.
Like Bhatta, around 70 Nepalis are on their 46-hour journey home.
"I just want to reach home as soon as possible. If I have a life, I have everything. Rest I will see after reaching home," he said.
There is no exact data on how many Nepalis are in Karnataka. Unofficial figures, however, say there could be around 50,000 Nepalis in the southern state of India. A majority of them are in Bangalore and work as security guards, cooks and waiters.
So far, Covid-19 has infected 180 persons in India, as 11 new cases were reported of Thursday from various parts of the country. Of the total, 148 are Indians while 32 are foreign nationals. India's tally of Covid-19 cases also includes three deaths.
Compared to other cities, fears have grown more in Karnataka. Concerns started to grow after the state recorded the first Covid-19 death five days ago.
The state government immediately shut down schools and shopping malls and called on the public to avoid gatherings. Three more cases were confirmed on Wednesday and one on Thursday, taking the total number of cases in Karnataka to 15. It is the third-highest state in India to have confirmed cases after Kerala and Maharashtra.
"Multinational companies have started asking their employees to work from home now," said Ain Bahadur Rawal, a representative for a money transfer agency. "Since they don't have to go to work, they are asking Nepalis who were working at their homes to go on leave and return later."
The state government has declared a partial lockdown until March 31. Some multinational companies had started closing long before the government decision.
Public vehicles have thinned while restaurants have stopped seeing visitors. With the state government barring people from gatherings, big events and weddings have been called off, resulting in loss of jobs for those Nepalis who work in the service sector.
According to Rawal, most of the Nepalis, however, are returning home not because they have lost their jobs or are on the verge of losing jobs. "They are concerned over the spread of the disease," he said. "At present, we are more worried about our safety than the loss of employment," Rawal said.
According to Bhatta, the majority of Nepalis in Bangalore are of the view that they should reach home as soon as possible.
"It's natural for everyone to think that even if we die we want to be with our family when we die," said Bhatta. "We came here to work. Even if the Nepal government cannot provide jobs to people like us, it would have been a great help if it came up with some plans to facilitate our safe return to our country."
Bhatta is not sure if he will return to Bangalore again.
"I am rather trying to take this adverse situation as an opportunity," said Bhatta. "Maybe on this pretext I will start doing something in Nepal."
---
---