KP Sharma Oli threw a lavish birthday bash and not everyone was pleased
The prime minister and his Nepal-shaped cake flew in an Army helicopter to his hometown of Aathrai in Terathum district, which had declared a public holiday on the occasion.

Post File Photo
bookmark
Published at : February 24, 2020
Updated at : February 24, 2020 18:29
Kathmandu
On Sunday, Oli flew to his home town of Aathrai in Tehrathum. The rural municipality had declared a public holiday for the occasion and a massive Nepal-shaped cake, also flown in a helicopter, awaited Oli.
But not many on social media were too pleased with Oli's ostentatious celebrations, with many criticising the lavish display for being too extravagant and unnecessary.
"Totally unacceptable. KP Oli is not a king and giving public holiday bcoz of a birthday is cult of personality," said one user on Twitter, pointing out Tehrathum's declaration of a public holiday.
"Despite visiting birthplace on his birthday, he can decrease all the expenses and use that money for the development of people in the rural area. What do you think in this context?" said another user.
Still others pointed out the incongruity of a communist leader celebrating his birthday with such pomp and ceremony.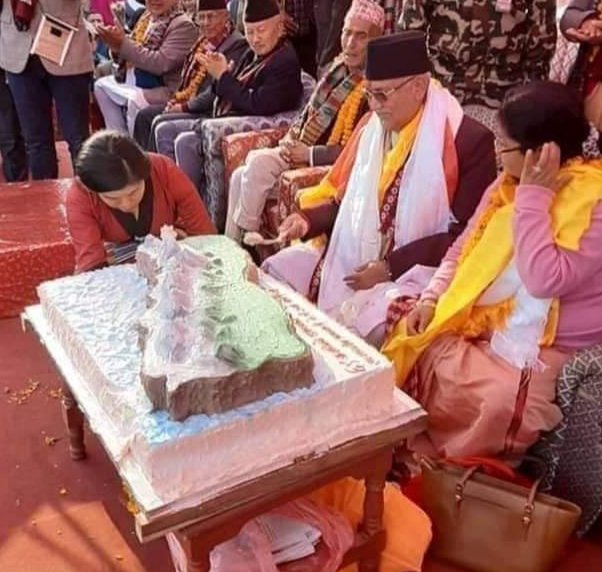 Photo via Rajendra Lingden's Twitter
"How frustrating that PM KP Oli fails to understand the devastating optics of his grand personal birthday bash in Aathrai, commandeering army helicopters, scores of vehicles bringing fawning officials & fawning politicians, & a cake delivered by via Yeti Holdings helicopter," wrote journalist Kanak Mani Dixit on Twitter.
Oli, who came to power on a nationalist platform, was also criticised by many for cutting a cake in the shape of Nepal. The Oli administration has been critical of artists and journalists who they say "offend social and cultural values".
"Who is the great visionary who managed to make and cut a cake designed like a map of Nepal? Did not they find any other cake?" said Rajendra Lingden, a leader from the Rastriya Prajatantra Party.
"It is sad to see public outrage over Oli breaking his own party's code of conduct, using helicopter to deliver cake and local municipality declaring public holiday to celebrate Oli's birthday," said another user, albeit sarcastically.
---
---