With Manjeev Singh Puri retiring, New Delhi scrambles for a new Nepal envoy
Akhilesh Mishra, Gopal Baglay and Jawed Ashraf, all of whom have served in Kathmandu, are on the top of the list, Indian Embassy sources say.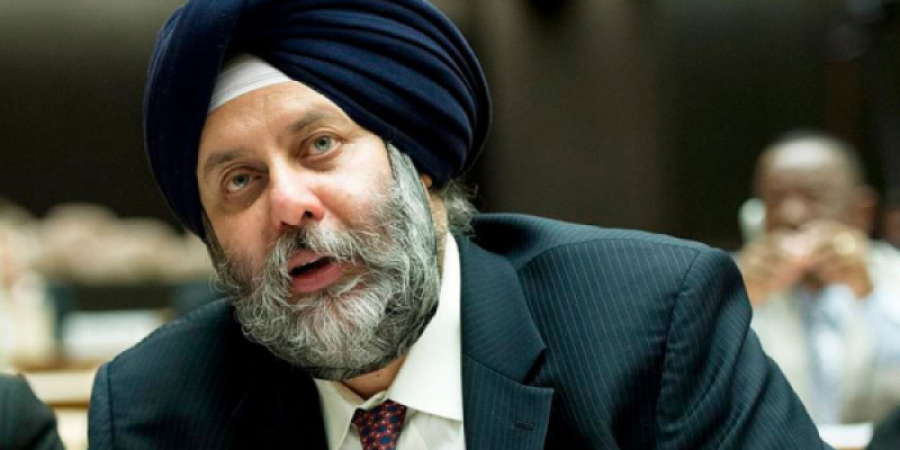 Indian Ambassador Manjeev Singh Puri will retire from the Indian foreign service in December-end. File Photo
bookmark
Published at : December 9, 2019
Updated at : December 9, 2019 22:14
Kathmandu
With Indian Ambassador Manjeev Singh Puri retiring from the Indian foreign service in December-end, many are wondering who the next ambassador will be, especially since China and the United States both appear to be all the more interested in goings-on in Kathmandu. India is now increasingly under pressure to retain Nepal within its "sphere of influence."

With less than 20 days left before Puri's departure, New Delhi has yet to decide on a name. India generally does not like to keep its Kathmandu mission vacant for long as it takes at least a month after the arrival of the new ambassador for the agreemo to be approved by the government of Nepal.
Initially, there were three names making the rounds in New Delhi but now, there are three more contenders, according to sources in Indian Embassy in Kathmandu and some knowledgable sources in New Delhi.
But it is likely that New Delhi will decide on a new envoy before mid-December, they said.
According to sources, at the top of the list are Akhilesh Mishra, Gopal Baglay and Jawed Ashraf, all of whom have previously served at the Indian Embassy in Kathmandu. Mishra and Baglay were at the embassy's Press and Cultural Wing while Ashraf served as economic consular. Mishra has also served as Joint Secretary (North) at India's Ministry of External Affairs, handling Nepal and Bhutan.
Baglay is now at the Prime Minister's Office while Ashraf has just returned to New Delhi after serving as the Indian High Commissioner in Singapore. Mishra is the Director-General of the Indian Council of Cultural Relations, the Indian government's autonomous cultural organisation.
Whoever comes in after Puri, the new envoy will have to cope with some daunting challenges, like sorting out the boundary dispute over Kalapani and Susta, the submission of the Eminent Persons' Group report, and maintaining Indian influence amidst the growing rivalry between China and the US, according to Nepali diplomatic officials.
Besides these three, there are three or four other names, according to an Indian diplomat who spoke on condition of anonymity as he is not authorised to speak with the media. However, New Delhi remains undecided as there are competing streams of thought regarding the appointment.
While a large section of the Indian establishment is mulling over a senior serving Indian diplomat, a smaller section is lobbying for a political appointee. The latter option, which is being pushed by the ruling Bharatiya Janata Party and its parent organisation the Rashtriya Swayamsevak Sangh (RSS), is unlikely as India tends to send a career diplomat to Kathmandu, according to New Delhi sources.
With ambassador Puri already paying his farewell calls on political leaders, New Delhi is struggling to find a suitable candidate to head it's Kathmandu mission, which is considered India's second-largest embassy after Washington DC.
"There is no clear indication yet who will replace Ambassador Puri," said the Indian embassy source. "Last time too, there were rumours of sending someone political or an old Nepal hand but New Delhi picked Puri, who had never served in Kathmandu. So, there is no hard and fast rule but New Delhi usually sends someone senior from among its serving diplomats."
According to the source, Prime Minister Narendra Modi himself will pick the name, as "Nepal is an important, sensitive and crucial country for India," he said.
In his time in Kathmandu, Puri faced the uphill task of restoring goodwill after India's months-long blockade in 2015. He managed to successfully revive Nepal-India ties by engaging with all facets of Nepali society, including the political spectrum, civil society, business community, and the media, said Nihar Nayak, a senior fellow at the Institute of Defense Studies and Analysis.
"India never landed in controversy due to Ambassador Puri as he never breached protocol and followed all the rules set by the government of Nepal," said Nayak. "He successfully managed the souring relations between Prime Minister KP Sharma Oli and India. Puri also maintained balanced relations with the Nepali Congress and the Madhes-based parties so he is a successful ambassador."
Nepali diplomats too said that Puri's term was less controversial than his predecessors' as he never indulged in controversy and maintained the diplomatic code of conduct.
"I must say his term and tenure in Kathmandu has been successful," said Deep Kumar Upadhyay, former Nepali Ambassador to New Delhi. "He was in the final stages of his career so he conducted his job very carefully."
According to Upadhyay, Puri basically complied with the instructions of his government unlike previous ambassadors, who due to political instability, were very active on their own. While Puri used soft power, he was vocal in respecting the mandate of the 2017 elections, said Upadhyay. It was only in the tail end of Puri's tenure that the Kalapani dispute emerged, which his successor will now have to manage.
Indian Prime Minister Narendra Modi visited Nepal twice and some major infrastructure projects—like the cross-border transmission line, a transit treaty, the cross-border petroleum pipeline and an integrated check post at Biratnagar—were completed during Puri's tenure.
---
---