Security is tightened as Xi Jinping arrives today
Besides regular patrols across Kathmandu, police presence has notably increased around Tibetan refugee settlements.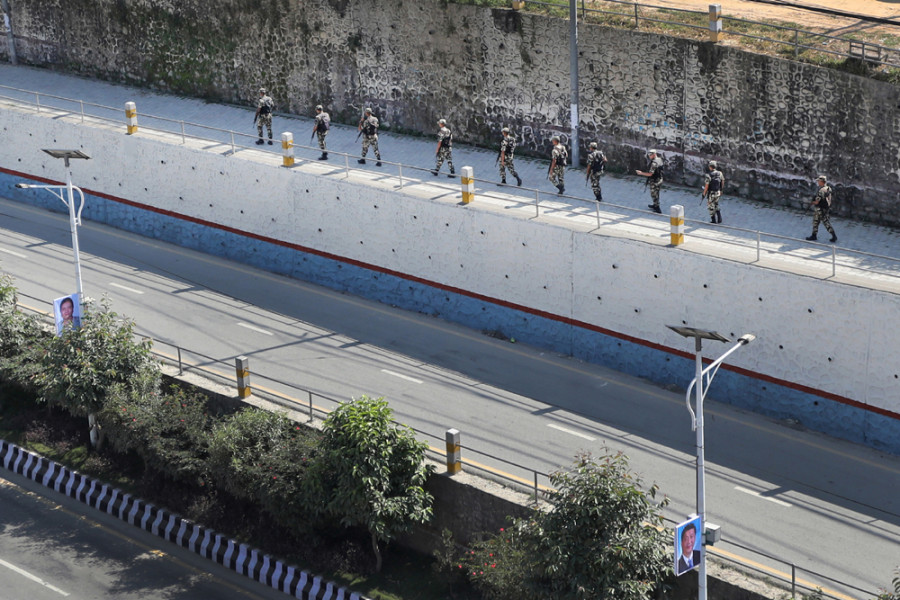 Army personnel patrol a street in Kathmandu on Friday, a day before Chinese President Xi Jinping arrives in Nepal on a two-day state visit. Elite Joshi/TKP
bookmark
Published at : October 11, 2019
Updated at : October 12, 2019 07:11
Kathmandu
The government has significantly stepped up security in Kathmandu in anticipation of Chinese President Xi Jinping's two-day state visit starting Saturday.

"All four security agencies—Nepal Army, Nepal Police, Armed Police Force and the National Investigation Department—will be mobilised during the Chinese president's visit," Ram Krishna Subedi, spokesperson for the Ministry of Home Affairs, told the Post. "All necessary security arrangements have been made, right from Tribhuvan International Airport to the hotel where the Chinese president will be staying."
The Nepal Army has been working in close coordination with the Nepal Police, Armed Police Force and the National Investigation Department.
More than 15,000 security personnel in multiple layers will remain on standby for round-the-clock security, according to the Nepal Army. Officials said that Chinese security personnel in great numbers are also in Kathmandu for Xi's visit.
"This is probably the highest number of security deployment for any visiting foreign dignitary," Brigadier General Bigyan Dev Pandey, spokesperson for the Nepal Army, told the Post. "A separate command and control room headed by a senior Nepal Army official is being set up at Nepal Army Headquarters to monitor the security situation."
The Army will also conduct air patrols across the route Xi will be travelling.
In addition to regular patrols across Kathmandu, the police presence has notably increased around Tibetan refugee settlements in Ekantakuna and Boudha. According to locals, police personnel have been stationed in large numbers at the entrance to the Tibetan refugee settlement in Ekantakuna from the beginning of Dashain.
Srijana Bhattarai, who has been operating a grocery store inside the Ekantakuna settlement area for nearly a decade, said that seeing police in the neighbourhood is not new, especially when there are celebrations, like on the birthday of the Dalai Lama. But this level of surveillance is uncommon, she said.
"Having police around here is not unusual. They hang around for a bit and leave, but for the past 10 days or so, they are here at all hours, from dawn to late night," said Bhattarai. "I hear it's because of the Chinese president's visit."
Over the past few days, police have also arrested at least 18 people "for questioning".
"Of them, some are Tibetan refugees," said Deputy Superintendent Hobindra Bogati, spokesperson for the Kathamndu Metropolitan Police Range. "They were taken into custody for questioning. It is part of our security exercise in view of a high profile visit."
According to Superintendent of Police Rabi Kumar Poudel, spokesperson for the Metropolitan Traffic Police Division, the route to be travelled by Xi and his entourage will be closed to the general public and they'll have to use alternative routes on Saturday and Sunday.
"We don't yet know the exact time of his arrival but the route which he will take during his visit across town will be closed," Poudel told the Post.
Roads along the Tribhuvan International Airport-New Baneshwor-Thapthali-Teku-Kalimati stretch will be closed for the general public after Xi's arrival at around 4:30 in the evening. Xi will be staying at the Soaltee Crowne Plaza in Kalimati and using Tahachal Marg via Lainchaur and Lazimpat to get to Sheetal Niwas to meet with President Bidya Devi Bhandari.
On Thursday, the government declared Sunday, the second day of Xi's visit, a public holiday, which according to Poudel will help ease traffic congestion.
Xi will be flying to Kathmandu from Chennai on Saturday. Xi flew to India on Friday.
Bhrikuti Rai and Anil Giri contributed reporting
---
---