Failure to ensure justice in Mahara case could cost Nepal dearly in the international arena
As Nepal is party to many international human rights conventions, it is required to ensure justice for victims of gender-based violence, or face international censure.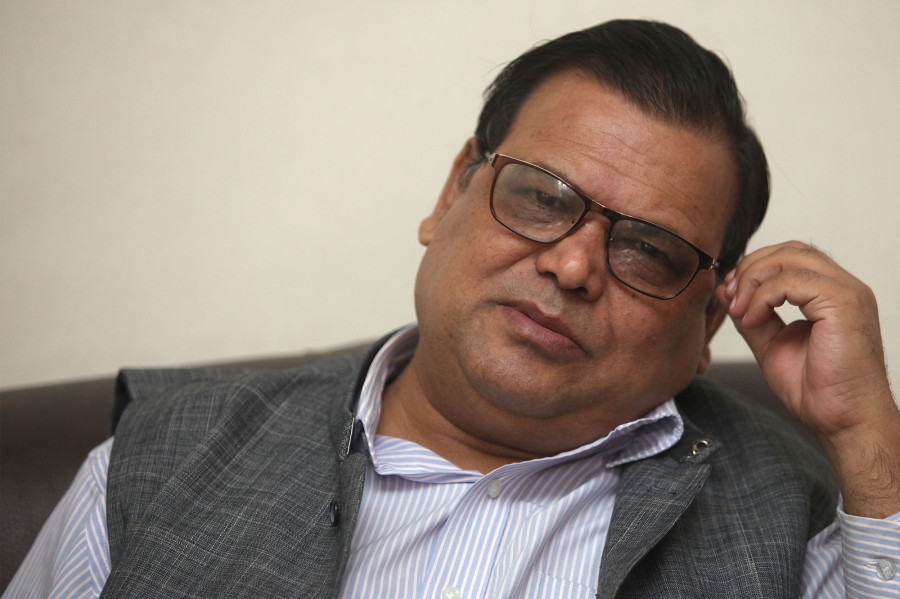 The Nepal Police has said that they cannot pursue the investigation until the victim lodges a formal complaint against Mahara. Post File Photo
bookmark
Published at : October 4, 2019
Updated at : October 4, 2019 07:28
Kathmandu
A refusal to pursue the allegations of rape against Krishna Bahadur Mahara in an impartial manner could land Nepal in hot water with the international human rights community, say rights activists.

"This can become a case for universal jurisdiction because Nepal is party to many international human rights conventions," said Dinesh Tripathi, a human rights activist. "Nepal may face several difficulties from the international community."
According to Tripathi, the manner in which the case has been handled by the Nepal Police is a cause for concern.
"If someone calls the police, that is their first complaint," he said. "Police cannot simply say that the victim has not lodged a complaint."
The Nepal Police has said that they cannot pursue the investigation until the victim lodges a formal complaint. On Wednesday evening, the woman who accused Mahara of rape gave a written statement saying she had lied about the accusations and there was no case to be made, according to the police.
However, legal experts point to various inconsistencies between the woman's story and Mahara's account and have pointed out that she could be recanting her accusations under duress. Mahara resigned as Speaker of the House after the allegations became public but he remains a hugely influential politician.
"If our justice process fails the woman who alleged rape and if Mahara is not investigated by the police, this case is definitely coming within the purview of the international human rights community," said Sunil Kumar Pokharel, former general secretary of Nepal Bar Association, an umbrella body of Nepali lawyers.
Human rights defenders, lawyers and experts are particularly worried about Nepal's poor record when it comes to rule of law and settlement of criminal cases through a nexus between politicians and the police. As an elected member of the United Nations Human Rights Council, Nepal has an even greater responsibility to ensure that justice is ensured in domestic cases. Nepal's term ends in 2020 but it is seeking another term, which might not be possible if such cases continue to occur, say rights activists.
In Nepal, cases related to violence against women are often settled through political bargaining by powerful people, said Ajaya Bhadra Khanal, a political analyst and columnist for the Post.
"It has become common for political elites to use their clout to muzzle criminal cases," said Khanal. "When it comes to cases of gender-based violence, things are more serious. The Mahara case has exposed just how weak our rule of law is."
The international human rights community has time and again pointed to Nepal's incomplete transitional justice as being inadequate in providing justice for the victims of the decade-long Maoist conflict. But attention has also been drawn towards criminal cases where the police have largely failed to make any progress, despite massive public outcry.
In November last year, Dubravka Simonovic, the UN special rapporteur on violence against women, had visited Kathmandu and pointed specifically to the case of Nirmala Pant, a 13-year-old who was raped and killed in Kanchanpur last year, as "a test case for the government".
"I am gravely concerned about the number of cases related to sexual violence against women and girls, such as the case of Nirmala Pant, among others, that have been referred to the police or the courts for redress and have resulted in impunity for the perpetrators," Simonovic said.
Fifteen months since Pant's murder, the case remains unsolved, with many believing that political interests have intervened to stall progress.
"The nexus between the political leadership and the police has evolved dangerously," said Tripathi. Like Pant's case, Mahara could also become another test case for Nepal.
If cases of violence against women increase and impunity prevails, the international community will certainly take stern action against Nepal, especially as Nepal is party to the Convention on the Elimination of all Forms of Discrimination Against Women, rights activists say. Action could even include a halt to international aid.
On Thursday, the Human Rights Watch issued a strong statement regarding the government's failure to publish a report regarding the 2015 outbreak of violence in the Tarai where over 50 people died.
"Donors, including the United Kingdom and the United States, which provide training and other security assistance to Nepal, and the United Nations which uses Nepali police on field missions, should seek to make sure that the government upholds the report's recommendations on transparency and accountability in law enforcement," the rights body said in a statement.
Similar calls could be made to donor countries if Nepal fails to ensure justice for victims of gender-based violence in line with its international obligations, say rights activists.
"When national remedy is exhausted, the case becomes international," said advocate Pokharel. "Mahara's case has exposed how politics influences the investigation process. The police failed to protect the victims' right, and now the journalist who reported the news is being targeted. This is a serious issue."
---
---