With inflation at a three-year high of 6.95 percent, consumers are looking at a dearer Dashain
Prices for farm produce, including fruits, vegetables and meat, have all gone up, as have clothing and footwear prices.

A file photo shows customers at a store in Kathmandu. Post File Photo
bookmark
Published at : September 26, 2019
Updated at : September 26, 2019 07:30
Kathmandu
For Yog Bahadur Shrestha, a daily wage earner, living in Kathmandu is becoming tougher by the day. Shrestha has lived in Balkumari for the last 20 years but little has changed when it comes to his living standards. Instead, the prices of almost everything keep going up each year, said Shrestha, who has two sons and two daughters.

"Two of my sons are in Dubai and Malaysia for employment and they send home some money. That's how my family has been able to survive in Kathmandu," 50-year-old Shrestha told the Post. "I can't recall the last time we had mutton. I think it was a year ago."
While daily wage earners like Shrestha are facing a tough time due to rising prices, things are no better for middle-class families.
Despite the government's promise to contain inflation at six percent, a Nepal Rastra Bank report published on Tuesday shows inflation for the period between mid-July and mid-August climbed to a three-year high of 6.95 percent. This is the first time prices increased at this level since September 2016.
This figure, released just ahead of Dashain and Tihar, has become a cause for concern. During the same period of the previous fiscal year, inflation stood at 4.19 percent.
"Prices of food items have gone up," said Nara Bahadur Thapa, former executive director of the central bank. "For low-income people, this is not very good, as most of their income is spent buying food items."
According to the central bank, prices of vegetables, fruits, spices, meat and fish spiked in the review month. Among the nonfood and service groups, prices of items in housing and utilities, clothes and footwear, and education sub-groups rose significantly.
Government officials said that decisions to examine vegetables, food and meat for pesticides and diseases had led to a sudden rise in prices.
"It slowed the clearance of goods imported from India and increased the cost for importers, resulting in price hikes," said Ram Krishna Subedi, information officer at the Plant Quarantine and Pesticide Management Centre.
The government has been conducting pesticide residue tests on agriculture produce and quarantining animals for the last four months. The government had stopped the tests after Indian concerns, but it resumed them after a Supreme Court order on July 10. This has led to a reduced supply of fruits, live animals and rice from India.
Imports of vegetables during the first month of the current fiscal year have also decreased, according to central bank data. The country didn't import animals through its customs offices in the first month of this fiscal year as Nepal has banned imports due to diseases, particularly in goats. This has led to goat meat prices spiking in recent months.
Fruit imports too decreased by 6.5 percent against an increase of 124 percent in the same month last fiscal, while vegetable imports grew by just 7.9 percent against a rise of 23 percent in the same month last fiscal year. Rice imports decreased by 35 percent against the increase of 44 percent in the same period.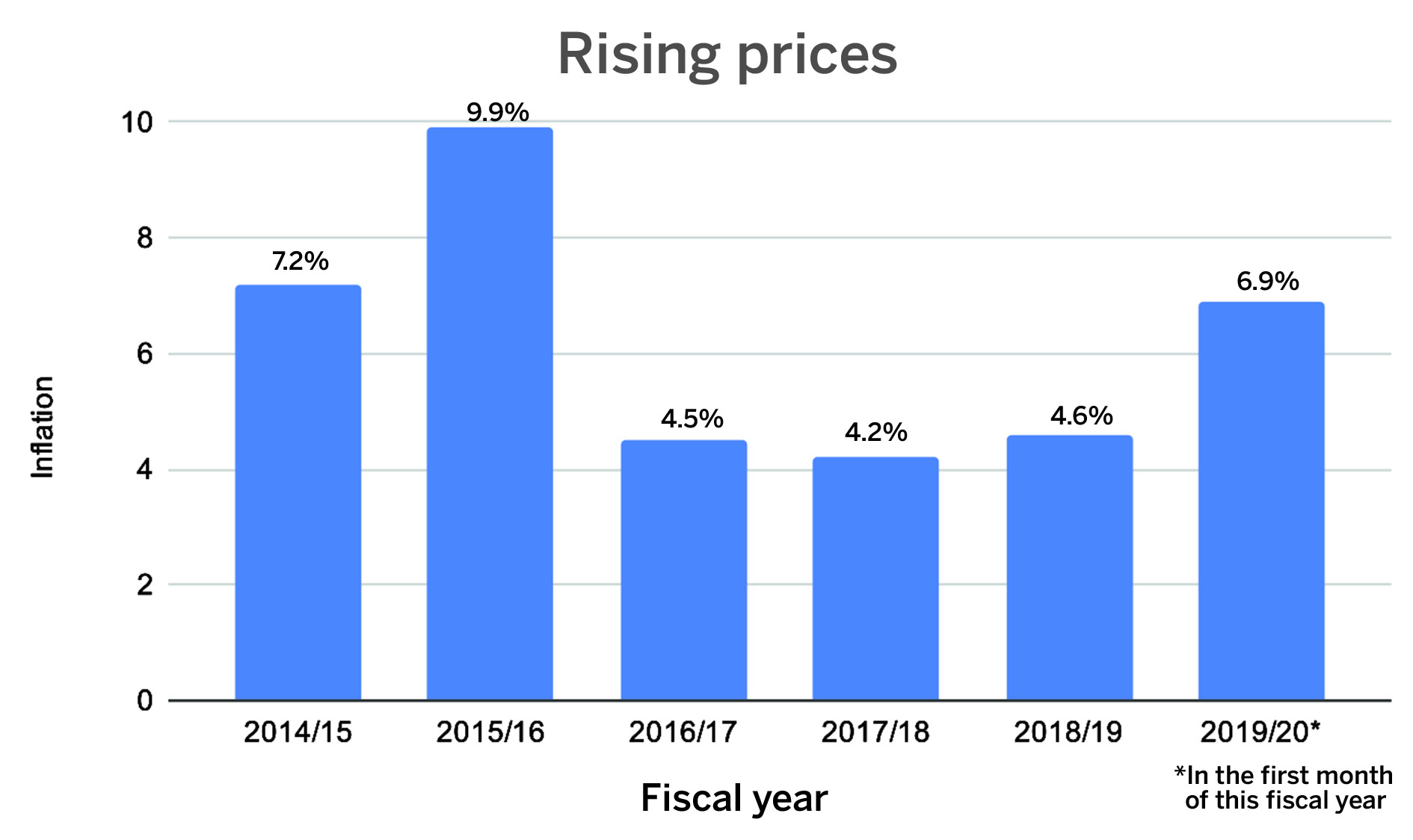 According to Subedi, consensus has been reached between officials from the two countries to provide mutual lab certificates to farm produce from the other country for quarantine purposes. This, however, has yet to be implemented.
"Pesticide tests are likely to continue even during Dashain and Tihar and the supply of goods, which require quarantine tests, might slow. This will put upward pressure on prices," said Subedi.
Thapa, however, said relatively high prices of goods in one month do not reflect the full picture of the entire year.
"Sometimes, a particular incident contributes to a spike in prices. This does not necessarily reflect the annual trend of inflation," said Thapa.
But it's not just the prices of fruits, vegetables and fast moving consumer goods whose prices have gone up significantly. Clothes and footwear, which are primarily imported from countries like China and Thailand, have also become dearer. These are items that are widely bought during the festival season.
"The weakening of the Nepali currency against the US dollar could have contributed to the rise in the prices of these items," said Thapa.
Inflation will hopefully remain within the set target of six percent in the current fiscal year because of low inflation in India caused by an economic slowdown, according to Thapa. Indian inflation stood at 3.21 percent in August.
"As we import two-thirds of total goods from India, it will have an influence on inflation in Nepal too. So, prices are likely to remain within the set limit this fiscal year," said Thapa.
Economists say that besides supply constraints, the government's own policy is also responsible for the rising prices.
"The size of the budget for this fiscal year is big and the monetary policy is aimed at increasing cash flow in the market. These policies created excess demand, contributing to the sudden price hike," said economist Ram Prasad Gyawali. "Inflation could have been much higher had it not been at a low level in India."
---
---