Despite poor track records, companies continue to receive lucrative public works contracts
Shailung Construction, owned by Pushpa Kamal Dahal's landlord, has received numerous contracts despite dismal performance on almost every project it's handled.

Post File Photo
bookmark
Published at : September 12, 2019
Updated at : September 12, 2019 07:38
Kathmandu
It's nearly a year since the Kathmandu Road Division Office told a joint venture of Shailung Construction and CIPEL to begin work on the Sorhakhutte-Chhetrapati road and the Chamati road section under the Bishnumati corridor. But officials at the road office say that the contractor has yet to begin work.

Shailung Construction is the contractor, jointly or singly, for a road improvement project spanning 48 kilometres, which began after roads were dug up to lay water pipelines for the Melamchi project.
Despite Shailung's shoddy record, the construction company continues to be awarded lucrative public works projects. On Tuesday, Shailung made headlines once again for receiving a contract to lay Melamchi water pipelines on 51 kilometres and build an overhead water tank in Budhanilkantha Municipality. Although the story was reported on Tuesday, the contract had been awarded five months ago, in February. The pipeline and water tank will be integrated into the main supply network meant to deliver water from Melamchi. This, despite the fact that the road improvement project, awarded to Shailung in January 2017, remains incomplete.
Shailung Construction is owned by Sharada Prasad Adhikari, the landlord of Nepal Communist Party (NCP) Co-chair Pushpa Kamal Dahal. Many believe that this is the reason Shailung has been receiving lucrative contracts.
"Although we handed over these roads to Shailung nearly a year ago, it has not started work yet," said Ashok Shakya, an engineer at the Kathmandu Road Division Office, which oversees Package II of the road improvement project, awarded to the Shailung/CIPEL joint venture.
"Progress on Package II is just 25-30 percent although the deadline for completing the task has already expired," said Shakya. The deadline for the package's completion expired in July.
Ramesh Subedi, the Shailung director, attributed the delays in completion of projects undertaken by his company to several factors. "Monsoon rainfall and shortage of bitumen also delayed construction works in our other projects," Subedi told the Post.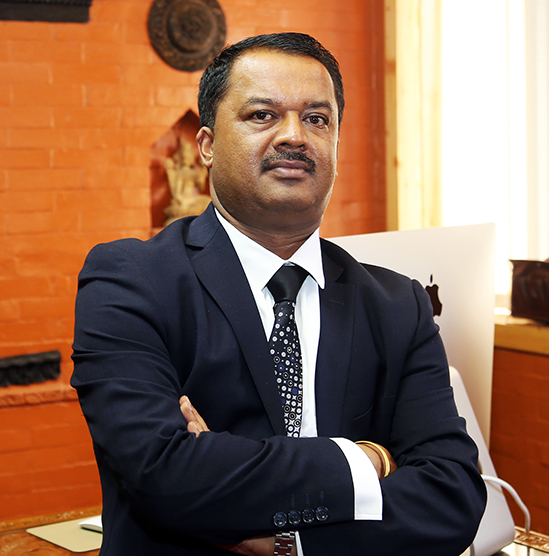 Shailung Chairman Sharada Prasad Adhikari Photo via Shailung.Com
Earlier this month, Shailung Construction was warned for poor progress on the road projects it is working on. But despite such warnings, Shailung continues to receive contracts.
"Shailung was selected to lay the water pipeline project because it met all the criteria and had the lowest bidding amount," said Lokendra Prasad Yadav, project manager with the Project Implementation Directorate under Kathmandu Upatyaka Khanepani Limited, which oversees the Melamchi project.
According to Yadav, Shailung's bidding amount was nearly Rs500 million less than the closest competitor's.
"The tender was not opened exclusively for Shailung. It was a global tender and a notice was published in major daily newspapers, online, as well as via Nepal's embassies abroad," said Yadav.
According to existing laws, a company can participate in public bids as long as it is not blacklisted. When asked whether Shailung's record for poor work was not factored into the bid award, Yadav said that its technical and financial proposals meet the required criteria.
"A low bidding amount was not the only factor. Their technical proposal, which was studied before the financial proposal, met all the criteria," said Yadav. "No existing laws have been breached."
But former government officials say that a technical evaluation, including past performance, must be conducted as the public procurement law does not mandate the lowest bid as the only factor.
"If someone has a bad track record, such contractors can be kept at bay during the technical evaluation, which our government offices don't do," said Kishor Thapa, a former government secretary and a leader of the Sajha Party.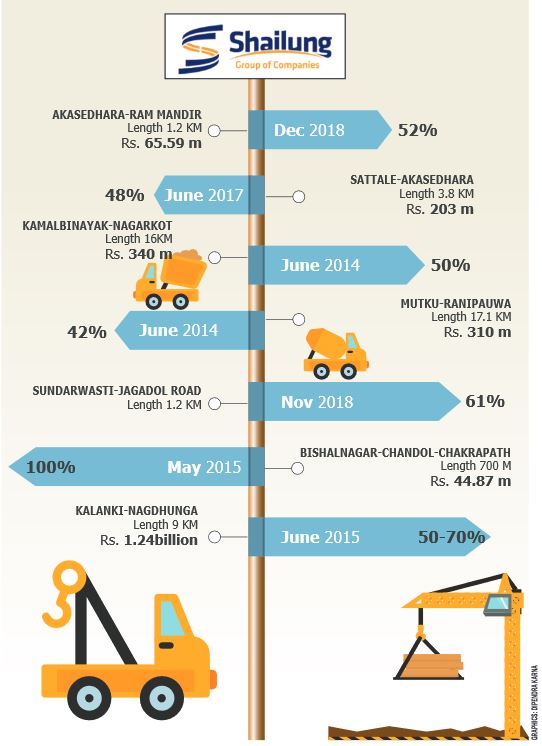 Nepal's construction companies almost always fail to meet deadlines. Several government reports have found construction companies' involved in widespread malpractices, including a tendency to use substandard materials in construction. A majority of the contractors never face legal action, despite their non-performance, largely due to political patronage.
A glaring example is Pappu Construction, which is owned by Hari Narayan Rauniyar, a suspended lawmaker. Five people died in August last year when their boat struck a half-built bridge in Tikuliyaghat village in Rautahat. The bridge was being built by Pappu Construction, which too has a dismal record when it comes to public works construction.
Yadav of the Project Implementation Directorate admitted that there were lapses in existing laws regarding the selection of the contractor and as a result, contractors with questionable pasts often get selected.
"Such companies are not blacklisted, so if they complete all procedures then no one can disqualify them from public bidding as per our existing laws," he said. Public perception of the company doesn't matter during its evaluation. As per the public procurement law, only contractors convicted of corruption and blacklisted by the Public Procurement Monitoring Office are barred from participating in government bids.
In May, the government made an effort to reform the public procurement regulation, barring contractors charged with corruption from taking part in public bids and limiting the contract extension period to a half of the original project deadline. However, the government backtracked on its amendments after contractors threatened to not participate in any public tenders. The regulation was ultimately amended as per the contractors' demands in July and August.
Shailung director Subedi, however, has alleged that his construction company fields undue criticism just because its owner is Dahal's landlord.
"We have got the [Melamchi water pipeline] contract through a competitive process, but we are being targeted as though the water supply minister offered the project to us on a platter," said Subedi. Water Supply Minister Bina Magar is Dahal's daughter-in-law.
Adhikari's rise from humble beginnings to becoming an 'A' class contractor with an annual turnover of around Rs800 million has raised many eyebrows. Earlier this year, Subedi told the Post that relations between Dahal and Adhikari have remained good, but not because of business interests.
"It's because they share a long history of political relations," Subedi had told the Post.
According to Subedi, Adhikari supported Dahal's Maoist party in its early years during the insurgency. Even at the height of the conflict, when Dahal was a wanted man, Adhikari did not hesitate to assist him—and the Maoists—at great personal risks, according to Subedi.
Pre-construction work on the Melamchi pipeline, meanwhile, has begun and is due for completion in 33 months.
"During technical evaluation of a proposal, completion certificates of the builder's prior projects are sought and checked," said Yadav. "If the builder is not blacklisted and can produce the project completion certificate, they will bag the project. It doesn't matter if the project was completed within the stipulated time or not. Even if the builder completes a three-year project in six years, nothing can be done about it."
---
---