Everyone is talking about Rabi Lamichhane. Here's what you need to know about the law that had him detained
Last year, the government introduced a new Criminal Code, a section of which criminalises abetment to suicide.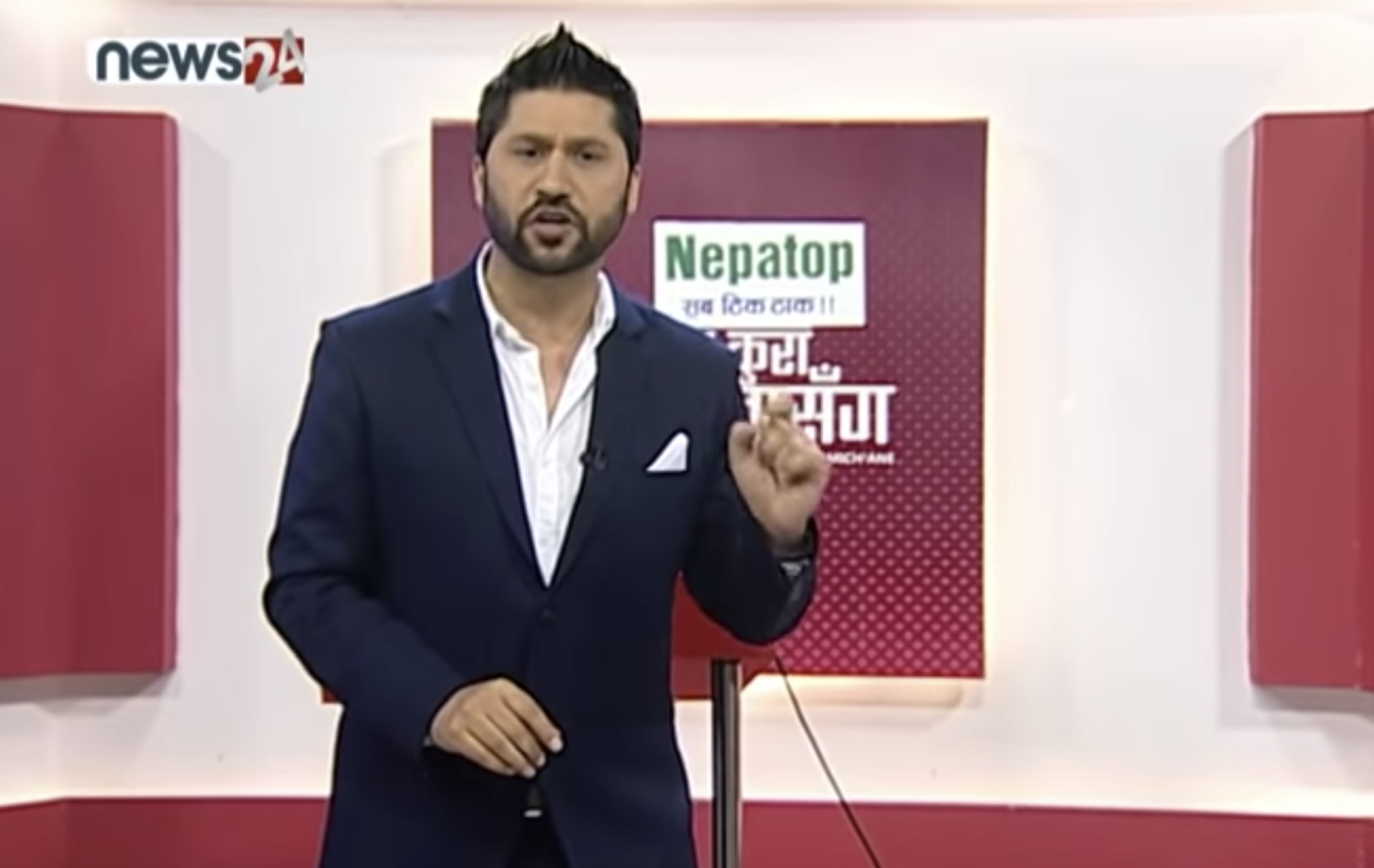 Rabi Lamichhane, a popular TV show host, has been accused of abetting a suicide. Screengrab via News24
Published at : August 28, 2019
Updated at : September 11, 2019 19:23
Earlier this month, journalist Shalikram Pudaisini was found hanging in a hotel room in Chitwan. Pudasaini, who earlier used to work for News24 TV channel, was associated with Mountain Television.
Since then, the arrest and subsequent release of three individuals, including TV show host Rabi Lamichhane, for their alleged role in abetting Pudasaini's suicide, have put the spotlight on section 185 of the new Criminal Code, which has criminalised abetment to suicide. The three accused were arrested on August 15 after video footage, recorded by Pudasaini on his mobile phone before his suicide, surfaced in which he accused the three of forcing him to commit suicide.
Clause 185 of the new Criminal Code, which came into effect last August, says no one can provoke or generate a situation for anyone that may lead them to commit suicide. Anyone found guilty under the clause is liable to a five-year jail sentence and Rs 50,000 fine. However, it stops short of elaborating what can be considered as "generating a situation", which further muddles how incitement in suicide cases can be established once they reach courts.
Last week, the Post reported that over 5,000 Nepalis commit suicide every year, according to a review of the Nepal Police's five-year data, which show a steady rise in numbers. The majority of such deaths involve hanging.
Are there other cases where people have been detained using the clause?
According to Nepal Police, since the new criminal code came into effect, 103 people were taken into custody in suicide cases using Clause 185 in the last fiscal year that ended in July. Among them, 77 people were taken to court during the same period.
Why was the new law introduced?
Lawmakers who drafted Clause 185 of the new Criminal Code say the new law around suicide was aimed at providing some respite to people, mostly those from marginalized groups, who are compelled to take their lives because of mental or physical torture at the hands of people, who might be more powerful than them. The lawmakers had looked into similar laws in countries like India, where several people have been arrested in the past under section 306 (abetment for suicide) of the Indian penal code.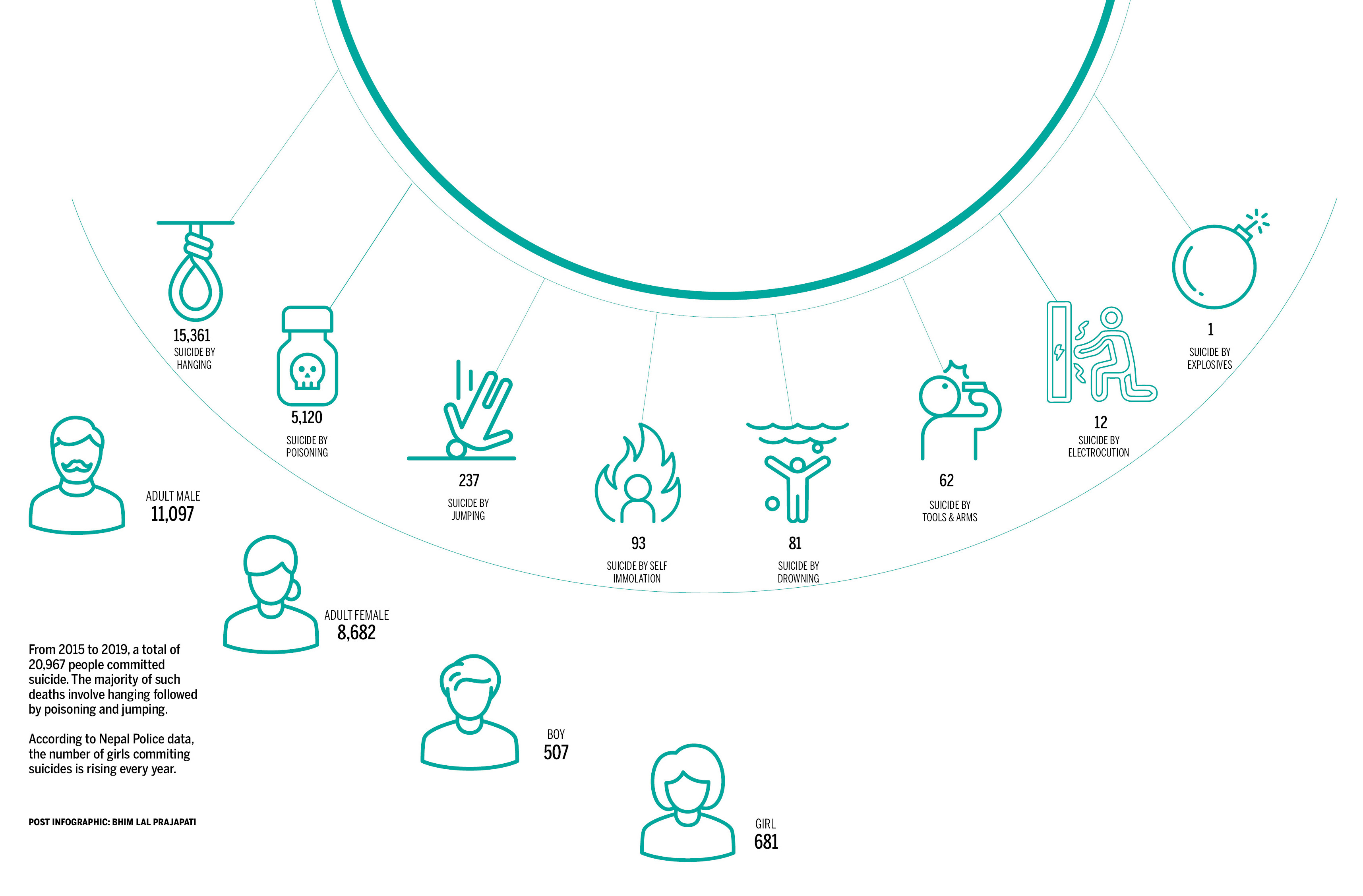 Over 5,000 Nepalis commit suicide every year, according to Nepal Police data. Post Infographics: Bhim Lal Prajapati
Rabi Lamichhane shot to fame in 2013 when he set a world record for the longest talk show. He interviewed several people from politicians to athletes to entertainers during his marathon talk show, which lasted over 62 hours. He then went on to host another show, called Sidha Kura PM Sanga, in the state-run TV during KP Oli Sharma's first tenure as prime minister.
But it was the popular tv show Sidha Kura Janta Sanga, which made him a household name. The highlight of the show, which claims to be "quest for accountability with responsibility,'" features Lamichhane berating people accused of corruption and different forms of exploitation. He also repeatedly tells viewers that he is there for them if they have faced any kind of "injustice".
This has made Lamichhane the most recognizable face in Nepali television. His shows on the news channel's official YouTube page have hundreds of thousands of views and a steady stream of comments, hailing him as a messiah of the public.
So what happened when he was taken into custody?
Thousands of people took to the streets of Chitwan in support of Lamichhane after his arrest, and police had to step in to contain the crowd. After his release on Monday, the TV host, covered in vermillion powder and garlands, went to visit the supporters in hospitals who were hurt during protests last week, which spawned several YouTube videos, where he was once again hailed as a hero. Lamichhane, in his signature style, vowed to continue doing what he has been doing through his show, but he refrained from speaking about the case.
How does the current law determine something as abetment to suicide?
Currently, there are no standards set on what can be considered as abetment to suicide. And no matter how the district court's rulings might have explained the clause unless the Supreme Court issues a ruling in such cases, a legal precedent on how the clause will be defined in the future will not be set.
That is exactly what happened in Pudasaini's case last week.
In a ruling by the Chitwan district court, the judge said: "Over the years, Supreme Court has established through different rulings what suicide or murder is. But since the new penal code was introduced last August, the Supreme Court hasn't yet had any ruling on the Clause 185 of the new Criminal Code, which says no one can provoke or generate a situation for anyone that may lead them to commit suicide."
Furthermore, if there are challenges in interpreting the law when it reaches the Supreme Court because of its vague language or a huge public outcry over the provisions in the law then parliament might also take steps to amend it.
Read our other explainers:
---